What is VoIP?
VoIP's meaning is Voice over Internet Protocol. But what is VoIP in practice and in your business? It is an easily scalable communication technology which enables you to talk, chat or video conference over the internet. It works seamlessly with other VoIP phones, landline phones, mobile phones, smartphone apps, computers, laptops, and tablets.
How does a VoIP service work?
Once you sign up for your account, you're instantly connected to a cloud-based system which allows you to communicate over the internet instead of a traditional landline phone. This means that when you make a VoIP call, the digital information is instantly converted into packets of data that best suits your recipient's receiving device–in an instant.
When you subscribe to our service you can:
(1)

Make (and receive) free Internet calls to other networks

(2)

Call any landline or mobile phone at very low rates

(3)

Receive calls from the traditional telephone network

(4)

Send text messages (SMS) to mobiles worldwide

(5)

Receive faxes to your email address completly free of charge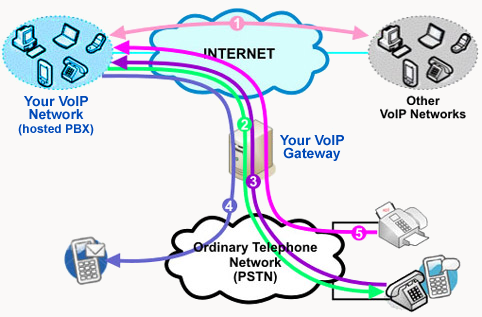 What is VoIP for business?
What is VoIP if not a scalable communications solution for your growing business? You are getting a complete cloud solution when you get VoIP. Meaning VoIPstudio can replace traditional, hardwired business phone systems, while adding additional functionalities that help your business grow. You will experience seamless calling, virtual conference rooms, customized ring groups, inbound traffic management, virtual numbers, customisable voicemail and more.
Even better, the entire VoIP interface is both customizable and scalable to fit the needs of your business. Every VoIPstudio customer gets all the same features, with our pricing plans based on team members. Pay per user and enjoy either national or international calling.
What is a VoIP Phone? What are the benefits of having one?
You join the cloud when you get VoIP. Meaning you can cut the cord on phones. While this is a big benefit for remote teams and clients, a VoIP internet phone can help you get the most out of your cloud-based business communications.
With a VoIP phone, you can:
Use the same number wherever you are – whether that's home, the office or abroad
Make and receive free internet calls
Have unlimited inbound numbers, from as many countries as you want
Call both landline phones and mobile phones at discounted rates
Send text messages to mobile phones worldwide
Receive faxes to your email address, free of charge
Receive free voicemail notifications of e-mail messages
VoIPstudio also give you a fully functional PBX system so you'll have all the tools you need (and more) for your VoIP meaning you can easily manage all of your business' communications in an instant.
What do I need in order to set up a VoIP phone for my business?
At VoIPstudio, we believe "VoIP" means "simplified" and that's exactly what the setup process is like. Here's what you need:
Broadband connection to the Internet. (If you are reading this, you most likely have already got one)
Create your account with us.
Download a free softphone or – better still, purchase your own internet phone from us and keep it on your desk. This is more convenient and can be used in the same way that you use an ordinary phone.
What is VoIP's key advantage over fixed landline phone services?
The internet, where new features and life-changing functionality is just an update away!
Some other standout advantages to VoIP are:
Easily port your existing number to your new VoIP system
Get 24/7 customer care to help you with all of your VoIP questions
Call other VoIP users for free
Create and manage as many inbound numbers as you'd like
Funnel each number you create to departments and enjoy a full suite of other PBX system features
Create inbound numbers based in the country of your choice
Get free voicemail, which also notifies you when you have an email
Lower the total cost of your vital business communication systems
How am I able to get all my internet calls (VoIP calls) free?
First of all, you are our valued customer; and although we use our servers and technology to connect and transmit your calls, we do not pay a third-party communications company. You just need to pay for your internet connection. That enables you to send all your messages and calls are via the cloud, which sends and receives data from all over the world in a split-second. VoIPstudio simply enables the process, by converting your calls into packets of data to fit the device of your recipient. If the call is internet-based, no conversion is needed, therefore, it's free.
How much do calls to landline phones and mobile phones cost?
The rates vary, so you'll have to refer to our price list. But keep in mind that those prices are much lower than your standard rates.
What is VoIPstudio's internet connection requirement?
You communicate via the cloud with VoIP. Meaning you do need internet, but any broadband connection is sufficient.
What is VoIP's call quality?
The quality of your calls through Internet telephony technology will be the same as that of your traditional phone, if not clearer. Because you will no longer be relying on a traditional phone provider, "dead zones" won't affect you. You just need a stable internet connection.
Is my voicemail also free?
Yes. When you sign up with VoIPstudio, callers can leave you messages for free, right away. To learn about more features see, "What is VoIP's key advantage over a landline phone?".
What inbound number can I use?
Regardless of where you are located, you can select a local number from our list of over 10,000 cities, worldwide. We have a full list of International DDI numbers ready for your VoIP system, meaning you can have number from almost anywhere in the world, regardless of where your desk is at the moment.
I already have a landline number, what is VoIP's requirement to port that number?
Each situation is different. In many cases it is possible to port your number to your VoIP phone, but we'll still need to verify that. Send your request to us along with the number you wish to transfer and a member of our team will get back to you within 3 working days.
How much will it cost to call my VoIP phone?
Your inbound number will work exactly the same as your traditional landline phone did. It won't cost your callers anything to contact you. In fact, they won't even know the difference between your VoIP service and your previous solution.
Will my VoIP phone work when there is a power outage?
No. If you are using a VoIP desk phone and your building's internet service, it will not work without power and a reliable internet connection. However, if you have the VoIPstudio smartphone app, your cellular data will ensure you don't miss a single call.
Are there any numbers I cannot call using a VoIP phone?
In general, you can dial any landline phone or mobile number around the world. But note that emergency numbers might not be available from your VoIP phone. This is especially true if your chosen inbound number is outside of your true geographical location.
In the case of an emergency, you and your team members should use a smartphone.
Can I send text messages (SMS) from your website?
Yes. You can send text messages (SMS) to any mobile device around the world for a fraction of the standard rates.
What is the VoIPstudio fax to email service?
You will get a dedicated fax number that anyone can send faxes to. When you receive a fax, a copy of that document will automatically be converted to a PDF and sent to your inbox. You can also view your faxes in your private VoIPstudio web portal.
What codecs does VoIPstudio Hosted PBX support?
VoIPstudio Hosted PBX currently supports the following codecs:
ALAW (G711)
ULAW (G711)
GSM
G722
G723
G726
G729
speex
h364 (Video)
What does "No Registered Endpoint" error mean?
In order to make or receive phone calls via the VoIPstudio Hosted PBX service, you need to have a SIP Endpoint (for example a softphone or hardware desk phone) registered on our network. Your endpoint needs to be configured and have internet access so it can connect to VoIPstudio.
If your device is not registered or the VoIPstudio servers are unable to communicate with your device, you will see the "No Registered Endpoint" message in your admin portal.
To prevent this, ensure that your VoIP device is online and properly configured in your account. You can also call us 24/7, should you ever need to troubleshoot an issue.
Do I need to sign a contract?
Not at all! We never make you sign a contract to receive our VoIP service and features. Plus, we give you a 30-day free trial of VoIPstudio, meaning you can experience the quality of our service, risk free.