8. Inbound numbers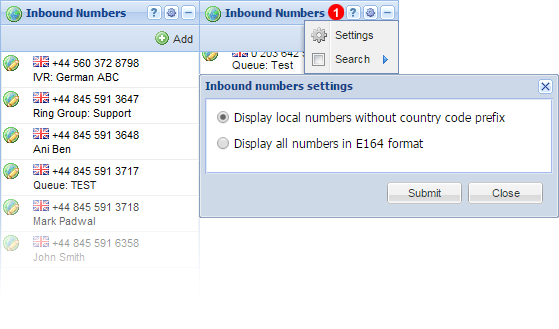 Figure 8.1 Inbound numbers panel.
Inbound numbers allow to make calls from traditional telephone network to your hosted VoIP systems. We can assign telephone numbers from more than 4000 cities around the world.
Click Gear Icon to Open Search function and Number Settings.
NOTE: Changing to "Display all Numbers in E164 Format" will display all numbers including local numbers with international dialcode, this applies to all call records and monitored call list.
Add inbound number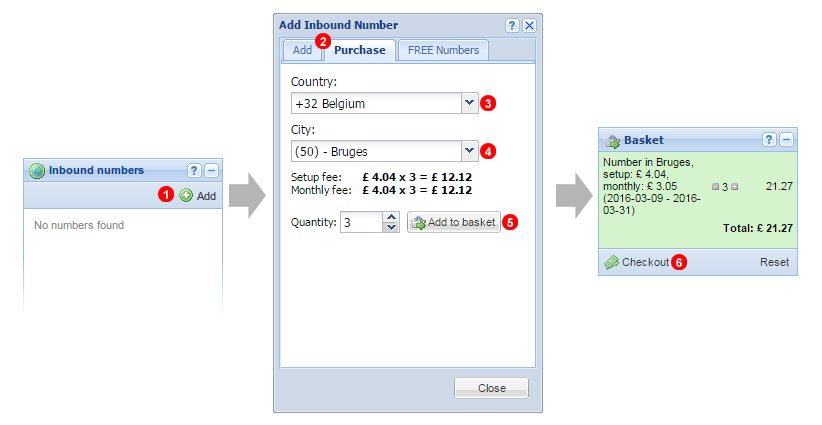 Figure 8.2 Add inbound number.
To add an Inbound Number:
Click Add button in the Inbound numbers panel.
Select Add Tab to add Inclusive numbers for Unlimited Plans or Purchase Tab to procure additional numbers or if using Pay As you go Plan.
Select Country in which your telephone number should be located.
Select City in which your telephone number should be located.
Enter desired amount of number you want to purchase And Click Add to basket button.
Click Checkout to complete the purchase process.
Add Number Address
Some Countries have legislation that require a Geographical location to be linked to a number before it becomes active.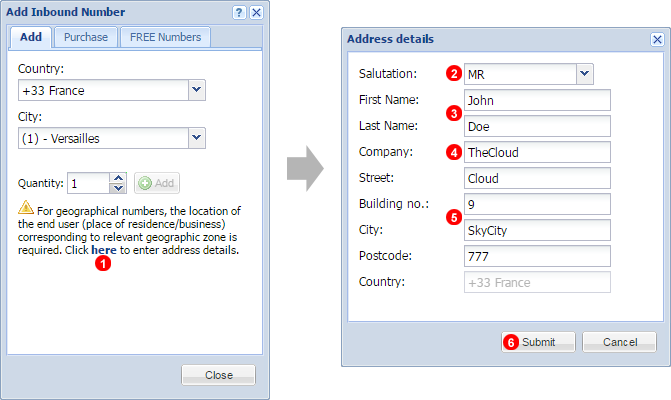 Figure 8.3 Add Inbound Address.
To Link Address to Number:
Click here to open Add Address menu.
Select correct Salutation of address owner, be it a person or Company.
Enter First and Last name of property/address owner.
Enter Company name if applicable.
Ensure Address matches local format as close as possible.
Click Submit to finalize and have address verified.
Edit inbound number

Figure 8.4 Edit inbound number.
To change Inbound Number settings:
Click on the icon next to the DDI number.
Select number's target which can be a User, Ring Group, IVR, Queue or a virtual Conference Room.
Select to disable number for use as CLI from User panel or for extension with Normal rights only.
Choose any 2 or 3 digit number to dial before making an outgoing call to use number as CLI for that call only.
Example: 23442036427900 to use "02088198786" as CLI.
NOTE: 3 digit code *141* can not be used, this is reserved as special number to set Caller ID as anonymous, adding *141* before dialed number will set out going Caller ID as anonymous.
Click Update button.
To purchase additional channels (that will allow to answer more concurrent calls):
7. Use Add button.
8. If you want to delete additional channels use Delete button
If you not longer wish to use a DDI number:
6. Use Cancel subscription button.
Fax Number Setup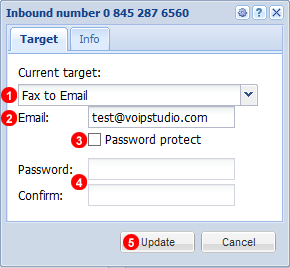 Figure 8.5 Edit inbound number Fax.
Set Number Target to Fax to Email.
Enter email address received faxes should be sent to.
Click to Password Protect number when sending faxes.
Enter chosen password and confirm.
Click Update to save settings.