16. Network configuration
IP Addresses
If your network is protected by firewall which restrict outbound traffic please ensure you allow the following addresses and ports combinations:
North and South America, Asia and Oceania:
Ports TCP/UDP 5060,5566 (SIP Signaling): 97.107.141.97 amn.sip.ssl7.net
Ports UDP 10000-20000 (RTP Audio): 66.228.45.12, 50.116.53.144, 66.228.44.117, 23.92.17.107, 45.56.98.182, 45.79.133.98, 69.164.214.111, 104.200.29.114, 104.237.151.131, 45.56.102.133
Europe and Africa:
Ports TCP/UDP 5060,5566 (SIP Signaling): 82.113.147.229 eu.sip.ssl7.net
Ports UDP 10000-20000 (RTP Audio): 109.233.112.91, 109.233.119.234, 109.233.112.111, 109.233.119.26, 109.233.119.114, 109.233.119.134, 82.113.154.81, 82.113.154.82, 109.233.119.6, 109.233.119.7
Note: although normally your SIP endpoints will be assigned to one of the locations above (based on your geographical location) in unlikely even of one of VoIPstudio data centres becoming unavailable your traffic will be redirected to the other location (via automated SIP fail over mechanism). It is therefore important to allow traffic to all above listed IP addresses.
Router configuration and SIP ALG
SIP ALG (Application Layer Gateway) is common feature in many commercial routers.
Many routers have this SIP ALG turned on by default.
This should be disabled as may induce following issues:
Lack of incoming calls
One way audio issues
Break Sip signalling
Figure 16.1 Zyxel VMG8324-B10A
​* To disable SIP ALG in Zyxel please apply this link
Figure 16.2 Huwawei HG6596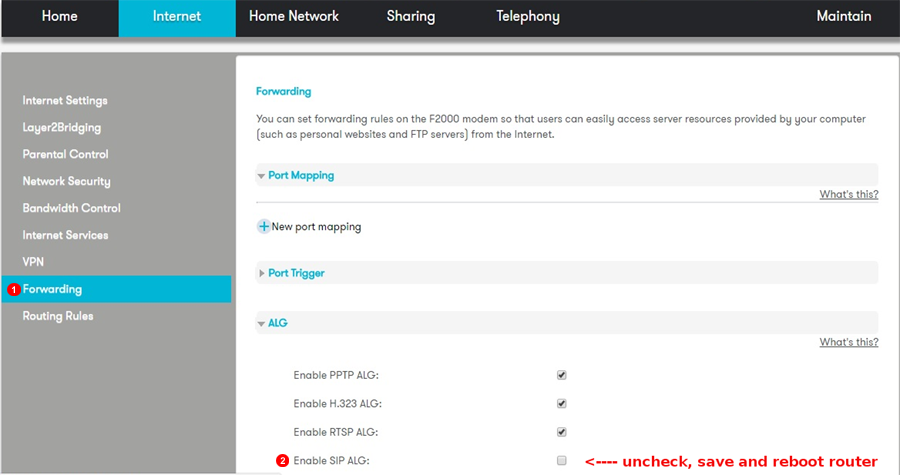 30-day free trial
You can take a 30-day FREE trial of VoIPstudio with absolutely no obligations.
A simple web-based portal gives you total control over all your telephony requirements.
Ready to take your business to new heights?