Zapier is an automation software that integrates with more than 3000 apps, allowing you to easily automate tasks between VoIPstudio and all these apps. The possibilities and combinations are limitless.
What is Automation Software?
Automation Software helps apps to talk between each other. Sometimes apps integrate between them with no need for external automation software. For example when you take a photo inside your messaging app using your mobile camera. But unfortunately not all apps integrate between them. The Automation Software acts as an intermediary.  
Automation suggestions and common use cases (VoIP)
As soon as you start to play with Zapier you will realize how easy it is to set up automation and all combinations you can get. Here we are going to show you some suggestions to automate tasks between VoIP and some other apps. 
Manage your unanswered support requests
All your Support agents were busy and you had a missed call from your customer. Using Zapier you could:
Help customers to stay calm by sending an SMS  "sorry all our agents are currently busy please open a ticket under link" or "sorry all our agents are currently busy we will call you back as soon as support team is available." 

Automate task generation in your ticketing system

Log activity under your CRM
Let customers know about alternate booking platforms
Imagine you receive a booking appointment for a table in your restaurant. But you are currently busy or already on call. Customers get tired waiting and hang up. Automation could just send SMS with a link to your website booking link.
Or maybe you are no longer taking booking by call and just like your customers to book tables or make they orders online. In such scenario we could just play a message "Thank you for calling our restaurant. We are no longer taking appointments or orders on the phone. Please use or website to book…" then we can hang up the call and automatically send SMS with the booking link to make sure they reach our website. 
Create and update contacts automatically based on inbound calls
Tired of needing to add contacts on several databases or platforms. With Zapier you could automate contact creation on VoIPstudio and other platforms. So for example when you create contact on Google, you could automate new contact creation to VoIPstudio via Zapier, but also to your CRM, mailing or marketing systems.
Automatically archive call recordings or VoiceMails
After the voicemail left or call ended, you would probably like to move call recording on your CRM. 
Automate workflows for new leads
When someone follows up on LinkedIn or any other social network you could automate contact creation inside VoIPstudio and you could maybe also send courtesy SMS to welcome the lead. 
Use VoIPstudio to trigger alarms 
Zapier could help to integrate your alarms system to automatically generate calls or send SMS based on alarms or events. But not just alarm calls or SMS can be triggered by any Zapier compatible app. Like for example when you receive critical email. 
Automation examples trigger SMS for missed call events.
This is just a simple example showing how to use Zapier to automatically send SMS to customers that called us but unfortunately we were unable to answer the call. In this example we will send to the missed call numbers SMS showing or website booking appointment link.
Assuming we already have VoIPstudio account and we are logged into Zapier. We just need to click create new Zap and complete as bellow:
1. Set Zap name "Send SMS to missed call"
2. Select "VoIPstudio" as trigger APP
3. Select "Missed call" as trigger event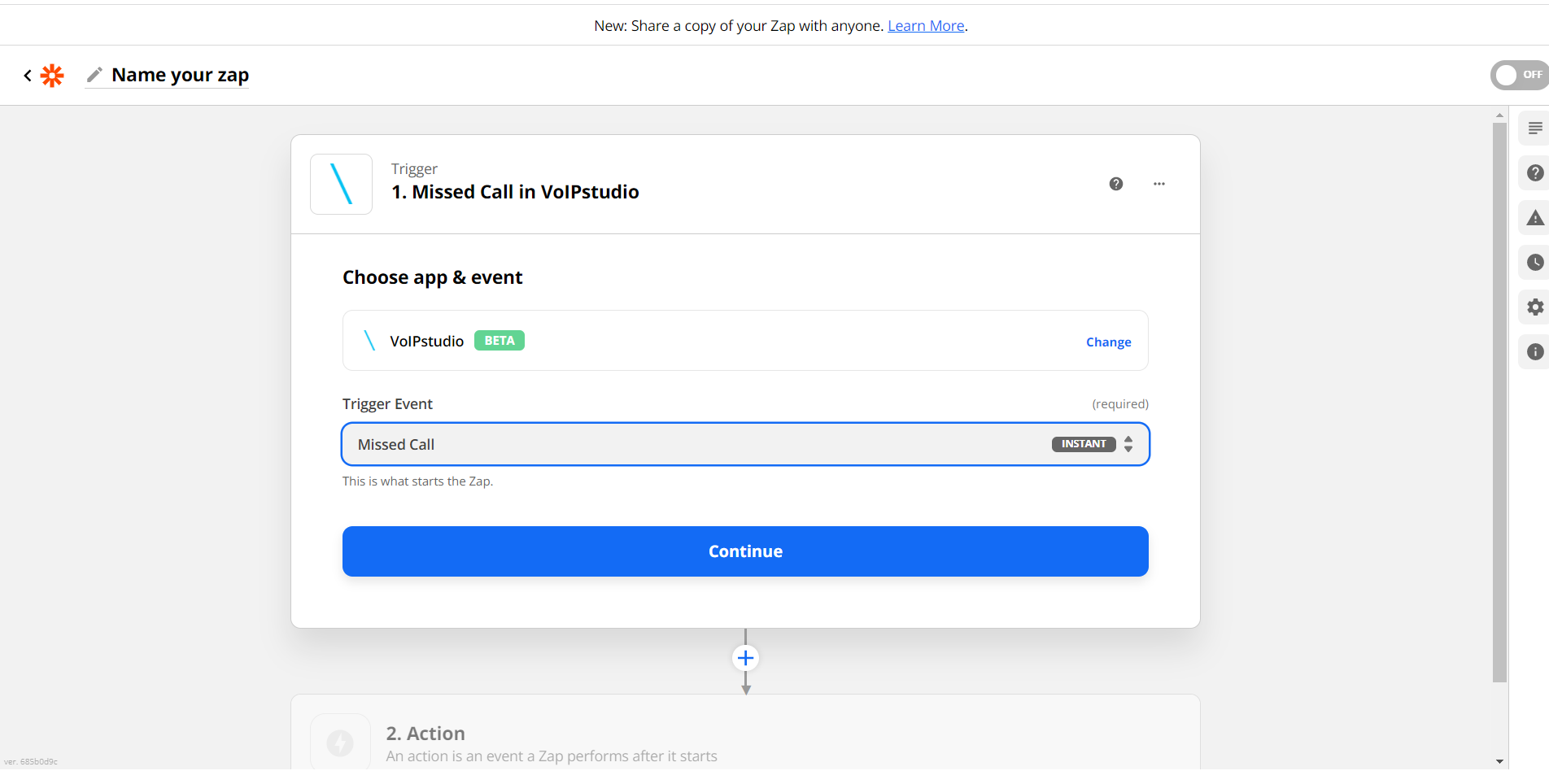 4. Choose the VoIPstudio account you like to use. You may need to refer to manual by clicking here
5. Select "VoIPstudio" as Action app
6. Select "Send SMS" as Action event
7. Choose the VoIPstudio account you like to use.
8. Set UP action indicating:
"To": use from from missed call

"Message": "We are currently busy please call later or book online under restaurant.com"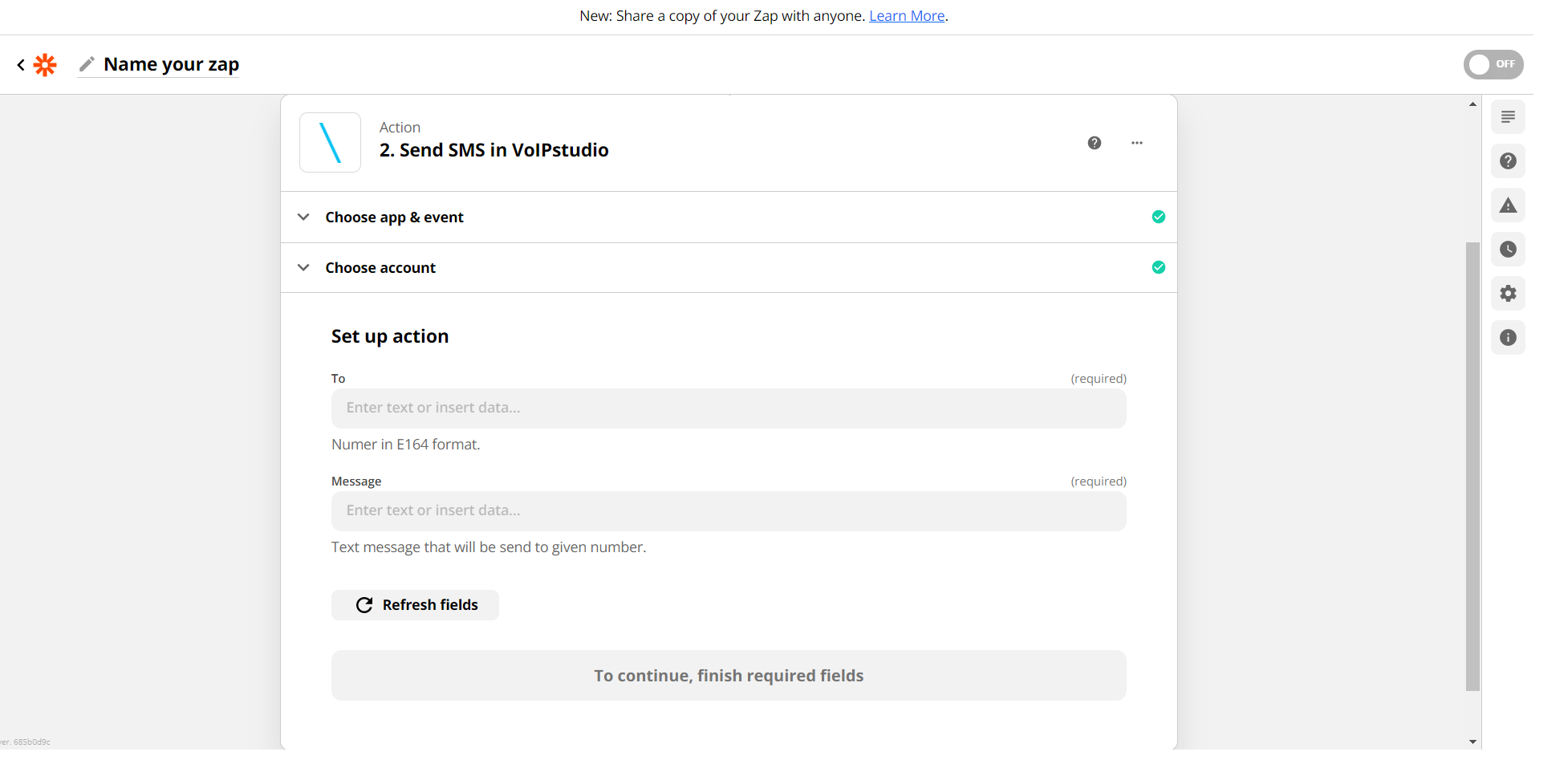 In this video you can see the complete process for sending SMS to customers of a restaurant who did not answer the call.
Do you want to do something different or do you have any questions? Don't hesitate to open a support ticket. If you haven't started the free trial to configure it yourself, what are you waiting for?