VoIP Adaptors - Cisco SPA3102
Cisco SPA3102
US$ 95.30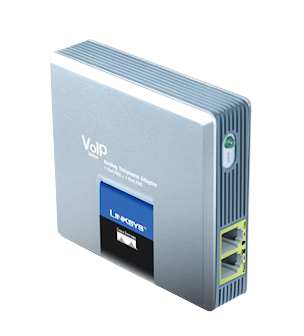 4 in stock
The Cisco SPA-3102 from Cisco is the replacement for the popular SPA-3000. It offers both 1 FXS station side port and 1 FXO PSTN jack, and features integrated call routing for local and emergency calls, excellent for service providers and remote offices!The Cisco SPA-3102 features VoIP adapter functionality found in the Cisco SPA-2002 with the additional benefit of an integral connection for legacy telephone network "hop-on, hop-off" applications. Cisco SPA-3102 users will be able to leverage their broadband phone service connections more than ever by automatically routing local calls from cell phones and land lines to a VoIP service provider and vice versa.A typical user calling from a land line or mobile phone will be able to reduce and even eliminate international and long distance telephone charges by first calling their Cisco SPA-3102 via a local phone number or by using a telephone connected directly to the unit. The advanced authentication and call routing intelligence programmed into the Cisco SPA-3102 will connect the caller via the Internet to the far end destination with security and ease. Using the Cisco SPA-3102 at the far end, calls can be answered immediately or further processed as a local call to any legacy land line or mobile phone allowed by the Cisco SPA-3102 dial plan.If power is lost to the unit or the VoIP service is down, calls can be sent to a traditional carrier via the FXO interface.
30-day free trial
You can take a 30-day FREE trial of VoIPstudio with absolutely no obligations.
A simple web-based portal gives you total control over all your telephony requirements.
Ready to take your business to new heights?