Getting Help¶
In our Help section you will find extensive explanations and help tools that are at your disposal.
Walk Throughs¶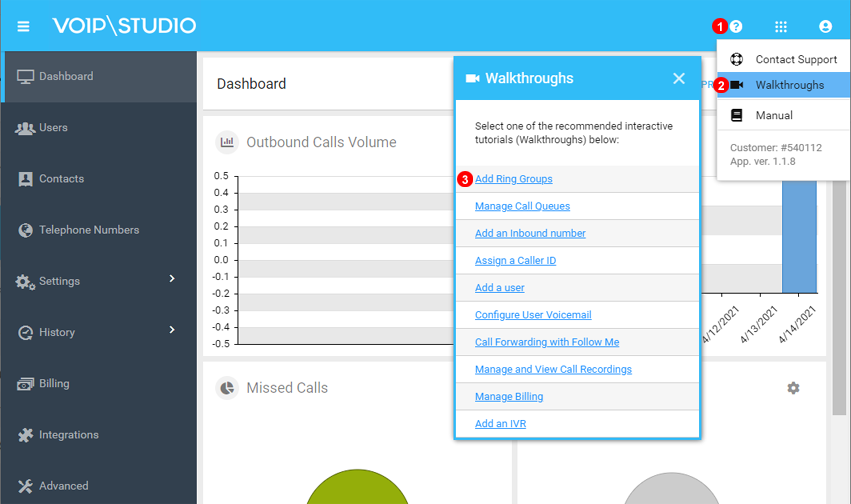 Figure 8.1 Walk Throughs.
To Begin Click "?".
Select Walkthroughs to see a selection of step by step instructions to help setup your account.
Click on the Topic or feature you wish to setup and follow the onscreen instructions.
Contact Support¶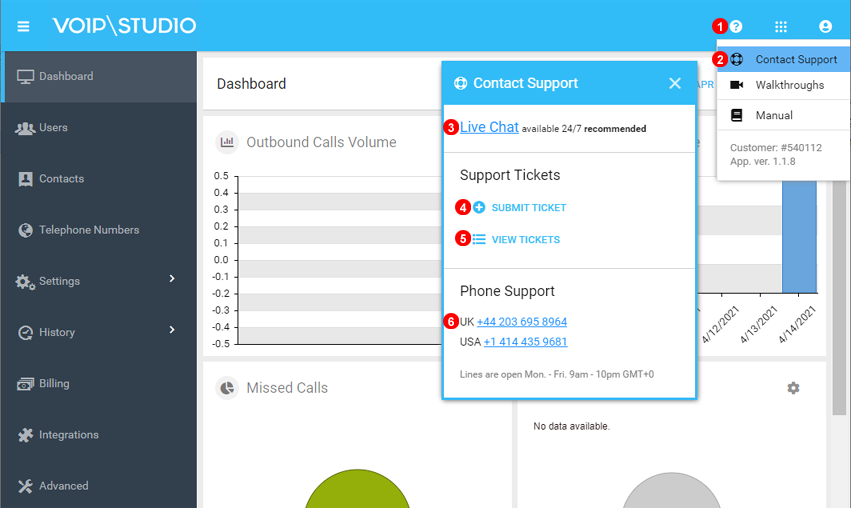 Figure 8.2 Contact Support.
To Begin Click "?".
Select Contact Support.
Select live chat to connect to one of support agents on chat.
You can also Submit a Ticket, you can attach files and documents for requests like porting or troubleshooting.
Click to View or Reply to Current and Closed tickets.
For Telephone support simply dial any of the numbers shown.
Manual¶

Figure 8.3 Manual.
To access VoIPstudio manual:
Switch between manual sections using drop down shown as (3) in Figure 8.3 above.
Search information using field shown as (2) in Figure 8.3 above.
Use navigation on the left to browse chapters.
Click Back button shown as (6) in Figure 8.3 above to go back to VoIPstudio control panel.
Submit Ticket¶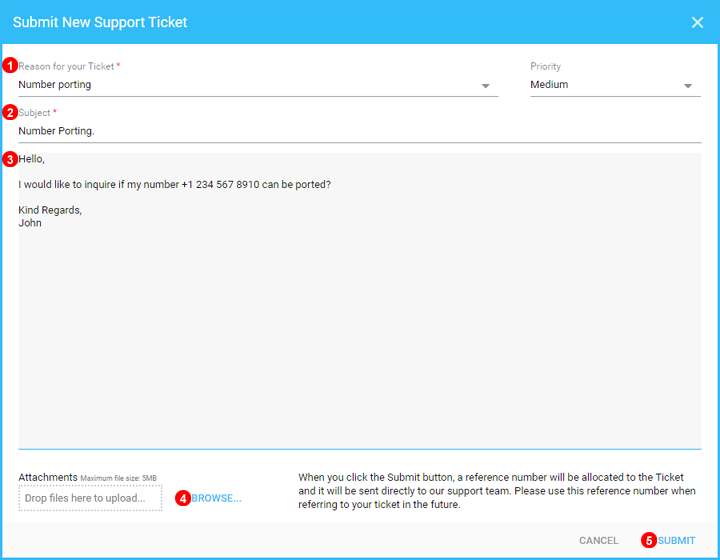 Figure 8.4 Submit Support Ticket.
To contact 24/7 VoIPstudio Technical Support:
Select reason for your ticket from drop down shown as (3) in Figure 8.4 above.
Enter subject of your ticket.
Enter details of your ticket providing as much details of your problem as possible.
Option to attach a file, the file size can be no larger than 2Mb.
Click Submit to send the ticket.
When you submit a ticket a unique reference number will be allocated. Please use this reference number when referring to your ticket in the future. You will be notified by email when response is posted.
View current and closed tickets¶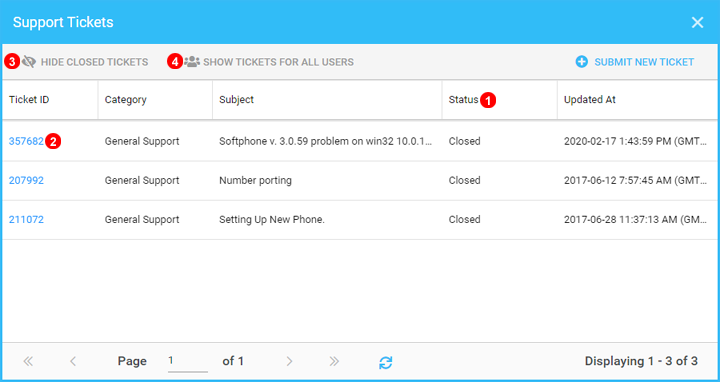 Figure 8.5 View Support Ticket list.
Under this section you can review tickets status and update them.
Use status filter to select which ticket should be displayed.
Use the edit button on the ticket to access the details, or update it.
By default closed tickets will not be shown. You can use Show Closed Tickets button to view them.
By default only the tickets generated by the current user are displayed. If you are an organization Admin you can click Show tickets for all Users to view the tickets of the entire organization.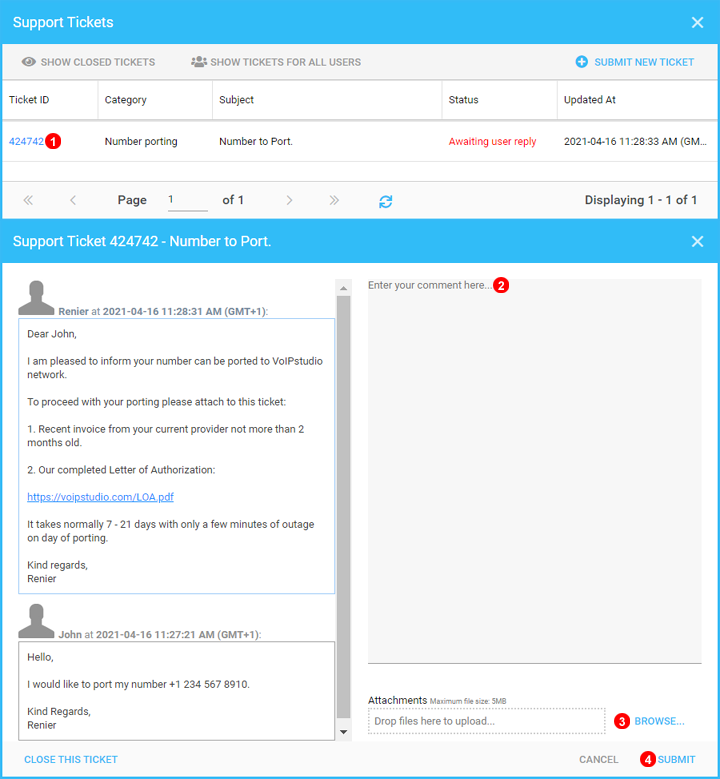 Figure 8.6 View Support Ticket and reply.
On the Support tickets
Select the ticket you are going to update. Click icon shown as (1) in Figure 8.6 above.
Enter your reply.
Option to attach a file, the file size can be no larger than 2Mb.
Click Submit button.
Troubleshooting¶
Some Instances will require some advanced methods to troublshoot and gather data to resolve issue.
Below is an example of how an error message would look. Taking a screenshot and providing the steps to recreate the error to our support team can greatly assist in resolving any problems you might face.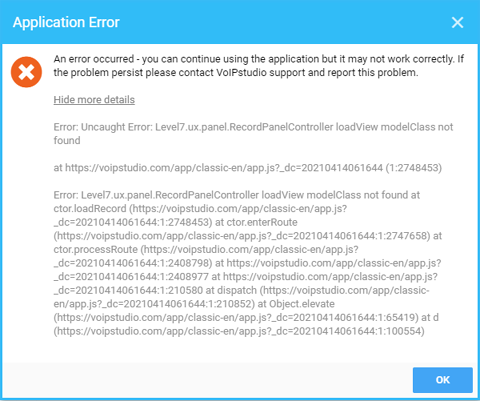 Figure 8.7 Troubleshooting Example
Error Reporting¶
Sometimes errors can occur on our system this can at times be network or even application related and local data will be required to assist.
Below are some steps on how to gather data to send it to our team.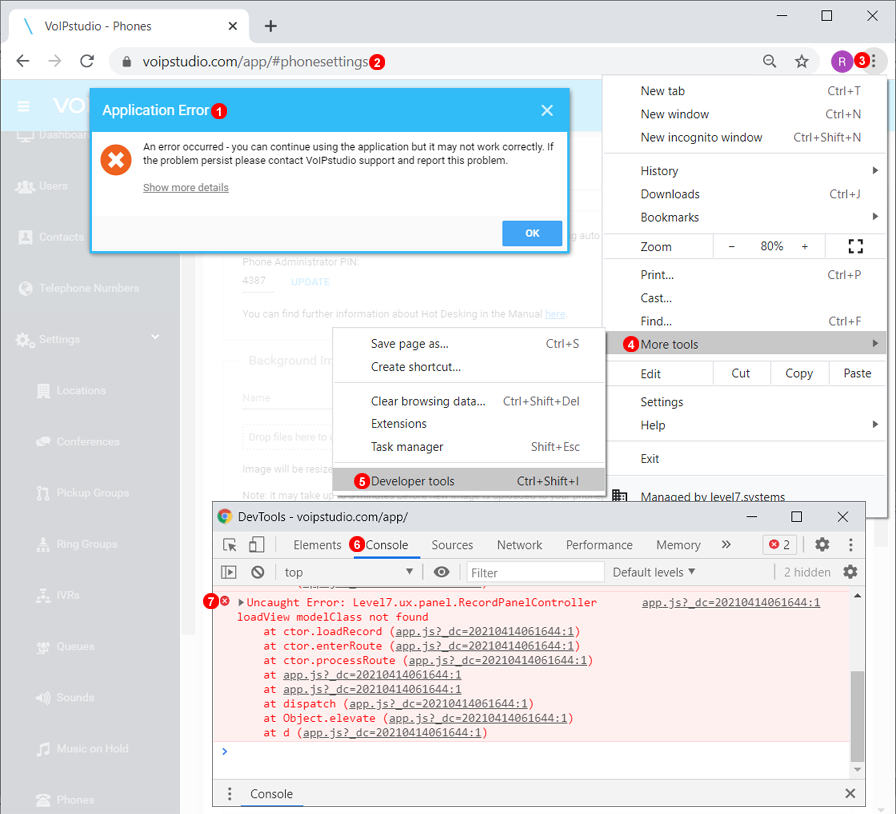 Figure 8.8 Chrome Error Reporting.
When an error appears attempt to leave it open if possible.
Remain on the page where the error appeared.
Click the Settings menu on the Chrome Browser.
Navigate Down to More Tools.
Click Developer Tools, this will open a new window.
Swap to Console Tab to view Error data.
Try to have all of these Items in view and then take a screenshot to send over to our team.