The North American Numbering Plan (NANP) is a telephone numbering plan whereby a specific geographic area is assigned a prefix. In this case, the 319 area code pertains to southeastern and east-central portions of the state of Iowa, including such major cities as Burlington, Cedar Falls, Cedar Rapids, Cedar Rapids, Oelwein, Fort Madison, Iowa City, Keokuk, Mount Pleasant, and Waterloo.  
In 1947, the state of Iowa was divided into 3 NPAs, with the área code 319 covering the eastern part. To avoid saturation of the 319 prefixes, , in the late 2000 area code 563 was moved to cover the northeastern part of the state. 
If you are interested in getting a 319 area code to make local calls in the south part of the state of Iowa, with VoIPstudio, you can get a number of your choice along with the services of our virtual PBX for business.
319 area code map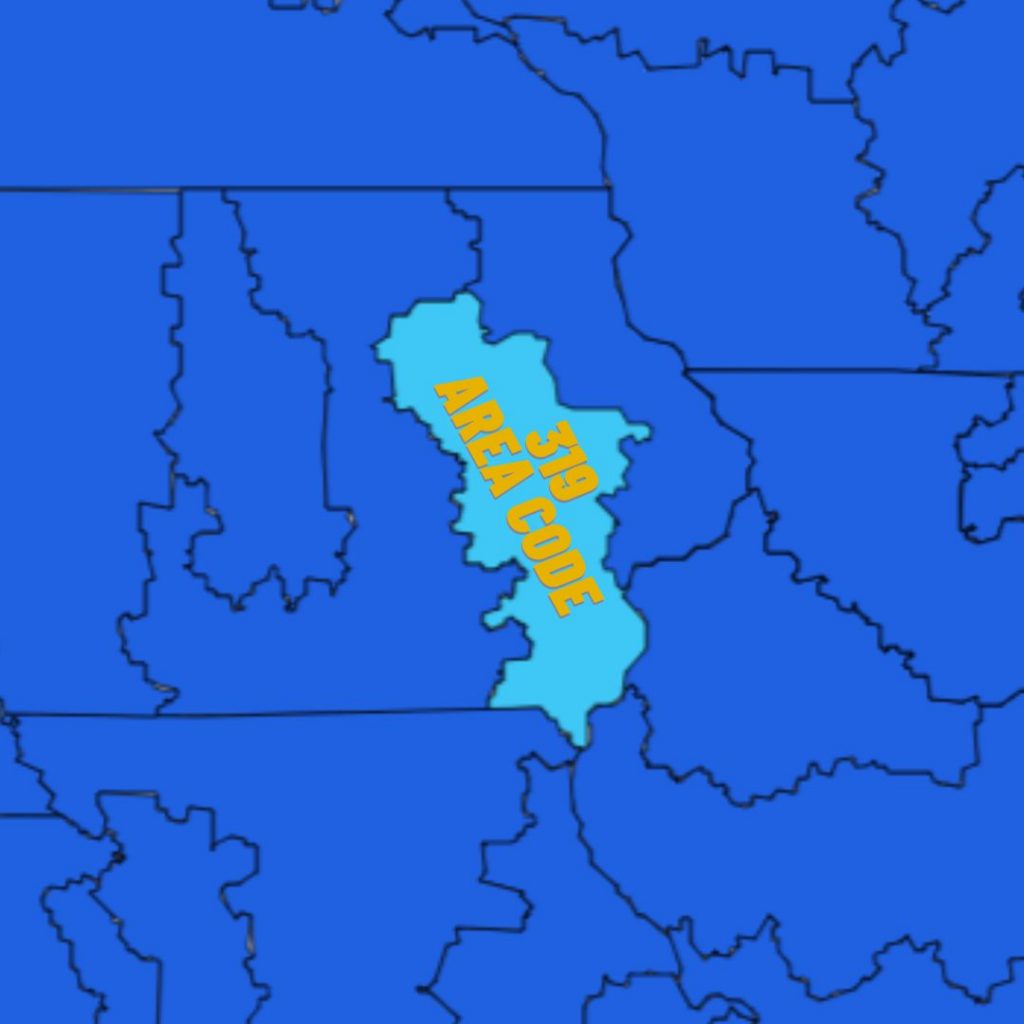 319 area code time zone
Area code 319 is in the America/Chicago zone, also known as the Central timezone.
Nearby area codes
319 (Cedar Rapids, IA)
563 (Davenport, IA)
641 (Mason City, IA)
309 (Peoria, IL)
Linn County 319 area code benefits
The county is located in East Central Iowa and is the second most populous county in the state, with a population of more than 225,000. It is named for Senator Lewis F. Linn of Missouri, and its capital is the city of Cedar Rapids.
This geographical area has been one of Iowa's fastest-growing economic and population areas in the last few years. One of the reports of the Technical Advisory Committee on Population and Economic Forecasting predicted a population increase of 10% and economic growth of 14% to 21% by 2030.
Linn's wide variety of businesses provides economic stability to the local economy. However, manufacturing is the primary economic engine. The county is home to major employers in industries including grain processing, aerospace, food and beverage, biosciences, information technology, and renewable energy. For this reason, it is Iowa's most prominent manufacturing center.
The county's manufacturing industry continues to grow. Also, the increase in the service sector, mainly financial services, has recently been notable. In contrast to what one might think, this area of Iowa is not at all rural. Only 2 percent of Linn County's working population is employed directly in agriculture.
Regarding economic data, Linn County has an unemployment rate of 3.9%, well below the national average (6%). In 2022, the county has experienced economic growth of 1.3%, and over the next ten years is expected to grow by 25.9%. Finally, the median household income of a Linn County resident is $59,560.
Cedar Rapids 319 area code benefits
The city is located in eastern Iowa and has a population of over 133,000, an 8% growth since 2000.
Cedar Rapids is known for being the state's economic center and one of the leading manufacturing regions in the United States and, it has become an area of innovative technological development. ZenBusiness states that the requirements for new business registration are simple and easy, making it attractive to new companies. Second, Cedar Rapids' airport connects much of the country, and the town has a much lower cost of living than other Midwestern economic centers such as Milwaukee or Chicago.
These factors explain why Cedar Rapids has become a good choice for startups. Technology companies based in the city have grown considerably, with two dozen Fortune 500 companies.
Cedar Rapids has an unemployment rate of 5.9%, the median household income is $54,465, and its economy has grown by 1.3%. It is expected to continue to grow at 25.1%
Why choose a local phone number
VoIPstudio provides your business with a virtual phone number so that your customers can contact your business by making local calls instead of long-distance calls. You can get the virtual phone number with the area code that best fits your business objectives.
The main benefits of obtaining a local telephone number are:
Receiving or placing calls to a familiar and geographically close phone number builds customer confidence.
Replacing long-distance calls with local calls reduces the phone bill for your customers and your business.
Creating a local presence for your company creates a feeling of closeness for customers, whether you are a large or small business.
A virtual phone number is suitable for use on any device. So mobile phones, computers and tablets.
Why get a local number with VoIPstudio
VoIPstudio is a complete business phone system and an award-winning cloud telephony service designed for businesses like yours. Here are the essential features of our services:
How to get an area code 319 number with VoIPstudio
In this short video, we explain in a simple way how to choose a virtual number with the area code of your choice with your VoIPstudio account.
If you are looking for a specific number and do not find it, you can contact our support team, and we will help you find the number that best suits your needs.
Get a free 319 area code number
Get your 319 area code local phone number with VoIPstudio. We will assign you a number from the area of your choice, and you can use it for free for 30 days: no contracts, without hidden upgrades, and no support fees. Choose your price plan based on the number of calls you make, no credit card is required to sign up, and you can cancel anytime. Start your free 30-day trial today!