The North American Numbering Plan (NANP) is a telephone numbering plan whereby a specific geographic area is assigned a prefix. In this case, the 720 area code pertains to the central part of the state of Colorado in the United States.
Initially, in 1947 the 303 area code covered the entire state of Colorado. However, the proliferation of the economy and population after 1950 led to the inclusion of 3 more prefixes.
In 1988 the southeastern part of the state adopted the 719 prefixes to avoid saturation. Later, in 1995, area code 970 was assigned to the northwestern part of Colorado, leaving 303 to the central region. Due to the high concentration of population in the central area, area code 720 was implemented to complement 303 in 1998. Finally, area code 983 was recently introduced, along with area codes 303 and 720. Area code 720 covers Denver, Boulder, and their surrounding areas.
If you are interested in getting a 720 area code to make local calls in the central part of the state of Colorado, with VoIPstudio, you can get a number of your choice along with the services of our virtual PBX for business.
720 area code map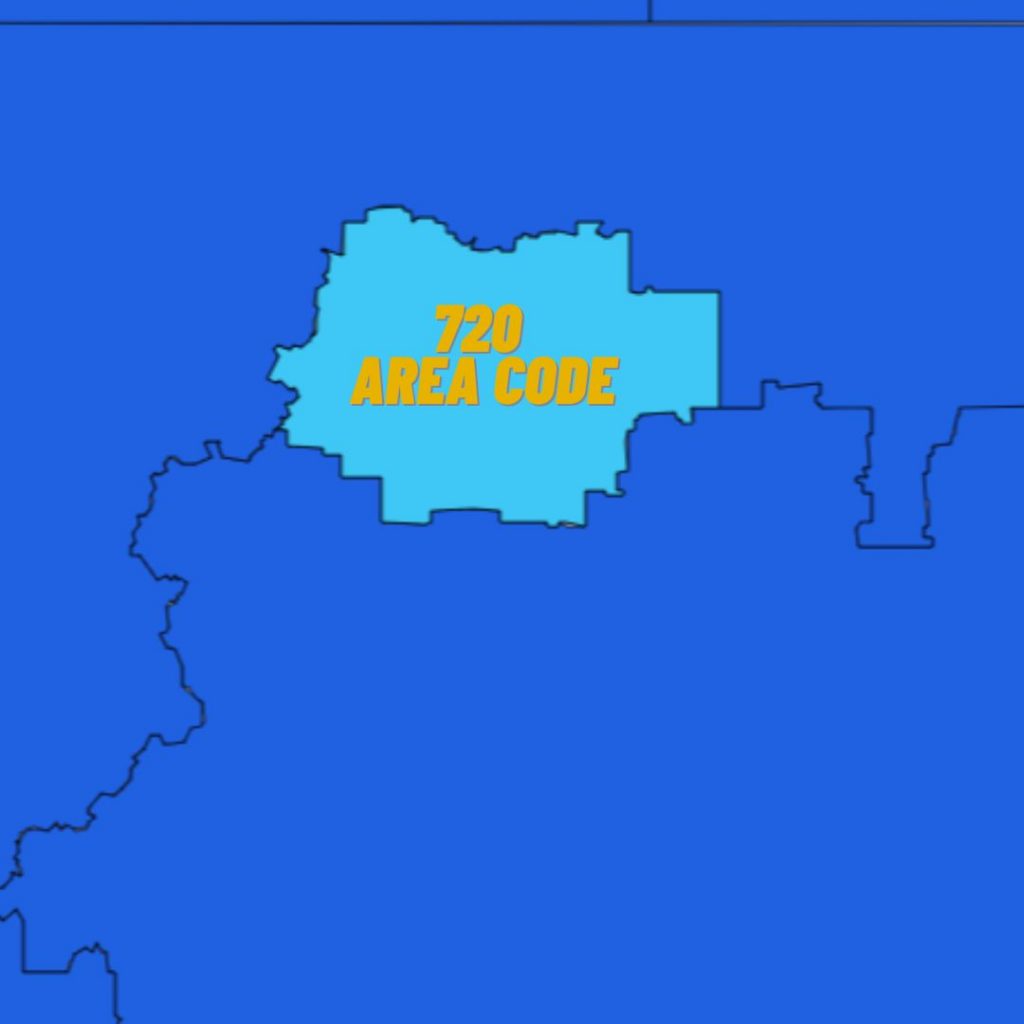 720 area code time zone
Area code 720 is in the America/Denver zone, also known as the Mountain timezone.
Nearby area codes
719 (Colorado Springs, CO)
970 (Aspen, CO)
308 (Grand Island, NE)
505 (Albuquerque, NM)
Denver 720 area code benefits
Denver is located in central Colorado and, since 1901, has been both a city and a county. It is home to the state capital of Colorado and has more than 700,000 residents. Denver is one of the best-known metropolitan areas in the United States for its landscapes, major educational institutions, and economy.
In particular, Denver's diversified economy is one of its greatest strengths. The city's major economic sectors are aerospace, broadcasting and telecommunications, healthcare and wellness, financial services, bioscience, energy, and I.T. software. Specifically, the technology sector has been the fastest growing sector in recent years. Denver-hosted IT companies highlight the attractiveness of one of the nation's most influential Internet and telecommunications services industry clusters.
The development of the energy sector is one factor attracting more technology companies to the area. Denver's renewable energy technologies are experiencing rapid and sustained growth. According to the Metro Denver Economic Development Council's annual industry study, the region ranks in the top 4 for the concentration of employment in the renewable energy sector.
In addition, the technology sector is supported by the U.S. Department of Transportation, so Denver is embracing new and better ways to invest in I.T. to improve services for the public sector, private businesses, and the tourism sector.
The U.S. Department of Transportation's Smart Cities Challenge is driving the city and county of Denver to develop transformative, multidisciplinary technology projects. It's an opportunity that I.T. companies can't afford to miss, as foreign companies can count on the support and collaboration of the Global Business Development department to develop their projects in the U.S.
Regarding economic data, Denver County has an unemployment rate of 7.1%. In 2022, the county has experienced economic growth of 2.8%, and over the next ten years is expected to grow by 45.0%, which is higher than the U.S. average of 33.5%. Finally, the median household income of a Denver resident is  $51,800.
Why choose a local phone number
VoIPstudio provides your business with a virtual phone number so that your customers can contact your business by making local calls instead of long-distance calls. You can get the virtual phone number with the area code best fits your business objectives.
The main benefits of obtaining a local telephone number are:
Receiving or placing calls to a familiar and geographically close phone number builds customer confidence.
Replacing long-distance calls with local calls reduces the phone bill for your customers and your business.
Creating a local presence for your company creates a feeling of closeness for customers, whether you are a large or small business.
A virtual phone number is suitable for use on any device. So mobile phones, computers and tablets.
Why get a local number with VoIPstudio
VoIPstudio is a complete business phone system and an award-winning cloud telephony service designed for businesses like yours. Here are the essential features of our services:
How to get an area code 720 number with VoIPstudio
In this short video, we explain in a simple way how to choose a virtual number with the area code of your choice with your VoIPstudio account.
If you are looking for a specific number and do not find it, you can contact our support team, and we will help you find the number that best suits your needs.
Get a free 720 area code number
Get your 720 area code local phone number with VoIPstudio. We will assign you a number from the area of your choice, and you can use it for free for 30 days: no contracts, no hidden upgrades, and no support fees. Choose your price plan based on the number of calls you make, no credit card is required to sign up, and you can cancel anytime. Start your free 30-day trial today!