The North American Numbering Plan (NANP) is a telephone numbering plan whereby a specific geographic area is assigned a prefix. In this case, the 984 area code pertains to most of Wake County in the state of North Carolina and includes such major cities as Raleigh, Durham, Cary, and Chapel Hill.
In 1947 North Carolina was initially assigned the 704 area code. However, in 1957 both the eastern and central parts of the state needed to adopt the 919 area code. In 1998 the 919 area code was reduced to the central part of North Carolina, and as of 2011, due to the increase in mobile devices, it was necessary to implement the 984 area code in the same area. Currently, the 919 and 984 are the two area codes for Raleigh, Durham, Cary, Chapel Hill, and the surrounding suburban areas of the Research Triangle.
If you are interested in getting a 984 area code to make local calls in the central part of the state of North Carolina, with VoIPstudio you can get a number of your choice along with the services of our virtual PBX for business.
984 area code map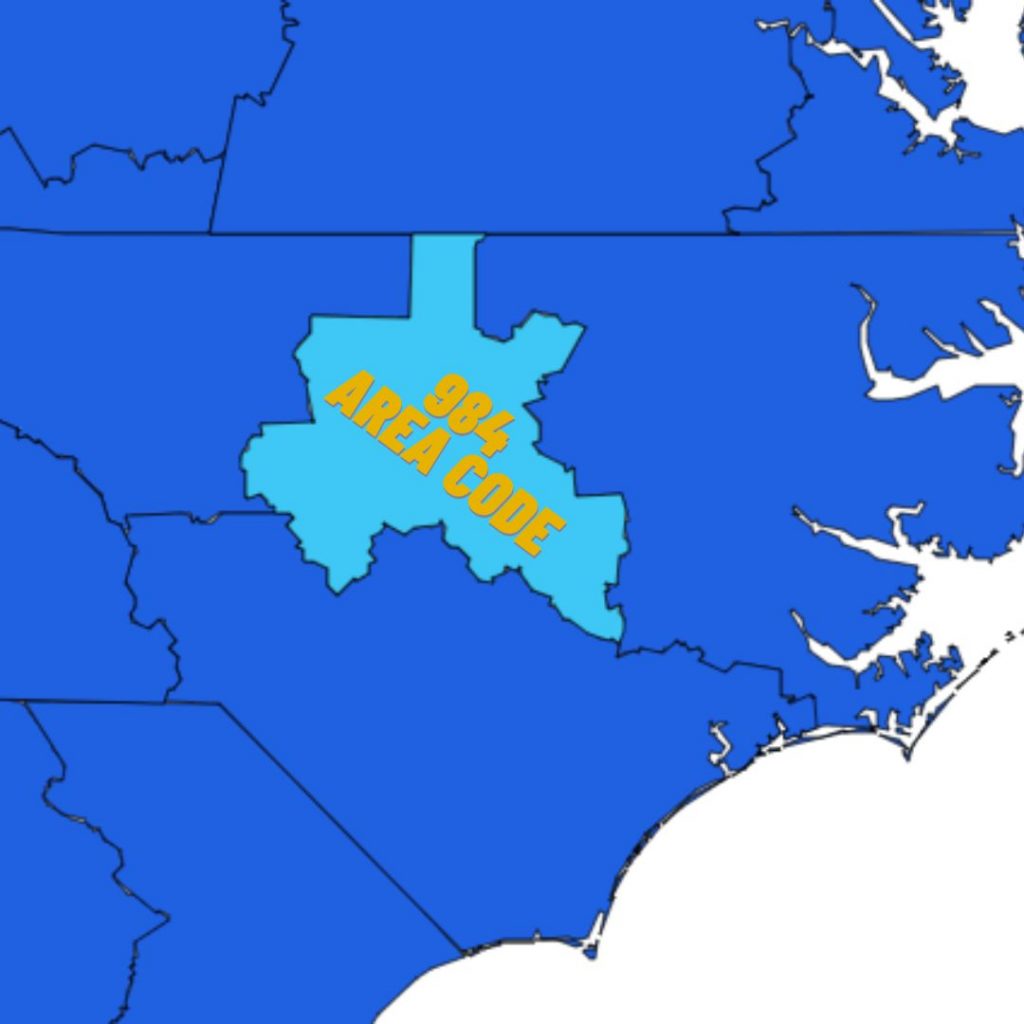 984 area code time zone
Are acode 984 is in the America/New York zone, also known as the Eastern timezone.
Nearby area codes
252 (Greenville, NC)
336/743 (Greensboro, NC)
434 (Lynchburg, VA)
910 (Fayetteville, NC)
Wake County 984 area code benefits
Wake County is the most populous county in North Carolina, with over 1 million residents. The county is home to major cities such as Cary and Raleigh, the state capital.
The economy of this area is heavily influenced by the textile industry and, above all, by the Research Triangle Park, one of the most important research centers and industrial parks in the United States. Wake County's industrial base is also quite strong. It produces mainly medical, telecommunications, electronic and electrical equipment. In addition, there is a strong agricultural industry in the rural areas, primarily cotton, wheat, soybeans, corn, and tobacco.
It is a significantly technologically developed geographical area where the ICT sector dramatically benefits the local economy. In 2007, CNN ranked the county as the third fastest-growing employment area in the country and the best region for technology workers.
The 2007 data still holds today. In 2021, Apple Inc announced that it would build a research center in Research Triangle Park in the coming years. This facility will employ more than 3,000 people in the area.
Finally, the economic data for Wake County is very encouraging for the coming years. It is an area with a growing economy, with an expected employment growth rate of 45.5% and unemployment at 3.8%, well below the US average (6%).
Raleigh 751 area code benefits
The city of Raleigh is the state capital of North Carolina. It has over 450,000 people and is the second most populous city in the state, behind Charlotte. It is best known as the home of Research Triangle Park and its universities, notably North Carolina State University.
The city's main economic drivers are technology, banking, healthcare, telecommunications, and pharmaceuticals. These industries are joined by seasonal tourism, particularly the annual Rock n' Roll Raleigh Half Marathon, the Krispy Kreme Challenge, Brewgaloo, Meet in the Street Festival, and the Freedom Balloon fest.
Four Fortune 1000 companies are headquartered in Raleigh, focusing on the construction, software, and healthcare sectors. The city was named in 2011 as the second most prosperous city in the United States by Forbes magazine and in 2017 as one of the top 12 tourist destinations in the country.
Currently, Raleigh has experienced 3% economic growth in 2021, has an unemployment rate of 4.2%, and expects 44% economic growth in the coming years. It is a highly affluent city, with more than 23% of its residents earning over $100,000 per year and the median income at $77,000 per year. The main occupations of residents are scientific and technical services, health care, and professional services.
Why choose a local phone number
VoIPstudio provides your business with a virtual phone number so that your customers can contact your company by making local calls instead of long distance calls. You can get the virtual phone number with the area code that best fits your business objectives.
The main benefits of obtaining a local telephone number are:
Receiving or placing calls to a familiar and geographically close phone number builds customer confidence.
Replacing long distance calls with local calls reduces the phone bill for both your customers and your business.
Creating a local presence for your business creates a feeling of closeness for customers, whether you are a large or small business.
A virtual phone number is suitable for use on any device. So mobile phones, computers and tablets.
Why get a local number with VoIPstudio
VoIPstudio is a complete business phone system and an award-winning cloud telephony service that's been designed for businesses like yours. Here are the most important features of our services:
Global connection, virtual numbers from thousands of cities and millions of numbers to choose from, geographic and non-geographic.
It's a complete call center, fully equipped and directly from the cloud.
It allows unlimited call recording to help you manage compliance and performance.
Bring your teams together with our collaboration features, including video calls and video conferencing.
Virtual switchboard that allows you to manage your calls in real time with drag-and-drop call control.
VoIPstudio offers you 40 advanced call control features. Build IVR systems, complex routing and manage calls.
Our customers think we're excellent. Check out the case studies and reviews.
How to get an area code 984 number with VoIPstudio
In this short video we explain in a simple way how to choose a virtual number with the area code of your choice with your VoIPstudio account.
If you are looking for a specific number and you do not find it, you can contact our support team and we will help you find the number that best suits your needs.
Get a free 984 area code number
Get your 984 area code local phone number with VoIPstudio. We will assign you a number from the area of your choice and you can use it for absolutely free for 30 days. No contracts, no hidden upgrades and no support fees, choose your price plan based on the number of calls you make, no credit card is required to sing up and you can cancel at any time. Start your free 30-day trial today!