VoIPstudio is firmly committed to protecting its users' data and communications. That's why we now incorporate two-factor authentication (2FA) for logging into the service, making it even more difficult for any malicious person to access information and make VoIP calls from our users' accounts.
What is 2FA?
Two-factor authentication (2FA), also known as two-factor or two-step authentication, is a security system in which the user is asked to verify their identity in two ways instead of just using a username and password.
It is estimated that more than 80% of unauthorized access and security breaches are related to brute force attacks or the use of stolen or lost credentials. Both are related to the weakness of the single use of a username and password-based credential systems.
This problem can be due to password theft through system hacks or users not using sufficiently strong passwords, or not following basic security guidelines.
This is where two-factor authentication comes into play. Simply put, this system implies that two steps are required for user authentication into the system. The first step is usually a traditional password, while the second step can be any form of authentication that relies on something the user has, such as one-time passwords (OTP) sent by email, USB tokens, fingerprint scanners, or push notifications sent to mobile devices.
This additional step ensures that even if hackers gain access to the password, they will still need some other information that the user personally possesses to gain access to the system.
How to enable two-factor authentication in VoIPstudio?
Traditionally, VoIPstudio users have accessed the system using a simple username and password-based authentication system. While this security may be sufficient if proper precautions are taken, using 2FA authentication further protects our users' accounts.
Enabling the two-factor authentication mechanism is very simple:
Log in to the VoIPstudio user console as usual.
Go to the Settings section.
In the Security section, enable two-factor authentication by selecting the "Email Authentication Code" option.

In VoIPstudio, the second-factor authentication is done by sending a unique access code to your email. This way, even if someone gets your username and password, they would still have to get access to your email to log into the application.
System administrators can also enable two-factor authentication individually through user settings.
How does two-factor authentication work?
Once two-factor authentication is enabled, when you try to access your account with your username and password, you will see a new screen asking you to enter the activation code that we sent to the email associated with your VoIPstudio account.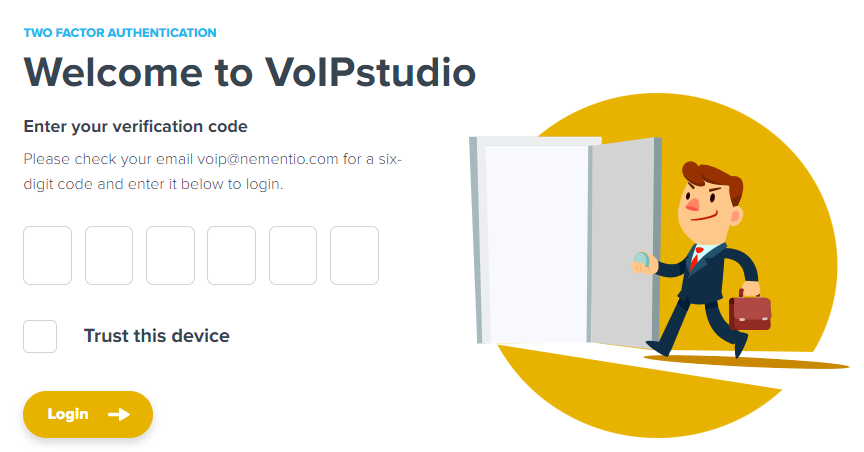 It is possible to check the option "Trust this device" to avoid being asked again to double authenticate from that device. This option should only be used when it is a personal or work device to which only you have access (through some additional authentication mechanism), and in no case, if you access the service from a device or computer shared with other people.
Are you a VoIPstudio user? Don't wait any longer. Enable two-factor authentication access today and make your system even more secure.