The North American Numbering Plan (NANP) is a telephone numbering plan whereby a specific geographic area is assigned a prefix. In this case, the 205 area code pertains to the western and central parts of the State of Alabama, including Birmingham and Tuscaloosa County and such major cities as Tuscaloosa, Northport, Cottondale, Brookwood, Coker, and Coaling.
In 1947, the 205 area code was one of 86 original area codes and was intended to cover the entire state of Alabama. By the 1990s, the 205 area code was nearing exhaustion because of the proliferation of population and cellular phones. Therefore, in 1995, area code 334 was created to serve the southern parts of the state. After that, in 1998, the northern and eastern regions remained under the prefix 256. Finally, in 2019, area code 659 was introduced to complement area code 205 for the western and central parts of the state.
If you are interested in getting a 205 area code number to make local calls in the south part of the state of Alabama, with VoIPstudio, you can get a number of your choice along with the services of our virtual PBX for business.
205 area code map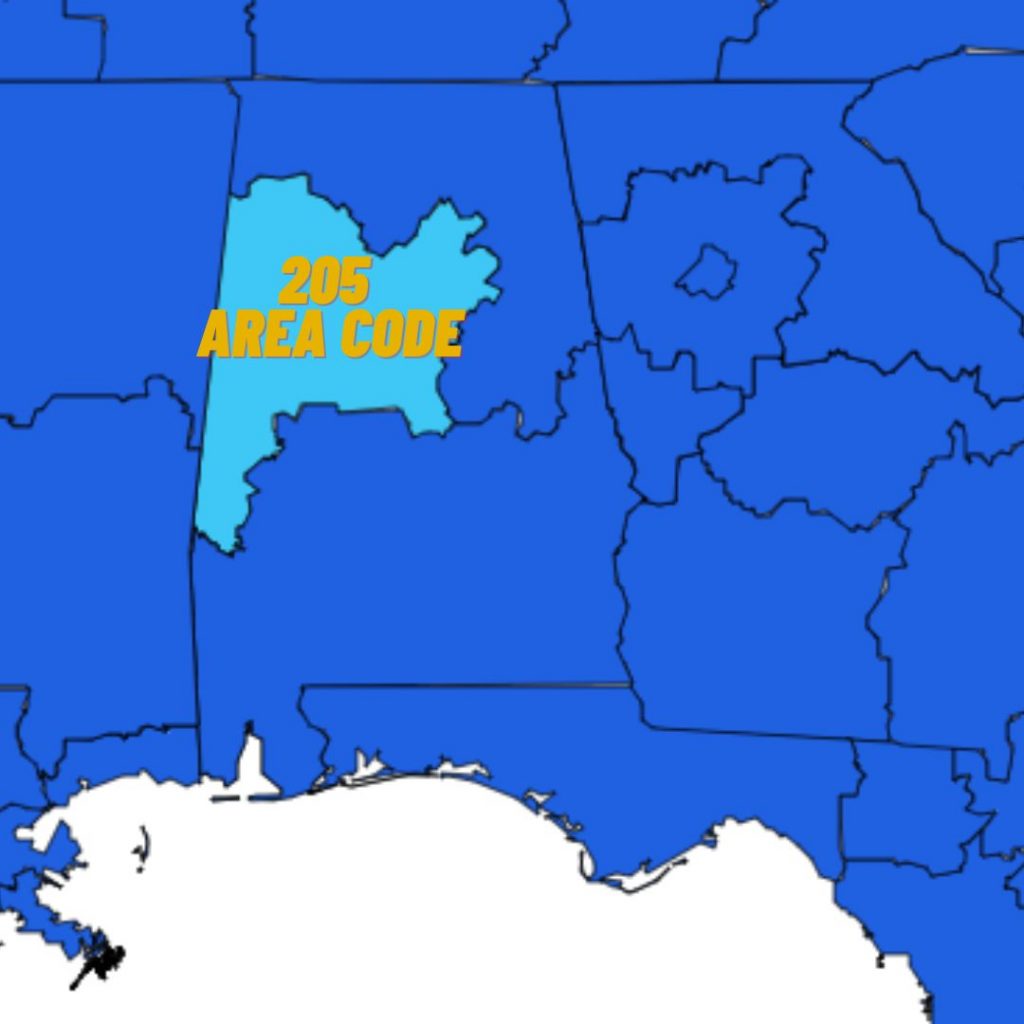 205 area code time zone
Area code 205 is in the America/Chicago zone, also known as the Central Standard timezone.
Nearby area codes
251 (Mobile, AL)
256/938 (Huntsville, AL)
334 (Montgomery, AL)
601/769 (Jackson, MS)
662 (Southaven, MS)
Tuscaloosa County 205 area code benefits
Tuscaloosa County is located in the northwestern, central part of the state of Alabama and is one of the state's economic centers. It has a population of over 220,000 as of the 2020 census, and its largest city is Tuscaloosa.
The county's economy is strongly tied to the education and automotive industries. The state's largest employers are Mercedes Benz U.S. International, MP Automotive Systems, DCH Regional Medical Center, and the University of Alabama.
Recently, the Tuscaloosa County Economic Development Authority identified six emerging industries that could be targeted for future growth and expansion of the county's economy: research and development, healthcare, corporate operations, advanced manufacturing, information technology, and energy.
At the present time, Tuscaloosa County has an unemployment rate of 3.6%, below the U.S. average (6%). The county experienced economic growth of 1.9% in 2021, which is expected to be 33.5% in the coming years.
Tuscaloosa 205 area code benefits
The city of Tuscaloosa is the county capital. It has over 100,000 people and is the most populous city in the state. Despite its image as a college town, Tuscaloosa has a diversified economy in the manufacturing and service sectors. Government agencies employ 25% of Tuscaloosa's population, followed by manufacturing which uses 16.7% of the population. Finally, retail trade and transportation employ 16.4%, and finance employs 11.6% of residents.
In 2021, the University of Alabama proposed a project that could be the most significant economic breakthrough in the area since the arrival of Mercedes-Benz 25 years ago.
The idea is called the "Tuscaloosa Innovation District" and has a budget of $1.5 billion. As a result, the Innovation District could create unprecedented opportunities in terms of employment, economic development, and housing. The idea is to employ more than 4,000 people and develop five themed research campuses totaling more than 3.84 million square feet. This is a business opportunity that technology companies cannot afford to miss.
Currently, Tuscaloosa has an unemployment rate of 4.4% and expects 31.2% economic growth in the coming years. The median family income is $55,720 per year, and the median household income is $42,428 per year.
Why choose a local phone number
VoIPstudio provides your business with a virtual phone number so that your customers can contact your business by making local calls instead of long-distance calls. You can get the virtual phone number with the area code best fits your business objectives.
The main benefits of obtaining a local telephone number are:
Why get a local number with VoIPstudio
VoIPstudio is a complete business phone system and an award-winning cloud telephony service designed for businesses like yours. Here are the essential features of our services:
How to get an area code 205 number with VoIPstudio
In this short video, we explain in a simple way how to choose a virtual number with the area code of your choice with your VoIPstudio account.
If you are looking for a specific number and do not find it, you can contact our support team, and we will help you find the number that best suits your needs.
Get a free 205 area code number
Get your 205 area code local phone number with VoIPstudio. We will assign you a number from the area of your choice, and you can use it for free for 30 days: no contracts, no hidden upgrades, and no support fees. Choose your price plan based on the number of calls you make, no credit card is required to sign up, and you can cancel anytime. Start your free 30-day trial today!