The North American Numbering Plan (NANP) is a telephone numbering plan whereby a specific geographic area is assigned a prefix. In the case of area code 561, this is for Palm Beach County in the state of Florida, United States. It includes all major cities in the county, such as Boca Raton, West Palm Beach, Wellington, Boyton Beach, Jupiter, Delray Beach and Belle Glade.
The 561 area code was created on May 13, 1996, due to the depletion of the previous 407 area code. In 2002, due to the proliferation of cellular telephones and population growth in the county, the 561 area code was nearly exhausted. For this reason, the northern part of the county, Treasure Coast, acquired a new area code, 772, separating it from the Palm Beach area and 561.
561 area code map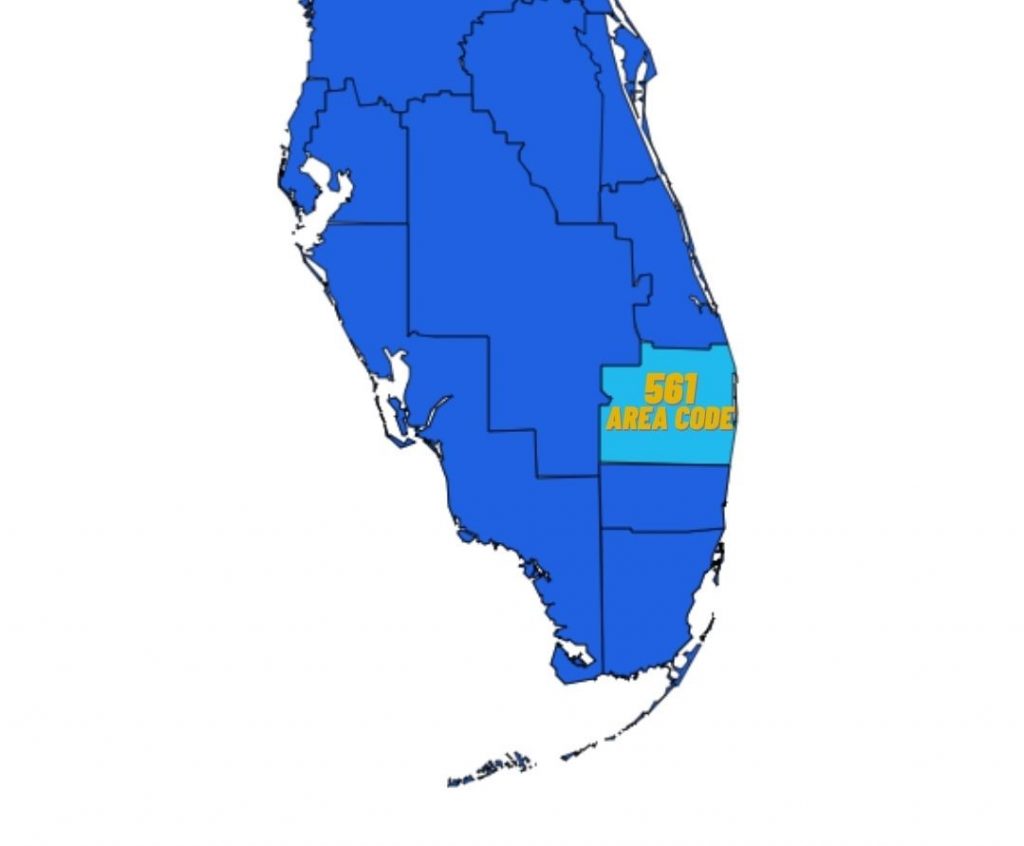 561 area code time zone
Area code 561 is in the America/New York time zone, also known as the Eastern time zone.
Nearby area codes
239 (Cape Coral, FL)
754/954 (Fort Lauderdale, FL)
772 (Port St. Lucie, FL)
863 (Lakeland, FL)
305 (Miami, FL)
407 (Orlando, FL)
850 (Tallahassee, FL)
Florida and 561 area code benefits
With almost 22 million inhabitants, the state of Florida is an ideal place to expand a customer base or establish a business buying and selling goods and services. If you want to grow your business in this area and make business calls to the residents of this state, the best option is to make those calls from a number with a Florida area code.
In recent years, large national companies have announced plans to relocate to Florida, such as The Walt Disney Co., which has confirmed plans to move its headquarters in Burbank, California, to Florida within the next 18 months. This is due to the state's low tax policy, which aims to attract large companies to generate employment and wealth in the area.
Palm Beach is the third most populous county in Florida and the largest geographically, covering more than 2,300 square miles and a population of more than 3,000,000 people. Its industry is one of the strongest in the state, with approximately 50,000 businesses in the county, mostly in communications and information technology, aerospace and engineering, agriculture and food processing, business and financial services, and medical and pharmaceutical products. It also has some of the world's best manufacturers that export internationally.
Boca Raton in the 561 area code benefits
Boca Raton is one of the most important cities in the county, along with West Palm Beach. It has a population of approximately 98,000, and 200,000 people reside in the city's outlying areas.
As in the rest of the state, Boca Raton has recently become a capital investment area for prominent New York companies, such as Elad Group, which are investing their capital in business development in Boca Raton, making the city a robust emerging market within Florida.
Boca Raton also has prestigious universities that provide companies with a highly qualified and competitive workforce. Atlantic University, one of Boca Raton's local universities, is the most crucial university in Palm Beach County.
The city boasts Renaissance Revival architecture of a truly artistic nature. The vast majority of local buildings have intentionally beautiful facades. The consequence of this architecture translates into a large influx of tourists to the area. The Town Center of Boca Raton is one of South Florida's premier luxury destinations, attracting over 12 million visitors annually.
Why choose a local phone number
VoIPstudio provides your business with a virtual phone number so that your customers can contact your business by making local calls instead of long-distance calls. You can get the virtual phone number with the area code best fits your business objectives.
The main benefits of obtaining a local telephone number are:
Receiving or placing calls to a familiar and geographically close phone number builds customer confidence.
Replacing long-distance calls with local calls reduces the phone bill for your customers and your business.
Creating a local presence for your business makes a feeling of closeness for customers, whether you are a large or small business.
A virtual phone number is suitable for use on any device. So mobile phones, computers and tablets.
Why get a local number with VoIPstudio
VoIpstudio is a complete business phone system and an award-winning cloud telephony service designed for businesses like yours. Here are the essential features of our services:
We offer a global connection, virtual numbers from thousands of cities and millions of numbers to choose from, geographic and non-geographic.
It's a complete call centre, fully equipped and directly from the cloud.
It allows unlimited call recording to help you manage compliance and performance.
It allows you to bring your teams together with our collaboration features, including video calls and conferencing.
We have a virtual switchboard that allows you to manage your calls in real-time with drag-and-drop call control.
We have over 40 advanced call control features. Build IVR systems, complex routing and manage calls.
Our customers think we're excellent. Check out the case studies and reviews.
How to get an area code 561 number with VoIPstudio
In this short video, we explain in a simple way how to choose a virtual number with the area code of your choice with your VoIPstudio account.
If you are looking for a specific number and do not find it, you can contact our support team, and we will help you find the number that best suits your needs.
Get a free 561 area code number.
Get your 561 area code local phone number with VoIPstudio. We will assign you a number from the area of your choice, and you can use it for free for 30 days: no contracts, no hidden upgrades and no support fees. Choose your price plan based on the number of calls you make, no credit card is required to sign up, and you can cancel anytime. Start your free 30-day trial today!