The North American Numbering Plan (NANP) is a telephone numbering plan whereby a specific geographic area is assigned a prefix. In this case, the code 702 area pertains to most of Clark County and includes major cities like Las Vegas, Winchester, Spring Valley and Henderson.
In 1947, the area code 702 was one of the original 86 area codes and was intended to cover the entire state of Nevada. The increase in population and the incessant need for more telephone numbers caused the state of Nevada to use two different area codes in 1998, creating the 775 area code for the rest of the territory outside Clark County. Currently, due to the condensation of the population in the county, area code 702 has shared the territory of Clark County with the 725 since 2014.
If you are interested in getting a 702 area code number to make local calls in the south part of the state of Nevada, with VoIPstudio, you can get a number of your choice along with the services of our virtual PBX for business.
702 area code map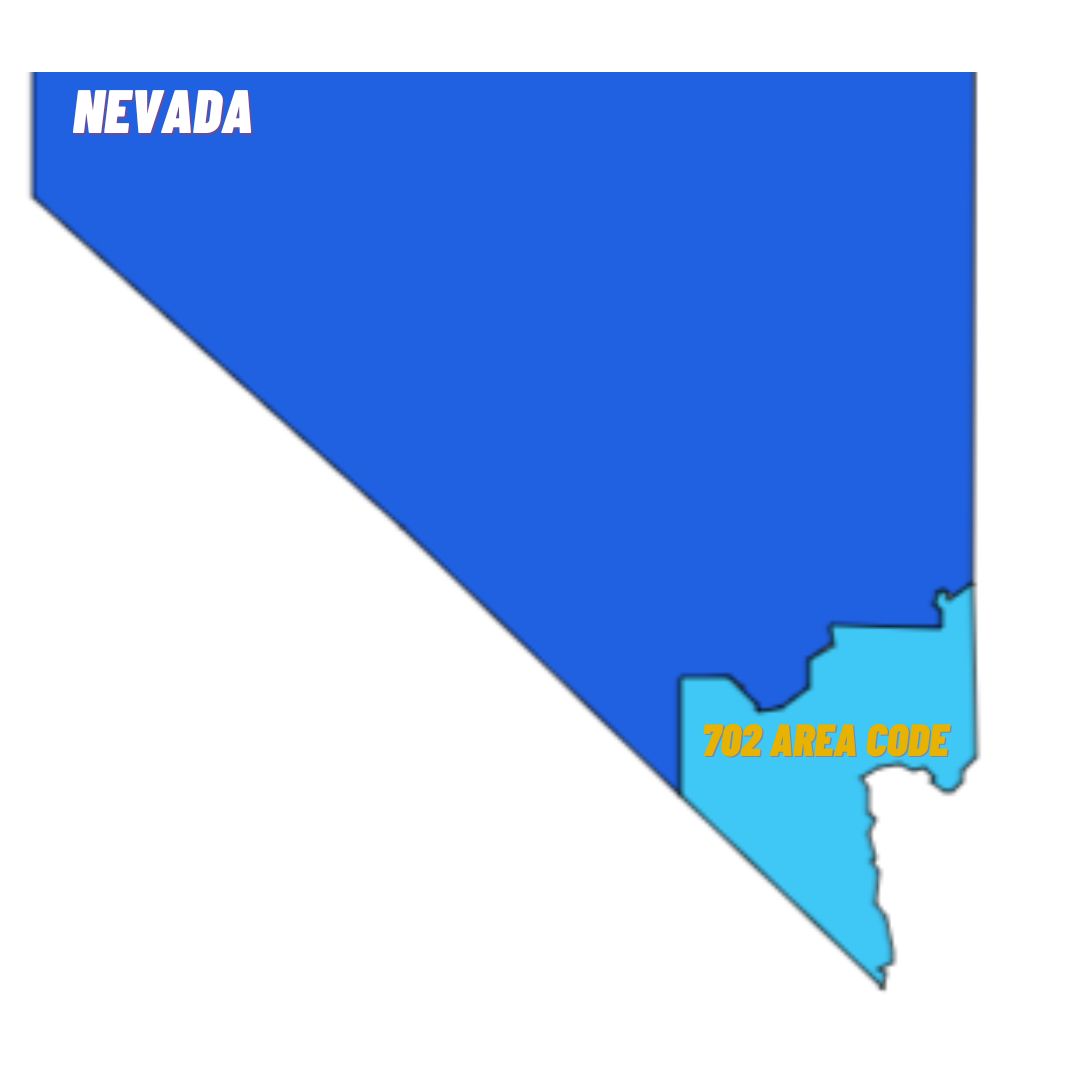 702 area code time zone
Area code 702 is in the America/Los Angeles zone, also known as the Pacific timezone.
Nearby area codes
442 (Oceanside, CA)

760 (Oceanside, CA)

775 (Reno, NV)

928 (Yuma, AZ)
B
enefits of having a
702 area code number: Nevada
Phone numbers with a 702 area code belong to Clack County in the state of Nevada, which has a population of more than 2 million people. The county is home to two-thirds of Nevada's population (3.1 million) and, in addition to the famous Las Vegas, has significant cities such as Winchester and Henderson. Clark County is culturally rich, and its main economic engine is national and international tourism, attracting millions of visitors a year. The largest industries in Clack County are accommodation and food services. However, after the impact of the pandemic on the tourism sector, Clack County has set out to diversify its economy.
According to Shani Coleman, community and economic development director for Clark County, the proposal to diversify the county's industry was a conversation from the last major crisis in 2008. The 2020 pandemic has now made it a necessary measure. The county government intends to provide new opportunities and facilities for manufacturing and technology companies to enter the southern Nevada market. 
The governors' interest in industry diversification is an opportunity businesses cannot afford to miss. Access to the county's political leaders is now more accessible than ever for companies looking to grow and expand. Currently, the county has an unemployment rate of 8.8%. Nevertheless, due to these policies of diversification and attracting businesses from different sectors, employment growth of over 40% is expected. Data from the past years have shown that the job market has grown almost 4%.
B
enefits of having a
702 area code number: Las Vegas
Las Vegas is one of the most internationally known cities in the United States and the 26th most famous city among Americans. It has a population of 675,592 and is a world leader in hospitality. The city's predominant industry is gaming and gambling. It is home to the world's largest gambling companies, such as Caesars Entertainment and MGM Resorts International. 
The city's population has been growing steadily since 1940, experiencing a 4.5% growth in the last two years compared to 2020. As a result, the second largest industry in the territory is construction. 
Art and education also play an essential role in Las Vegas. The city boasts the famous Downtown Art District. It is the home to countless art exhibitions, events and galleries that delight influential and small artists alike. Regarding educational facilities, Las Vegas boasts significant institutions such as the University of Nevada or the University of Phoenix. These institutions attract millions of students and new talent to the territory each year.
 Las Vegas is also looking to diversify its industry to avoid repeating past mistakes and future economic recessions. The city is a significant economic environment for growing or expanding businesses. It has an unemployment rate of 7.1%, but 19% of its residents earn $100,000 at least per year. To conclude, the city has experienced economic growth of over 3% in the last year.
Why choose a local phone number
VoIPstudio provides your business with a virtual phone number so that your customers can contact your business by making local calls instead of long-distance calls. You can get the virtual phone number with the area code best fits your business objectives.
The main benefits of obtaining a local telephone number are:
Receiving or placing calls to a familiar and geographically close phone number builds customer confidence.
Replacing long-distance calls with local calls reduces the phone bill for your customers and your business.
Creating a local presence for your business creates a feeling of closeness for customers, whether you are a large or small business.
A virtual phone number is suitable for use on any device. So mobile phones, computers and tablets.
Why get a local number with VoIPstudio
VoIPstudio is a complete business phone system and an award-winning cloud telephony service designed for businesses like yours. Here are the essential features of our services:
Global connection, virtual numbers from thousands of cities and millions of numbers to choose from, geographic and non-geographic.
It is a complete call centre, fully equipped and directly from the cloud.
It allows unlimited call recording to help you manage compliance and performance.
Virtual switchboard allows you to manage your calls in real-time with drag-and-drop call control.
Bring your teams together with our collaboration features, including video calls and video conferencing.
40 advanced call control features. Build IVR systems, complex routing and manage calls.
Our customers think we are excellent. Check out the 

case studies

 and 

reviews

.
How to get an area code 702 number with VoIPstudio
In this short video, we explain in a simple way how to choose a virtual number with the area code of your choice with your VoIPstudio account.
If you are looking for a specific number and do not find it, you can contact our support team, and we will help you find the number that best suits your needs.
Get a free 702 area code number
Get your 702 area code local phone number with VoIPstudio. We will assign you a number from the area of your choice, and you can use it absolutely free for 30 days. No contracts, no hidden upgrades and no support fees. Choose your price plan based on the number of calls you make, no credit card is required to sign up, and you can cancel anytime. Start your free 30-day trial today!