The North American Numbering Plan (NANP) is a telephone numbering plan whereby a specific geographic area is assigned a prefix. In this case, area code 949 belongs to Orange County in California, United States. This code area includes all municipalities in the county, such as Laguna Beach, Irvine, Newport Beach, Laguna Hills, Lake Forest, Portola Hills, Coto de Caza, Dove Canyon and Aliso Viejo.
Initially, Orange County had the 714 area code, but in 1998, due to the county's growing population and the increasing use of personal mobile phones, Southern California cities were covered under the new 949.
If you are interested in getting a 714 area code number to make local calls in the south part of the state of California, with VoIPstudio, you can get a number of your choice along with the services of our virtual PBX for business.
949 area code map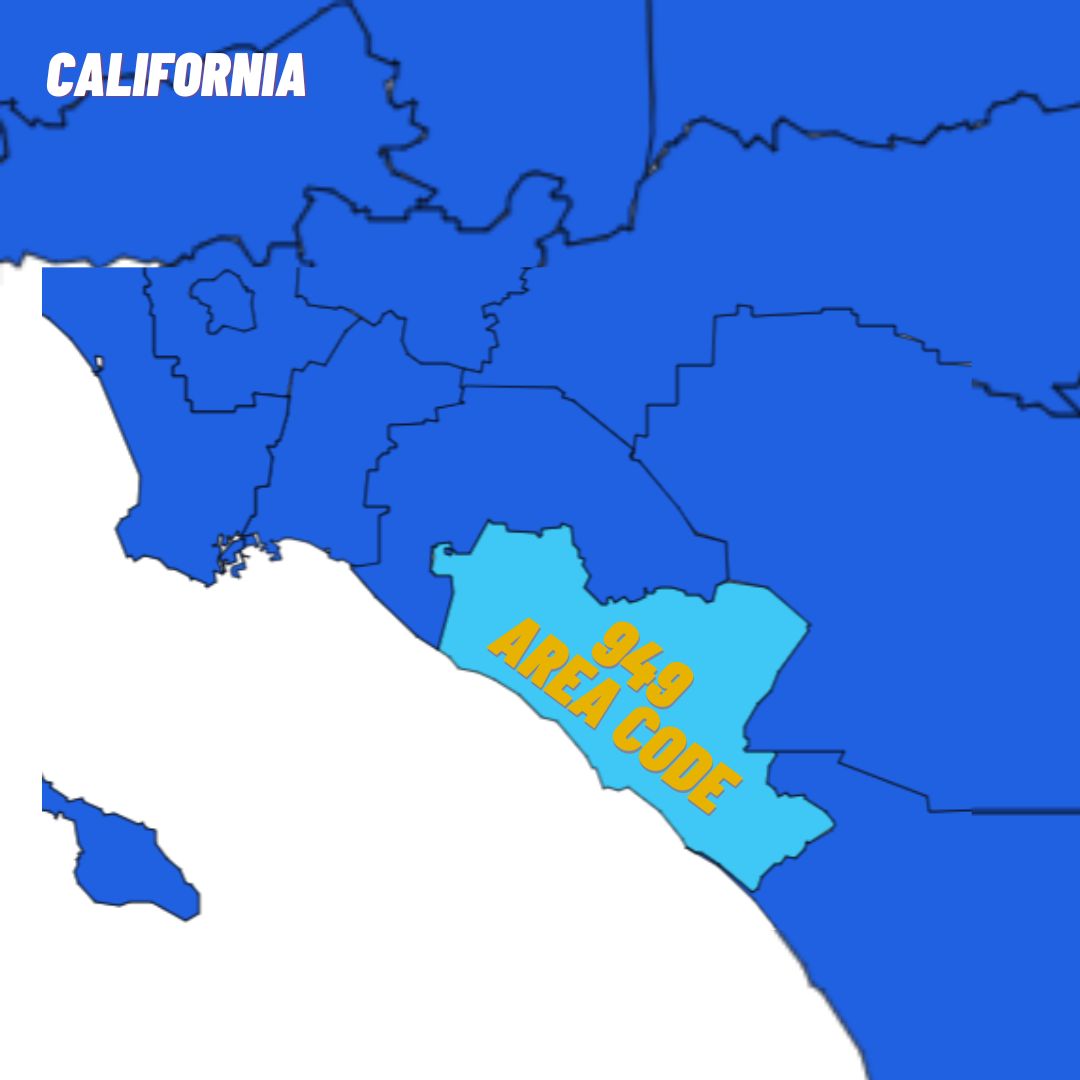 949 area code time zone
Area code 949 is in the America/Los Angeles zone, also known as the Pacific timezone. 
Nearby area codes
442 (Oceanside, CA)
562 (Long Beach, CA)
714 (Anaheim, CA)
951 (Riverside, CA)
B
enefits of having a 949
area code number: Orange County
Orange County is the third largest county in California. More than 3 million residents own a local telephone number with a 949 area code. It is one of the wealthiest areas in the state. It has five of the wealthiest municipalities in the entire United States located within Orange County. Therefore, it is not surprising that it is a geographic area famous for being a significant business destination. Companies are flocking to this area of Southern California in search of quality clients.
Firstly, it is an area with a growing job market and economy. The southern part of Orange County is one of the most important IT centres in the country. It has many Fortune 500 and technology companies, not to mention a growing number of start-ups.
Tourism is another primary industry in Orange County. The climate, beautiful locations such as beaches, rivers and mountains, and resorts and theme parks such as Disneyland Resort and Knott's Berry Farm attract millions of tourists worldwide.
The quality of educational institutions provides value to businesses by supplying a young and highly skilled workforce. Institutions such as the University of California and Orange Coast College attract thousands of students annually and are ranked among the top universities in the state.
Orange County has a GDP of over $220 billion, putting it ahead of San Diego after the 4.4% recession in 2020. It currently has an unemployment rate of 6.4%, and its economy is expected to grow by 32.8% in the next few years.
B
enefits of having a 949
area code number: Laguna Beach
Laguna Beach is a small coastal city located in southwestern Orange County. It has 23,036 people and is famous in California for its art. The town has many art galleries, such as the Laguna Gallery of Contemporary Art and Kush Fine Art. Laguna Beach even has its own university dedicated exclusively to the arts, the Laguna College of Art and Design.
Although tourism is a powerful part of Laguna Beach's industry, due to its good weather, coastline and landmarks such as Crystal Cove State Park, the city's economy is very diverse. Scientific and technical services, retail trade, health care and social assistance are its largest industries. And the highest paying industries are utilities, finance and insurance, and health care and social assistance.
The unemployment rate in Laguna Beach is 5.1%, which is below the national average, and economic growth is expected to exceed 30% over the next ten years. It is also a promising area for expanding your business into the territory, as the median household income is $129,983, well above the national average of $53,000.
Why choose a local phone number
VoIPstudio provides your business with a virtual phone number so that your customers can contact your business by making local calls instead of long-distance calls. You can get the virtual phone number with the area code best fits your business objectives.
The main benefits of obtaining a local telephone number are:
Why get a local number with VoIPstudio
VoIPstudio is a complete business phone system and an award-winning cloud telephony service designed for businesses like yours. Here are the essential features of our services:
How to get an area code 205 number with VoIPstudio
In this short video, we explain in a simple way how to choose a virtual number with the area code of your choice with your VoIPstudio account.
If you are looking for a specific number and do not find it, you can contact our support team, and we will help you find the number that best suits your needs.
Get a free 205 area code number
Get your 205 area code local phone number with VoIPstudio. We will assign you a number from the area of your choice, and you can use it for free for 30 days: no contracts, no hidden upgrades, and no support fees. Choose your price plan based on the number of calls you make, no credit card is required to sign up, and you can cancel anytime. Start your free 30-day trial today!