Communication is key to attracting new customers and retaining existing ones in any company or business. In this sense, the telephone is still one of the main communication channels preferred by many users to interact with brands, and VoIP telephony systems provide companies with the power and flexibility to meet the demands of their customers.
Contact management is one of the main issues to consider when organizing and planning business communications. Where do we currently store our company's contacts? Where should we keep these contacts to improve customer communication and increase productivity? These questions are vital to improving access and management of contacts within our company.
Specifically, in the field of telephone communications and VoIP systems, proper business contact management will allow us to improve customer service and increase the productivity of our teams.
Where can we store our contacts
Contact management can vary greatly depending on the size of our company and its state of digitization. Some of the most common repositories for storing contacts are:
Local contacts in our smartphone or telephone terminal.
Cloud contacts solutions offered by technology providers, such as iPhone or Samsung.
Contact management services of our email provider/client, such as Outlook or Google.
Other cloud contact management solutions.
A customer management tool (CRM).
Freelancers and small businesses often manage their contacts from email or directly from the smartphone's contact manager. Mixing private and business contacts in these directories may seem practical, but it is not optimal. In the long term, it will be necessary to access these contacts from other terminals or give access to them to other colleagues or employees of the company.
The ideal scenario for companies would be to have a specific directory for business contacts, which allows sorting, filtering, and storing information of these contacts in the best possible way. Before looking for the best solution to store our contacts, we should ask ourselves: What information do we want to keep? What features are interesting when evaluating contact databases? Considering functionalities and price, what is the best way to store contacts?
What information should we store?
In the contact database, we can store from basic information to the smallest detail of our contacts. Some of the most common fields that we can find in a business database can be:
First and last name.
Company.
Position.
Email address.
Telephone number(s).
Mailing address.
Notes/comments.
We can also store interesting information that allows us to sort, filter, and access contacts more easily by different criteria, such as, for example:
Contact type: for example, whether it is a customer, supplier, or co-worker.
Tags to mark contacts with different classification criteria.
Depending on the company's organization, we may also need the database to allow grouping of contacts according to who should be able to access them: the whole company, a given department, or, if they are private, only an employee.
Finally, we will be interested in recording the contact activity manually or automatically so that we can store the transaction in the database when we receive a call, email, or contact from the customer. We usually find this feature in more advanced customer management applications or CRMs.
What features are interesting?
Perhaps the features that initially interest us most in a contact database are, on the one hand, the ease of adding or editing contacts and on the other hand, from which devices we can access them. The easier it is to manage contacts and the more accessible they are, the better.
Another critical feature is interoperability. It is essential that the system we select allows us to import and export, or even synchronize automatically and in real-time, contacts from other repositories such as email or the phone's private address book. Synchronization is especially common when working with CRM systems.
Related to interoperability is also the accessibility to the data from different systems. It is important to analyze where we need to access these contacts and check that the contact management system allows it.
For example, if we are going to make a call from a smartphone app or a VoIP phone, we will need these applications to access the contacts quickly and transparently to the user. This capability will allow us to have the information of the telephone contacts from the terminal we use at all times, for example:
When receiving an incoming call, we can identify the person calling us and all the information we may need to know about them.
When making an outgoing call, we can search and quickly access the phone number of the contact we want to reach.
Review the call history easily, showing the contact information directly in the call list and not just the phone number.
In the long run, this database will have critical information for our business. For this reason, it is vital to know the security features of our system, ensuring backups so that no data is lost and providing access control features. Remember that the contact database will contain personal data, so you must probably comply with the local data protection regulations.
What is the best way to store contacts?
The answer to this question will depend on each case and the specific needs of each individual. The best option for an individual or freelancer may be to store contacts in the email address book or the smartphone's cloud system; this option will probably not entail any additional cost.
In companies that already have a VoIP phone system with advanced PBX features, such as VoIPstudio, this service will likely offer more professional contact management at no additional cost. This option can also be a perfect solution and also already provides several advantages:
The PBX manager will take care of data backups, so we would not have to worry about this.
They must also ensure secure data storage and implement access control procedures following the relevant regulations.
Access to contacts from any terminal is easier if it is a cloud-based PBX.
For larger, sales-oriented companies or those that have a strong relationship with customers and suppliers, it may be necessary to implement a more advanced CRM solution, which allows them to perform complete and detailed management of contacts and leads. We can find free or paid CRMs.
When selecting the CRM, it will be interesting to see the integration it can provide us with other services, such as telephony. In this sense, VoIP telephony systems in the cloud as VoIPstudio, offer many more integration facilities than other telephony systems.
Contact management with VoIPstudio
VoIPstudio is a business telephony service that allows you to manage a directory of business contacts from the cloud. The contact data we can store are:
Name
Phone and mobile
Email
Group
Notes
Tags
VoIPstudio allows us to define which contacts are global or accessible at a company level and which are private or personal, only accessible by the employee who generated them.
Regarding interoperability, VoIPstudio allows us to import and export contacts in CSV format and synchronize them with third-party tools, such as CRMs from HubSpot, Salesforce, Oracle, Microsoft, etc.
Access through VoIPstudio apps
Contacts are accessible from the web and from any VoIPstudio app in such a way that you can:
Recognize incoming calls and display the caller's name so we can identify who is calling us.
For example, in the incoming call pop-up, we can see:
The name of the contact who is calling us.
The company associated with that contact.
A label that we have previously assigned to the incoming number, for example, "ESVoIPstudioSupportQ".

In the example, we see that Mike from Acme Company calls us for assistance even before answering the call.
2. It allows access to contacts from the VoIPstudio apps, allowing us to organize contacts by groups and tags and use the search option to find the contact quickly and launch the call in seconds.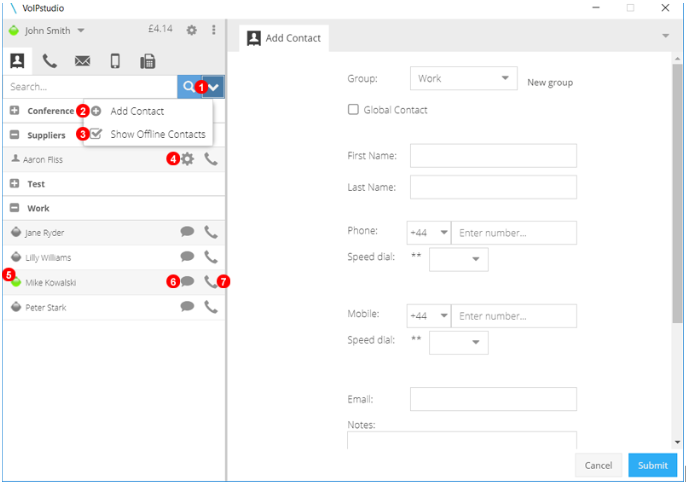 3. In VoIPstudio's call history record, we can also see the contact's name, making it easier to browse.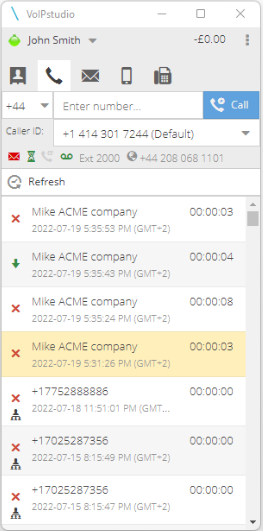 Contact access using third-party terminals
VoIPstudio allows the use of other apps and generic IP SIP phones. Since the SIP header includes this information, these terminals will show the contact's name when there is an incoming call. On the other hand, accessing the directory to access all the contact information from an external SIP app or IP phone is more complex. The options we have are the following:
Import the contacts into the IP terminal.
Configure remote access to the contacts directory using LDAP or XML.
At VoIPstudio, we recommend importing the contacts directly into the terminal as long as our contact list is not changing frequently and have less than 1000 entries, as this is the capacity limit of most IP terminals.
While we can access contacts stored locally quickly and easily, remote access via LDAP or XML requires that every time we want to access the directory, the phone connects to the corresponding server and downloads the contact list. This operation introduces a delay and makes the access to the contacts not agile.
If you have more contacts than the SIP terminal can handle internally, a possible alternative is to use the click-to-call function from your computer. Just use the VoIPstudio control panel to find the contact record and click on it to get the IP phone to make the call automatically. Remember that you only need to do this if you are using SIP phones;
With VoIPstudio apps, you can directly access the contacts. VoIPstudio does not have external access to the database via XML and LDAP; this option is only available for CISCO terminals.
Additional recommendations
Use International format
It is very important to use the international numeric format to store contacts. This way, we will have a unique format for all of them, facilitating their administration.
Convert CSV to XML
It can be interesting to convert contacts from Google, Outlook, or other platforms that use the CSV format to XML. This can be useful, for example, to import the contacts into our desktop phone or to load them into an online directory.
In the following example, we will briefly explain what this process would look like.
The first thing we need is the syntax of the XML document, which is usually something like this:
<?xml version="1.0″ encoding="UTF-8″?>
<YourPhoneDirectory>
                 <Title>YourTitle</Title>
                 <Prompt>YourPrompt</Prompt>
                 <DirectoryEntry>
                           <Name>Dad</Name>
                           <Telephone>0123</Telephone>
                           <Other>0246</Other>
                  </DirectoryEntry>
                  <DirectoryEntry>
                           <Name>Dad</Name>
                           <Telephone>0123</Telephone>
                           <Other>0246</Other>
                   </DirectoryEntry>
</YourPhoneDirectory>
In this example, we would use this XML to import contacts into a Fanvil phone.
2. We need to get our contact list in CSV format following the instructions of your contact manager system (Google, Outlook, etc.). In most cases, we will simply export them by selecting the CSV format.
3. We open the contacts with our favorite spreadsheet and add the columns as shown in the image:
4. We will copy all the rows except the header and paste them inside a notepad.
5. We will add at the beginning of the text file the corresponding XML header, in this example:
<?xml version="1.0″ encoding="UTF-8″?>
<YourPhoneDirectory>
          <Title>YourTitle</Title>
          <Prompt>YourPrompt</Prompt>
6. And at the end, we will add:
</YourPhoneDirectory>
7. We have to keep in mind that we will probably also have to:
Replace unsupported characters with UTF-8.
Remove empty fields by replacing, for example, "<Other></Other>" with an empty string.
Remove spaces and tabs by replacing " " (TAB) with an empty string.
In this case, the replacement functionality of the text editor will be handy in preparing the document.
8. Save the file in .xml, and select UTF-8 format.
9. If you open the file with the Chrome browser, it will check for errors. If it is correct, it will be displayed like this: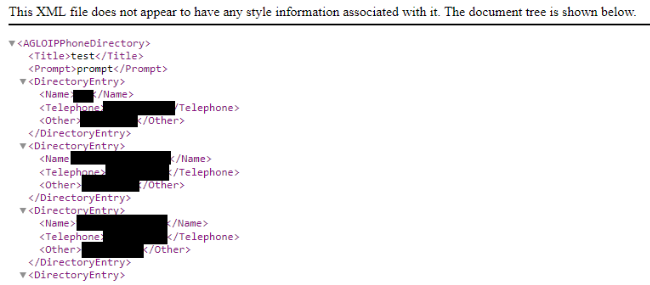 10. You can now import the contacts into your VoIP phone.