Coworking spaces are centers where freelancers, teleworkers and entrepreneurs come to have a suitable working environment at an affordable price. For their part, coworking managers help to connect and create professional synergies.
Most of them are professionals who mainly need a laptop, a telephone and a good internet connection to do their work. Among these professionals, we can highlight programmers, designers, online community managers, journalists, salespeople, consultants, etc. Nevertheless, they are also beneficial for small companies that find in these centers the help of a receptionist to attend to their clients when they are absent. Alternatively, companies that need an accessible postal address to receive their parcels.
Work in an office VS Work in a coworking space
There is a big difference between these places and going to work in the company along with colleagues from the same department or another department. No one is obliged to stay or share spaces in a coworking space. Those who do, do it because they want to and with whom they want to. In companies, there is an obligation to share rooms, which often creates a tense atmosphere between colleagues, caused by friction between departments. Or even by colleagues from the same department.
Moreover, professionals have different skills, abilities and interests in a coworking space, favouring personal growth and business relationships.
What services does a coworking space offer?
Coworking spaces offer different services to make use of the shared workspace. Most of them provide, among others, the following services:
Access to fully equipped work areas
Meeting rooms with audiovisual equipment (Screens, webcam, projector, etc.)
Common areas (kitchen, meeting rooms)
Workshops, talks, events, aperitifs, breakfasts, etc.
Social, fiscal and administrative address
High-speed wired Internet access
Coffee area
Wifi
Lockers and storage
Printing and reprographics services
In addition, a coworking space can add cloud telephony to the above list, with numerous benefits for the coworking space itself and its clients. However, it needs the infrastructure and technical capacity to offer this service with guarantees.
What infrastructure needs a coworking space to implement cloud telephony?
Reliable and robust internet connection
It is necessary to provide reliable, high-speed internet connectivity for coworking space members. They will need it to connect their computer equipment and the devices and terminals they use for their IP telephony system.
Virtual PBX or Physical PBX
Depending on the services you want, the virtual switchboard allows you to manage a more significant number of extensions than the physical switchboard. In addition, it offers a more considerable number of advanced functions than the physical switchboard.
SIP Trunk
If you have a physical PBX, the SIP Trunk connects the IP PBX to the Public Telephone Network (PSTN), allowing users from different companies to communicate by dialling the telephone numbers.
Numbering
You can offer separate numbering for each company in the coworking or a general reckoning for the coworking space with call forwarding.
Benefits of cloud telephony for a coworking space
Coworking spaces offer freelancers, small businesses and teleworkers a suitable area to carry out their activities. They can provide more or more minor additional services to their clients or coworkers.
Offering these additional services, such as telephony in the cloud, can be interesting to build customer loyalty and provide added value to attract new coworkers.
A virtual switchboard can offer the following benefits within a coworking space:
Your VoIP provider can find you a simple and easy-to-remember number. Or port your existing number.

If your coworking space has different centers, thanks to IP telephony, you can have a shared number for all of them or an individual number for each of the centers.

If the receptionists of one of the centers are busy, the call can be forwarded to another.

You can enable WhatsApp Business with VoIP phone numbers. Using your smartphone, you can have both apps and differentiate the work number from the staff.

You can benefit from call recording with unlimited storage.

You can define schedules and welcome guides. As well as forward VIP numbers to coworkers, users or specific numbers. Your coworking space will look professional, regardless of its size.

VoIP telephony integrates with most CRMs. You can see the contact calling or click to launch a call from your CRM without dialling the whole number. In addition, you can record activity automatically so that when you receive a call from a coworker, it is recorded in the corresponding client file.
Benefits of cloud telephony for coworking members
In addition, you can also resell or offer telephony services to companies or coworkers in your coworking space. In this way, you can:
Register new numbers instantly.
So that they can receive calls directly on their desktop terminal, computer app or smartphone. Coworkers can use their business number from the coworking space terminal, from their home or anywhere as long as they have internet.
Offer a secretarial service.
In such a way that the call is answered at the coworking space reception desk, the ring details are noted down, or the call is transferred to the corresponding company.
For digital nomads or international companies
It will allow them to make international calls at an affordable price and have a local number in their country or countries where they have a market. It will make it easier for customers to contact the company without having to make an international call, and, on the other hand, it will provide a local presence wherever necessary, regardless of where the calls are made.
Case of use of cloud telephony in a coworking space
We will see with an example how to configure the cloud telephony service in a coworking space.
We provide the coworking space WeVoIP with an easy-to-remember number, for example, (+34) 919 019 100 .
Within hours
When people call within hours, we will play a personalised voice-over with on-hold music, something like:
"Thank you for calling WeVoIP. Please state the name of the company you wish to contact or wait, and we will take care of you from reception".
After hours
When someone calls out of hours, we can inform you of the time and contact details:
"Thank you for calling VoIP. Our opening hours are Monday to Friday from 9 am to 5 pm. If you wish, you can contact us by Whatsapp or email reception@weVoIP.com".
Cloud telephony terminals for a coworking space
At the reception desk
At the reception, the business appearance of a Fanvil V65 terminal will give the coworking space a more professional image. In addition, its 20 programmable keys will make it easier for the receptionist to call or forward calls to a coworker.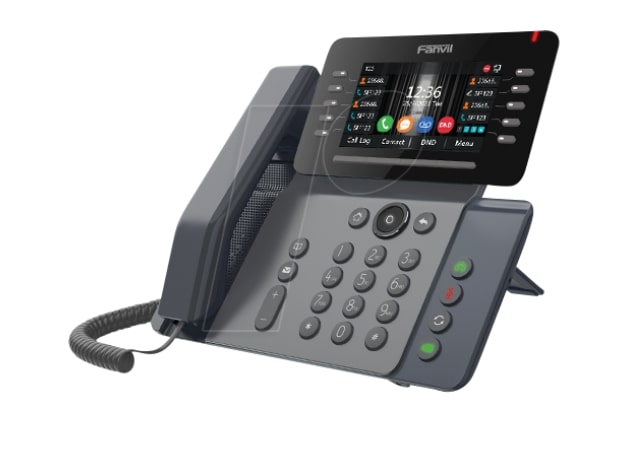 We will activate call recording to be able to consult or review calls if necessary.
At the workstations
We deploy a few IP phones at the desks so coworkers or companies needing them can make or receive calls. In this case, we recommend a primary terminal such as the Fanvil X3: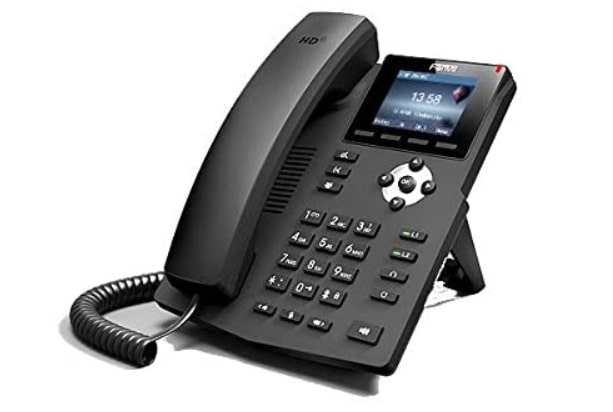 Businesses can also be offered new telephone numbers. This unique telephone number will be associated with their company, and they will avoid having to use their personal phone number.
Remember that VoIPstudio services have no contract or permanence. So they are ideal for a changing environment such as a coworking. You can set up numbers in minutes and cancel them immediately without penalty.
Contact us today if you want more information about how a coworking space can take advantage of the benefits of VoIP telephony.