Telephone usage is under HIPAA (Health Insurance Probability and Accountability Act) jurisdiction, which means VoIP's meaning and purpose just expanded into the medical world. Sharing information over an Internet network instantly is a regular occurrence, and the type of information being shared can most definitely be personal.  
The world we live in today is filled with data breach after data breach. While a hack in a credit card company's database may be salvageable by canceling a card for fraudulent activity, a patient's medical records and account information don't have the same leniency to be messed with.  
To keep individual health records protected, the HIPAA Privacy Rule was established and cloud-based communications have become an excellent solution for medical providers to comply with this regulation. Here's your guide to VoIP's meaning, what exactly HIPAA is and all the ways VoIP services can facilitate HIPAA-compliant medical services.  
What is 
VoIP?
The meaning of cloud-based communications can sometimes be a complex concept to grasp. VoIP, meaning Voice over Internet Protocol, refers to the technology that transmits communications over the Internet by converting voice calls into a digital format that's sent over a network connection. It uses hardware and software to facilitate this cloud-based connection.  
A call can be made from a mobile or computer application or software that's linked to a VoIP service provider, or from a VoIP handset. Then, using the Internet as the foundations for connection, that call is transmitted to the receiving end, which is either the same application on another connected device or similarly a VoIP phone.  
But VoIP means so much more than just making calls using an Internet connection. The cloud-based technology that runs the technology has opened up the doors to a wide range of communications services that were once not possible using traditionally calling avenues.  
VoIP technology has paved the way for multiple forms of communication to be transmitted easily and efficiently. Conference calling, for instance, can be facilitated with VoIP-hosted virtual conference rooms and allows for an unlimited number of participants to join the call using one dial-in number. Communications can also become more centralized and manageable using a VoIP platform. Depending on the type of services you have, VoIP can lend a hand in directing calls to the right extensions, forwarding it to the relevant voicemail or connecting multiple parties together on the same line.  
Another major feature of cloud-based communications is data storage. You can record different conversations and store them for reference later. Additionally, all your contacts can be synced under one central application.  
VoIP also enables more on-the-go communications. Users can pick up a call from essentially anywhere where there's Internet connection using VoIP apps available on mobile devices and laptops.  
What is HIPAA?
So, what does VoIP mean in the world of medical services? Whether you work for an insurance company, in a hospital or at a pharmacy, the services you provide must be compliant with HIPAA. HIPAA, which stands for Health Insurance Probability and Accountably Act of 1996, was implemented into the United States health care system in order to improve its efficiency and effectiveness. The law outlines provisions that require HHS (Health and Human Services) to uphold a set of national standards for electronic health care transactions and code sets, unique health identifiers and security.  
With technological advancements in electronic communications and transactions, HIPAA helps to protect the privacy of individuals and their health information. HIPAA compliant procedures cover a wide-scope of areas within the health care system. From ensuring hard copies of patient records are concealed and only viewed by authorized personnel to securing digital health records with different access codes and security permissions.  
One major aspect of HIPAA compliant practices is securing communications, and that's where VoIP means business. Clinics, hospitals, health insurance providers and their sub-contractors heavily rely on unified communications and VoIP services to manage their patient information, interactions, and communications.  
When a patient needs to access their health records or a health provider needs to reference or share personal health information, the transmission must be done via a protected channel to meet HIPAA compliance. It's important that medical service providers take advantage of VoIP services to not only connect with their patients and clients but because it helps them uphold the law.   
How VoIP Can Ease M
edical 
P
rofessional's
 C
ompliance to HIPAA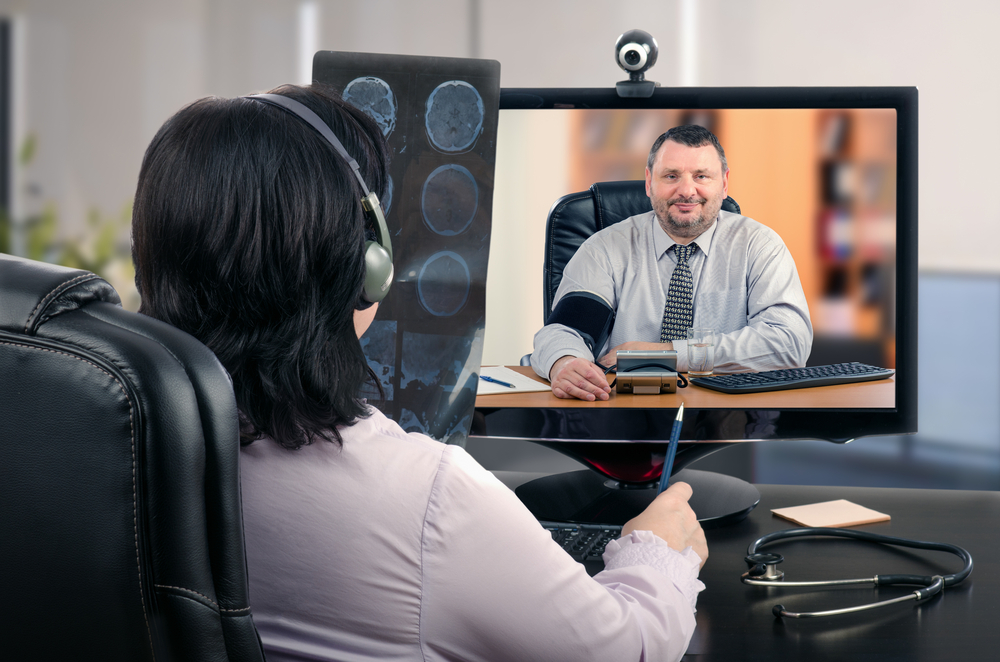 The voicemail you leave for your patient, the call to the hospital that's "recorded for quality assurance purposes," and even the video chat scheduled with an urgent care physician must all be HIPAA compliant in order to protect personal health information. But trying to abide by all the rules outlined can be overwhelming for health care professionals. Here's how VoIP can ease the stress of ensuring your communications and interactions are up to HIPAA standards.  
Unified Communications to Connect All Communication Channels 
Giving patients multiple different ways to reach their various health care providers is what keeps them satisfied with the medical services they seek. Leveraging VoIP means connecting all the messaging, voicemail, calling and online platforms under one roof to unify communications.  
So, whether it's an operator forwarding calls to the right doctor's office, a health insurance provider that has a Live Chat feature on its website, or a hospital system that hosts a patient portal where patients can message the doctor or look at their record of visits, VoIP makes organization communication easy. Connecting all communications together and syncing up the data allows you to be on the same page with both the people you work with and the patients and customers you're trying to help. VoIP services can not only make managing thousands of patients more efficient, but it can securely sync and connect the right parties to the right people all within a protected network.  
Increase Accessibility to Medical Services 
With HIPAA-compliant VoIP, the meaning of accessible health care can expand. One facet where VoIP can be extremely beneficial is that it can allow health care providers to receive patient calls from wherever there is an Internet connection.  
Cloud calling applications can be run on both smartphones or computers and give users the ability to answer or make a call. So, when a doctor is off-site, perhaps at a different facility within the hospital network, he or she can receive a call through a VoIP app. This call is made over a safe, HIPAA-compliant VoIP network so that any information discussed is encrypted.  
Doctors and health care providers become more accessible to patients, and the patients in return are happy with their services and gain trust in their provider when their information stays between only them.  
Video Calling to Expan
d and Enhance Patient Services 
Sometimes you just need to see it to believe it. In the era where Facetime and video calls are becoming a staple in mobile communication, the health care system needs to move with the times, but in a secure manner. Health care providers can now offer video calling services and appointments to their patients under an HIPAA-certified VoIP network.  
While, Skype, WhatsApp and other video calling apps are popular among the general public, health care providers must opt for VoIP services that follow HIPAA regulations to ensure personal information discussed is kept confidential. Video calling using VoIP means the possibilities are endless for doctors and patients to connect. It brings convenience to both parties when the physical barriers are removed and patient are no longer prevented from seeking help or keeping up with their health on a regular basis.  
Reduce Patient Wait Times and Maximize Efficiency 
VoIP services can help health care providers manage an influx of patient calls in multiple ways. While patients are directed to call one main number, a comprehensive VoIP system can direct calls to the right personnel. Staff on the receiving end do not have to be in the physical office to pick up and will be notified when a call is coming through.  
Additionally, when a health care provider picks up the line, an integrated communication system can automatically pull up relevant patient history and notes but only if that person is authorized to see the information.   
Quality Assurance of Services Provided
One of the most frustrating parts of the health care system is getting connected with the right person. With so many different parties to deal with, be it insurance companies, specialists or billing, there's a lot to manage. A unified communications system can make the process of getting from point A to point B simpler and more efficient.  
At the same time, VoIP services can capitalize on call recording features for quality control. Health care providers can record patient phone calls and review to see what can be improved upon. It can improve the overall system by making small but effective changes within the communications system.   
VoIP's meaning to the world of health care has its own voice that needs to be heard. Because it falls under HIPAA guidelines, cloud communications have become an integral part of the system. These services can ensure that personal health information is secure and protected and make the health care system as a whole, better.