Daylight saving time (DST), also daylight time (the United States and Canada) and summer time (United Kingdom, European Union, and others), is the practice of advancing clocks (typically by one hour) during warmer months so the darkness falls at a later clock time.
The typical implementation of DST is to set clocks forward by one hour in the spring ("spring forward") and set clocks back by one hour in autumn ("fall back") to return to standard time. As a result, there is one 23-hour day in late winter or early spring and one 25-hour day in the autumn.
DST clock shifts sometimes complicate timekeeping and can disrupt travel, billing, record keeping, medical devices, heavy equipment, and sleep patterns. Computer software generally adjusts clocks automatically.
When does it happen?
The relevant authorities usually schedule clock changes to happen at (or soon after) midnight, and on a weekend, in order to lessen disruption to weekday schedules.
An one-hour change is customary, but twenty-minute and two-hour changes have been used in the past. In all countries that observe daylight saving time seasonally (i.e. during summer and not winter), the clock is advanced from standard time to daylight saving time in the spring, and they are turned back from daylight saving time to standard time in the autumn.
The practice, therefore, reduces the number of civil hours in the day of the springtime change, and it increases the number of civil hours in the day of the autumnal change. For a midnight change in spring, a digital display of local time would appear to jump from 23:59:59.9 to 01:00:00.0. For the same clock in autumn, the local time would appear to repeat the hour preceding midnight, i.e. it would jump from 23:59:59.9 to 23:00:00.0.
The dates on which clocks change vary with location and year. Consequently, the time differences between regions also vary throughout the year.
Time variations according to location and year
For example, Central European Time is usually six hours ahead of North American Eastern Time, except for a few weeks in March and October/November, while the United Kingdom and mainland Chile could be five hours apart during the northern summer, three hours during the southern summer, and four hours for a few weeks per year.
From year to year, the dates on which to change clock may also move for political or social reasons. The Uniform Time Act of 1966 formalized the United States' period of daylight saving time observation as lasting six months (it was previously declared locally). This period was extended to seven months in 1986, and then to eight months in 2005.
The 2005 extension was motivated in part by lobbyists from the candy industry, seeking to increase profits by including Halloween (October 31) within the daylight saving time period. 
In recent history, Australian state jurisdictions not only changed at different local times but sometimes on different dates. For example, in 2008 most states there that observed daylight saving time changed clocks forward on October 5, but Western Australia changed on October 26.
There are up to 594 clock time zones areas all over the world  and more than seventy of them apply Summer time adjustments. They are all tz database. 
This is reason why from VoIPstudio have not deployed this to happen automatically sowe are requesting our users to adjust this setting manually.
How to adjust your phone system timezone?
Under your VoIPstudio account you may have only one time zone or maybe more than one. Depending if you just have one main office or offices in several countries. If so, you will need to access your dashboard follow steps bellow for each location that have to been adjusted:
Browse Settings > Locations

Click the location you have to edit to open settings.

Move time Zone to corresponding one. (For UK summer time just select GMT+1)
Note: If your location is in UK time zone is GMT+0. So to add additional hour for Summer time you will need to set time zone to GMT+1.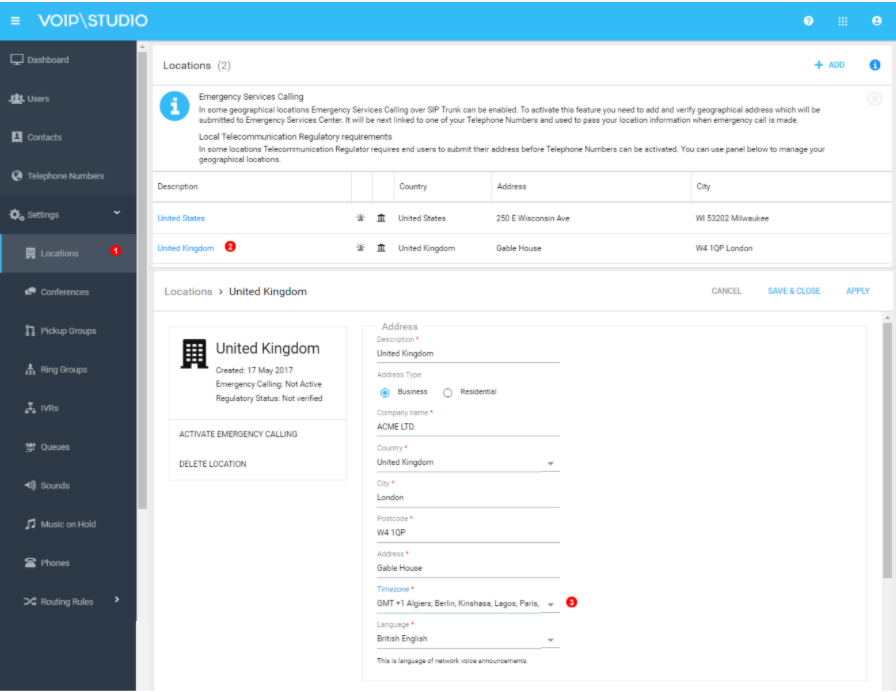 How to adjust your routing rules timezone?
If you have business hours routing under your VoIPstudio account,  calls are routed based on time conditions. So you may need to adjust TimeZone to match summer time clock adjustment. Please follow steps below:
Access your Inbound routing rules.

Click Settings to access Time conditions adjustments.

Click Edit under time condition you like to adjust.

Move time Zone to corresponding one. (For UK summer time just select GMT+1)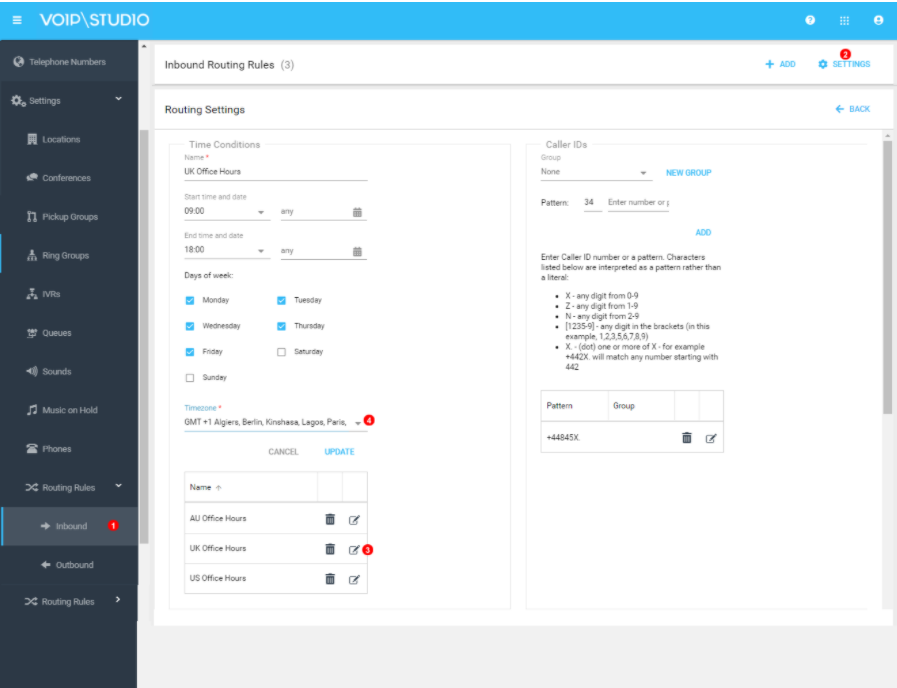 For more information, visit VoIPstudio or register now at VoIPstudio 30 days free trial.