Facilitating communication with your customers and users is one of the most critical aspects of improving your brand's experience and achieving greater engagement and loyalty.
Nowadays, it is increasingly necessary to offer your customers a wide range of channels and options that allow them to communicate according to their preferences and needs.
The telephone is still one of the preferred channels for many users to resolve their doubts or manage their services, as it provides direct and personal communication.
A professional telephone system such as VoIPstudio helps you improve customer service. It ensures that each call is answered in the shortest possible time by the right agent and that the customer does not have to provide the same information repeatedly, for example. Virtual switchboard, call center, IVR and call recording features help you optimize your resources while improving your customers' experience on the phone.
Customer service via chat
However, you should not forget to pay attention to other channels, including email, social networks, or even basic personal attention. Among these other alternatives, one of the most preferred in recent times by users is chat. Recent studies indicate that, especially among younger users, live chat is the primary choice in most cases for contacting support or sales.
Chat also allows for direct, fast, and personal communication, simultaneously providing a certain level of distance and anonymity, helping preserve privacy. Many users are reluctant to share their phone numbers to avoid receiving calls. Others prefer chat because it allows them to attend to other tasks, for example, while the operator performs a query.
Companies can enable chat by various means: through general instant messaging applications (such as Whatsapp), creating their own messaging apps, or incorporating a live chat service into their websites.
VoIPstudio now integrates with 247LiveChat
If both telephone and live chat are the preferred means of communication for customers, having a service that integrates both options seems an excellent choice for most companies.
That's why VoIPstudio users are in luck! VoIPstudio now integrates directly with 247LiveChat. This integration provides customers with a unified communication experience while simplifying the management and work of operators.
These are some of the initial advantages of integrating the two platforms:
VoIPstudio users can activate the 247LiveChat service with one click. No registration is required.
Use your VoIPstudio credentials to operate VoIPstudio and 247LiveChat services simultaneously.
Implement the chat functionality on your website quickly by copying and pasting the tracking code we provide.
You can continue to use VoIPstudio's mobile and desktop applications to manage calls and chats from your website users. You don't need any additional software.
Access 247LiveChat management directly from the VoIPstudio admin application and vice versa.
To start working with 247LiveChat or access your activated account, use the new Application Launcher icon on the top right area of your VoIPstudio dashboard.
What is 247LiveChat?
247LiveChat is a live chat solution, which, together with GoTrunk and VoIPstudio, make up our suite of communication solutions for businesses.
It offers a live chat solution designed for small and medium-sized businesses that need to provide their customers and users with personalized and real-time communication directly through their website.
With 247LiveChat, you can chat with your customers in real time and offer an alternative communication channel to phone or email. All your customers have to do is click on the widget embedded on your website and start typing to get in touch directly with an operator.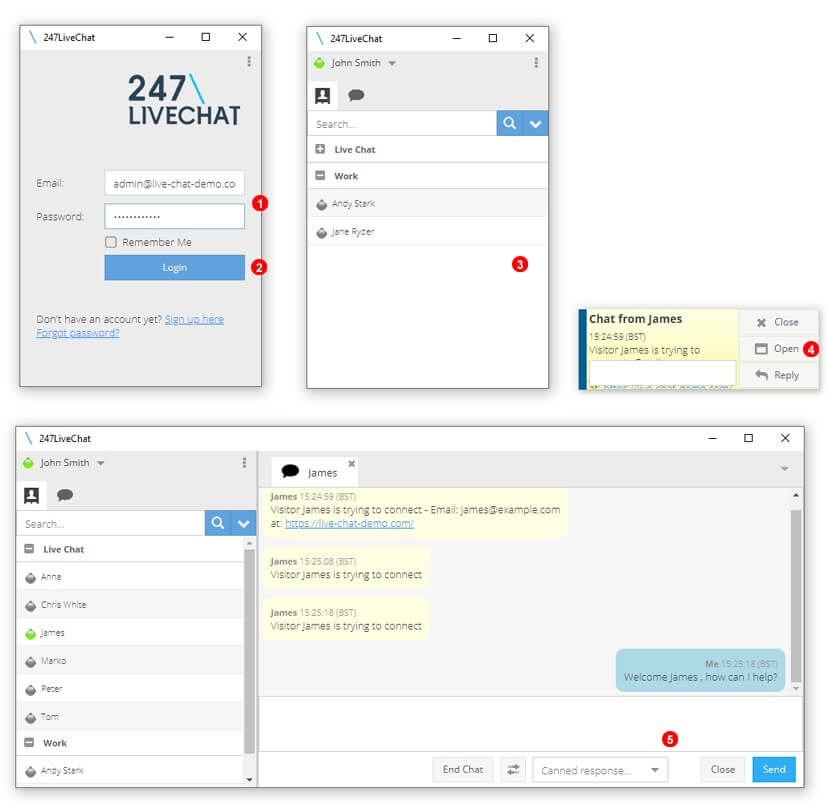 Installing and using the application is very easy, allowing you to enable a powerful live chat service on your website in just a few minutes.
Previously known as Websitechat.net, in June 2022 it has been updated and renamed 247LiveChat. This relaunch of the application includes important new features such as:
Support for all types of mobile devices on the client side.
Mobile application for agents.
Improved visitor tracking.
Widget customization.
More and better features, such as canned responses or chat transfer between agents.
Native integration with VoIPstudio.
How 247LiveChat works
With 247LiveChat, you can incorporate the power of live chat into your website in a few minutes. Using 247LiveChat helps you increase your sales, improve user satisfaction, and get valuable first-hand information that helps your business grow.
Getting started with 247LiveChat is easy, in just three steps:
1.    Create an account on 247LiveChat.com. If you are a VoIPstudio user, you don't even need to register: you can use your VoIPstudio credentials! By creating an account, you will get access to a 30-day free trial with no commitment and no fees.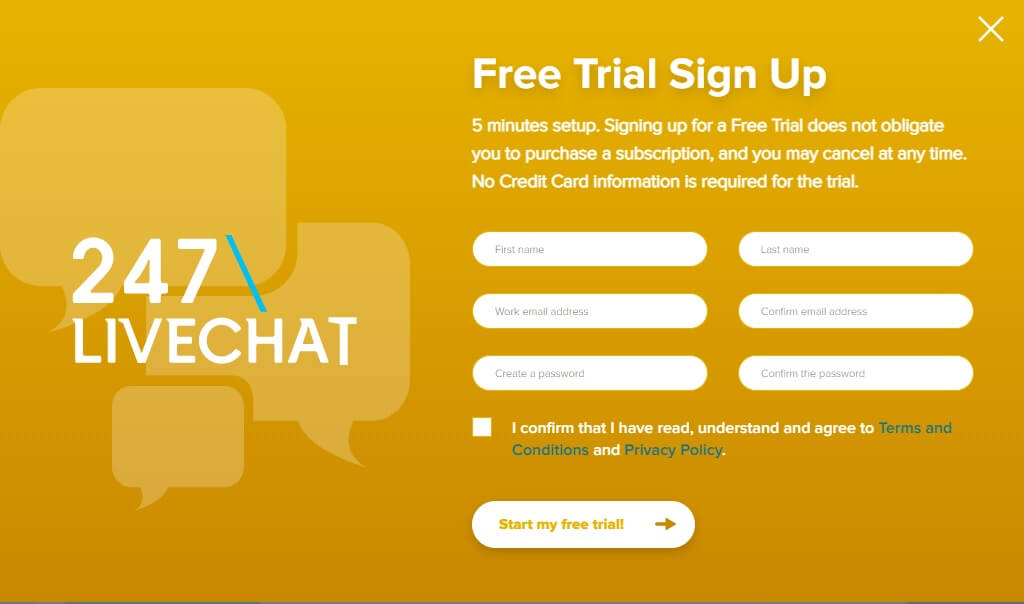 2.    Add the tracking code to your website. Just copy the code that we provide on your website to enable the chat button.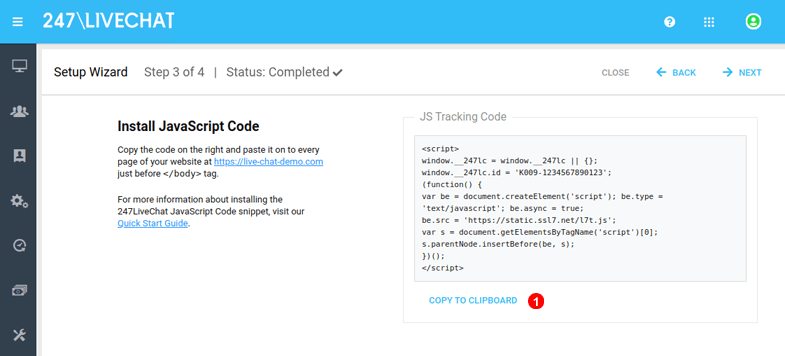 If you have any questions, don't worry, our support team will be happy to help you.
3.    That's it! Start chatting with your visitors and customers using our mobile or desktop application or directly through our web operator.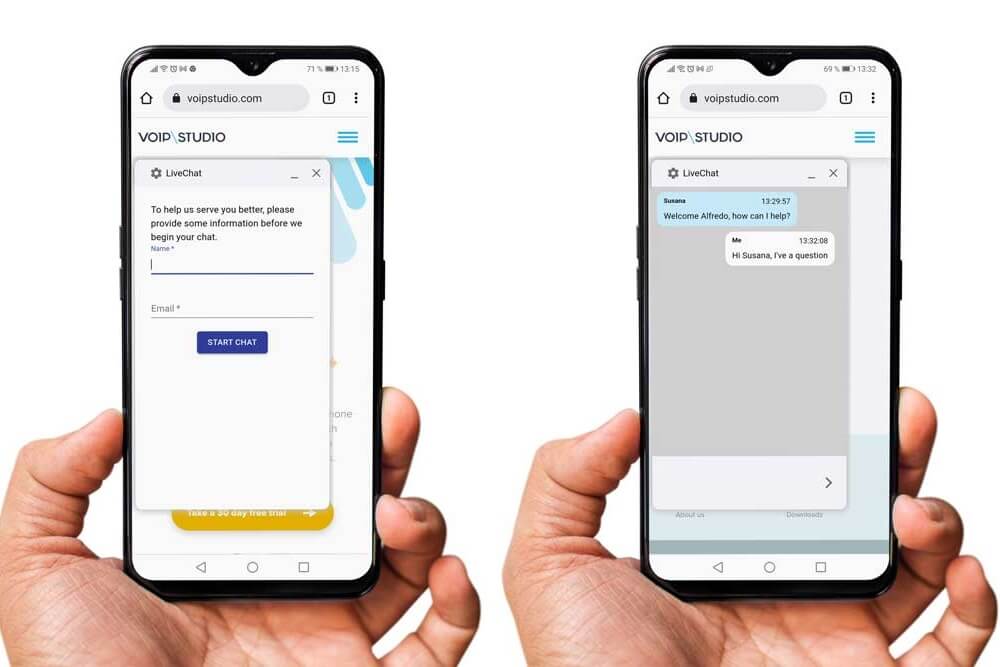 Want to learn more? Visit 247LiveChat.com and start a free trial. And remember, if you're already a VoIPstudio customer, just log in to 247LiveChat with your VoIPstudio credentials and start your 30-day free trial.