Carefully choosing the technology to use in your business phone system can help improve efficiency, professional image and call quality. In addition, the flexibility and security it brings to business communication directly impact customer satisfaction and the success of your organization.
One of the first decisions you must make is to choose between devices connected wirelessly to the Internet (Wi-Fi phone) or wireless devices connected to a base linked to a traditional telephone line (DECT phone).
What is a DECT phone?
DECT stands for "Digital Enhanced Cordless Telecommunication". It refers to a wireless communications technology standard for residential and office telephony. DECT phones are cordless phones that use this technology to provide clear call quality and excellent coverage compared to other wireless systems.
In addition, DECT phones also include advanced features such as hands-free, caller ID, and voicemail. DECT technology also allows for a more secure and reliable connection than other wireless technologies, as it uses data encryption to protect communications.
In short, DECT phones are a good choice for homes and small businesses looking for a high-quality and secure wireless telephony solution.
What is a W-Fi phone?
A Wi-Fi phone is a mobile device that allows you to connect to the Internet via a Wi-Fi network instead of using a mobile connection. It means you can make calls, send text messages and browse the Internet without using mobile data. It is ideal for those who have access to a stable Wi-Fi network at home or in the workplace and want to save on mobile data costs.
Which kind of technology is best for your phone system?
Both technologies can provide telephony wirelessly. The big difference is that DECT is explicitly designed for telephony, while Wi-Fi is intended for computers and reuses this technology to connect to a telephone. On this basis, DECT is better and more reliable when we can use it.
Advantages of DECT over Wi-Fi for telephone communications
A DECT antenna provides better coverage than a Wi-Fi antenna.
DECT is less susceptible to interference.
The battery life of DECT handsets is longer.
DECT is dedicated exclusively to telephony, while Wi-Fi supports other services that can cause network overload and affect voice quality.
A DECT antenna + handset can cost around $100. However, Wi-Fi handsets tend to be more expensive.
Taking all this into account, we recommend always using DECT where possible, especially for shops, restaurants, beauty salons, clinics, or small offices. It will be the most efficient, functional, and economical solution.
However, more than a DECT antenna is needed to cover your business. If you need to serve an infrastructure of 50 meters indoors, 200 meters outdoors, and up to 6 devices, it would be possible to deploy a network of DECT antennas. It may have a relevant cost that could be avoided by using Wi-FI handsets.
Another advantage of Wi-Fi terminals, such as the Linkvil device we will discuss below, is that you can use it anywhere you can connect it to Wi-Fi. If you work from the office and take your work home, your phone can go with you.
Is it better to have a smartphone connected to the Wi-Fi?
Many wonder why you spend over $100 on a handset when you can connect any smartphone via Wi-Fi. From our point of view, the use cases are different for one solution or the other.
When to install a DECT or Wi-Fi device
The user looking for a "physical" terminal for his telephone line(s) should install a DECT or desktop device. For example, a restaurant that needs a physical handset to service their reservations, a service employee walking around the hotel, or a shop. Customers, where a phone is a primary tool shared between several employees, should use dedicated phones, not apps.
When to install an app on the smartphone
The user needs to provide telephony to their employees in an office, a call center, or any work team that needs to make calls to communicate with customers, suppliers, or co-workers and collaboratively answer the rings, depending on who is available. In this case, it would be advisable to use the computer app or smartphone app for those cases where the employee is not working with the computer.
What is Linkvil
Linkvil was launched on 18/08/2022 as a sub-brand for Wi-Fi products of the manufacturer Fanvil. In addition to Wi-Fi phones, they have the manufacture of Wi-Fi access points and antennas in the roadmap.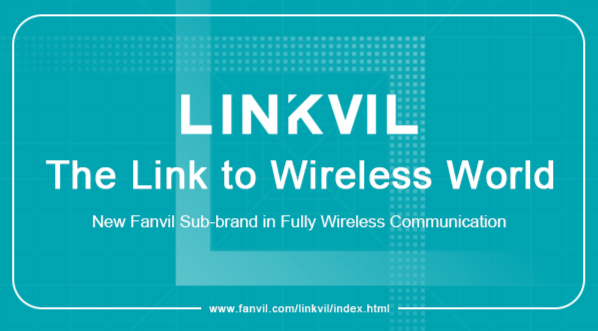 As a sub-brand of Fanvil, Linkvil will focus on researching and developing A&V-IoT wireless communication products. Based on Audio and Video-IoT, Linkvil builds a wireless communication ecosystem for multiple scenarios to help accelerate digital transformation.
Discover the new Linkvil W611W Wi-Fi phone from Fanvil
Ruggedized Wi-Fi phone with a 2.4″ color display ideal for environments where mobility is required, such as shops, warehouses, restaurants, hotels, or hospitals. You can find this device for $160.

Main features of the Linkvil W611W
Supports the latest Wi-Fi standard – Dualband 802.11 ax Wi-Fi or (Wi-Fi 6). It enhances the wireless communication experience.
Supports IEEE802.11k/v/r roaming.
Long battery life, with 1900 mAh, W611W is ready for 9 hours of talk time or 200 hours standby.
Rugged, IP67 phone. Waterproof, dustproof, and drop-proof from a height of 1.8 meters. It makes it very interesting, especially for outdoor environments or where the workload demands extra effort.
2.4″ backlit color display.
Bluetooth 5.0 or 3.5 mm. jack for headset or external device connection.
Supports WPA / WPA2-PSK and 8021x EAP.
Up to 4 SIP lines.

Technical considerations of the device
This device works over Wi-Fi infrastructure. So, if you already have a Wi-Fi network, you will not need anything else.
It would help if you remembered that the Wi-Fi signal is quite sensitive to interference, which can lead to dropped calls or no coverage in certain areas. In addition, Wi-Fi is a shared medium with other devices; it will be necessary that your Wi-Fi system meets minimum quality standards to be able to use this device.
Design
In terms of design, we highlight its large 2.4″ color screen, intuitive interface, large keys, and the fact that it is a robust phone specially designed to be durable. It makes it a comfortable and ideal handset without worrying too much about its physical integrity.
In terms of looks, it has a retro character with square edges. It is a device that is too big for our taste. It doesn't fit in with today's aesthetic lines, making it look like an old-fashioned device, even though it is one of the most up-to-date and functional Wi-Fi phones.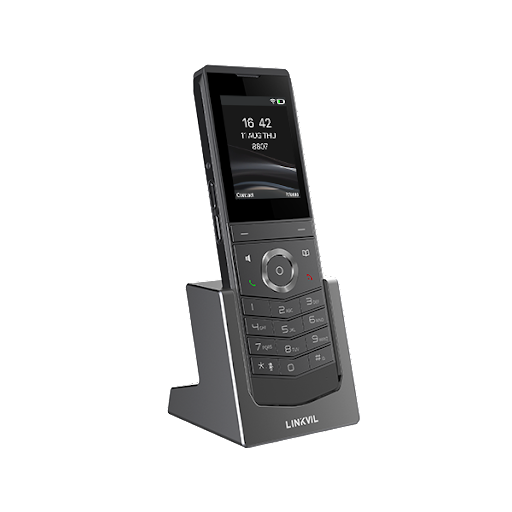 Why the Linkvil device is preferable to a smartphone app
Here are why your productivity will increase with the Linkvil W611W Wi-Fi phone instead of installing an app on your smartphone:
Specially designed for phone calls.
Android or iOS devices with a phone app cannot guarantee that the phone app will work. As these operating systems update, change permissions, close applications for no apparent reason, and so on, a telephony app may not be reliable.
Supports Wi-Fi 6
It brings excellent coverage and stability to calls, reducing the risk of unwanted interruptions.
Supports Roaming between access points
Therefore, it allows mobility between antennas without call drops.
Long battery life
It has a 19000 mAh battery (up to 200 hours on standby). In addition, users should note that the device consumes much less power than a smartphone, as it only functions as a telephone, while apps often overload smartphones.
Rugged device
It means more excellent resistance to shocks, dust, water, extreme temperatures, and vibrations than a traditional device.
How to set up the Linkvil W611W
The setup couldn't be more straightforward. Once the terminal is unpacked and started, it will ask for the language and search for available Wi-Fi.
Enter your Wi-Fi network credentials, and the handset will connect to the Internet.
Finally, you must configure your VoIPstudio account, in case you have one, inside the terminal. For that, you can consult our manual by clicking on this link.
If you need more help with the device's configuration or want to know more advantages of this type of phone, do not hesitate to contact our support team.