Upgrading to VoIP may sound like a no-brainer but many businesses are yet to make the switch. If you're just starting the process of evaluating VoIP, it can be daunting. How do you know if vendor A is better than vendor B? What hardware is best for your business – now and in the future? Not to mention porting your business numbers and switching to new technology can be fraught with difficulties. 
But a little online research will tell you that upgrading to VoIP can be simple as well. For a small or medium business, choosing the right plan, vendor, and hardware is quite simple and easy. Unlike other big technology projects, implementing VoIP won't stretch your budget either. 
It's also important to keep in mind that VoIP phone systems are the standard of the future. Many phone carriers have announced dates for ending support to the traditional PSTN. There's no better time than now to prepare for the future of business communications.
How to select VoIP phones
In a sense, selecting the right provider and plan can be a lot easier than buying the VoIP hardware you need. There are perhaps thousands of models you can choose from! You may also worry about compatibility and training your staff on using the new phones. 
One way to quickly make a shortlist is to ask your preferred vendor. Most VoIP service providers have a list of models or manufacturers that make devices compatible with their service. Or you may like the hardware from a particular company like Snom or Cisco. Once you narrow your choices to a dozen or so, it becomes easier to compare them. 
So how many phones or types of devices do you need? The answer depends on your business needs actually. An entrepreneur or freelance contractor may want no more than 1 or at most 2 phones and they may not need any accessories at all. But even a small business with a dozen employees should consider adding more devices to their arsenal.
Snom VoIP phones
Snom is a well known and reputed manufacturer of VoIP hardware. You can find Snom VoIP hardware in organizations of all sizes. There are many reasons to select Snom hardware for your business including:
1- Diverse product range
Not many companies can claim to make most types of VoIP hardware and Snom is one of them. They make everything from basic desk phone models to some of the best conference phones in the industry. You can buy a number of compatible accessories such as wireless headsets and extension modules for their phones as well.
2- Competitive prices
Snom VoIP hardware is designed in-house and extremely well-made. You might expect their phones to have a hefty price tag as well. But Snom VoIP phones are competitively priced and offer great value. Whether you want an entry-level model for the accounting department or executive models for the CEO, you can find a Snom model that fits your needs and budget.
3- Customer support
As every business owner knows, pre- and post-sales customer support makes a huge difference when you're investing in new technology. Snom is popular in the industry for their exceptional support and expertise. You can get experts to help you with purchasing the best Snom devices for your office. Snom VoIP phones also come with an industry-leading 3-year warranty. If you have issues with your phones, Snom will even send you a new replacement part.
4- Suitable for VoIPstudio
Snom phones are compatible with VoIPstudio, so you don't have to worry about onboarding and configuration. Get ready for a quick and simple setup process when you use Snom hardware with your favorite VoIP service!
Comparing Snom desk phones
Even when you have narrowed your choices to a particular brand like Snom, there are still decisions to make. Choosing a model fits your budget and needs need not take long. Here is a quick comparison of various Snom VoIP phones:
1- 
D120
The Snom D120 looks and feels like a premium model but is priced to compete with entry-level phones. It is a reliable device with good audio quality, a must-have feature in any SIP device you purchase. It also has accessibility options such as hearing aid compatibility and a backlit screen. Both these features are hard to find in a sub $100 model in the market.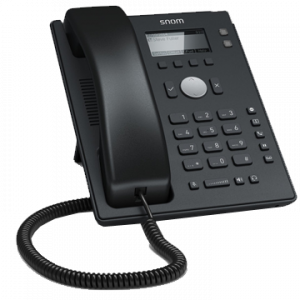 Snom D120
This model also has PoE (power over ethernet) so you don't even need a separate power supply. The D120 offers most basic VoIP functions such as multi-account support, speakerphone, user-friendly menus, and 3-way conferencing.
2- 
D315 and D345
What if you want something that offers a bit more? Here's where the D315 and D345 models come in. Both these 2 models are a step up in terms of features and price. The Snom 315 offers several extras such as a USB port for connecting accessories, a local directory that supports 1000 entries, and dual IPv4/IPv6 for the networks of the future. You can also add up to 4 SIP accounts on this device.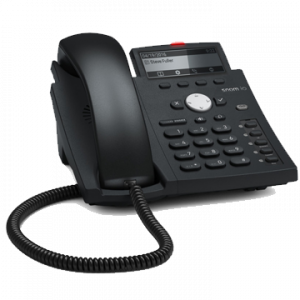 Snom D315
The Snom D345 ups the ante with support for 12 SIP accounts, 12 programmable keys, and a secondary screen that combines to offer 48 quick access functions/buttons. Both the D315 and D345 are suitable for a medium-sized business or if you have a few key staff who need the extra features.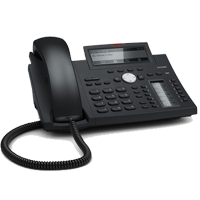 Snom D345
3- 
D765
The Snom D765 forms part of Snom's new D7-series of IP phones that offer premium features at competitive price points. It supports up to 12 SIP accounts and has a 2 port Gigabit switch for fast connectivity. With 16 programmable keys and multi-colored LED lights, it offers increased efficiency for businesses. You can use corded or wireless headsets with this model and still experience crystal clear audio. It is the perfect choice for employees who need high-end features for their daily tasks.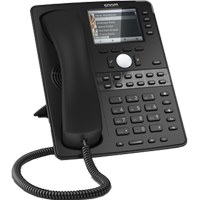 Snom D765
Snom conference phones
1- C520
While desk phones are the backbone of your voice communications, you will need other hardware for more specialized functions. For instance, who doesn't need a good quality conference phone? With the recent shift towards working from home and telecommuting, business communication is going virtual. Your business needs a phone that can support multiple speakers and meeting participants.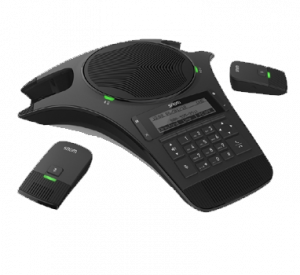 Snom C520
The Snom C520 IP conference phone is the model to beat if you're looking for a conference phone. This unit offers flexibility and expandability in one stylish package. It has 3 mics, out of which 2 are detachable so you can place them to suit your meeting space. All microphones feature dynamic noise cancellation and adaptive feedback control.
2- Snom MeetingPoint
Snom MeetingPoint is ideal for companies that need multi-location support. If you have meeting participants from several locations other than your office, then the MeetingPoint is a valuable tool. Three speakers offer full sound and the built-in microphones can support up to 10 participants without losing the intelligibility of the call.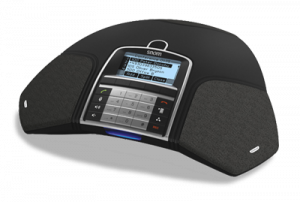 Snom Meeting Point
Snom VoIP accessories
1- 
Expansion modules
Snom also offers a wide range of accessories for their phones. For example, your executives and administrative staff may need more call coverage and management support. You can increase their effectiveness by adding expansion modules to their phones (Snom Ext-Module).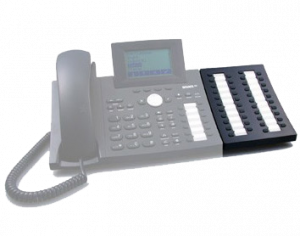 Snom Ext-Module
You can connect up to 3 expansion modules to the base unit, allowing the use of up to 138 buttons for users. The module adds 42 programmable keys and LEDs bringing the total to 54. With an intuitive and easy to use web interface, users can quickly program these buttons to suit their work style.
Users can see call or line status at a glance thanks to the LEDs. It means they don't have to interrupt tasks just to see the status of a call and if the line is currently busy or idle.
2- Snom Footstand 300
Snom phones are designed to be easy to use but it doesn't mean they fit everyone's needs. For instance, some users may prefer the handset to be more upright, allowing them to see what's on the screen more easily. The Snom footstand 300 allows better access to the feature buttons for users. It's very useful for those with different desk configurations such as a standing table or a perpetually messy desk!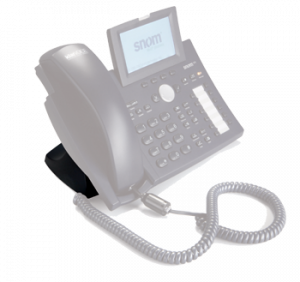 Snom High-Footstand-300
3- 
Handset and PSU
Snom also makes it easy to purchase extra handsets for businesses that need them (Snom Handset). Almost every Snom desk phone comes with PoE support but what if you need to use it somewhere else? You can buy the power supply unit (Snom PSU) as an accessory for any Snom 3xx phone. So you can keep in touch even when you're connected to a network that does not have PoE support.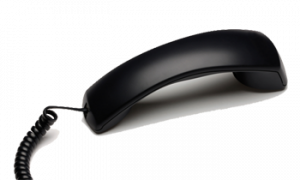 Snom Handset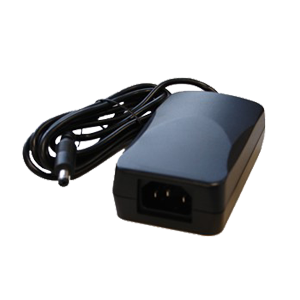 Snom PSU
As you can see, Snom VoIP phones and accessories are justifiably popular. If you were wondering about a phone that's suitable for your company, Snom has you covered. Contact VoIPstudio today and see how it can improve your business communications in a heartbeat!