Call tagging is a mechanism to sort, classify and organize calls for subsequent generation of performance reports and insights. These reports can be used to assess team workload, identify call trends or simply isolate nuisance customer calls so that they can be easily found and reviewed by the customer success department.
Common uses and examples of call tagging
Below you can find the most common use cases and some suggestions for call tagging features. Don't worry if you want to give it several different uses: you can add as many tags to each call as you need.
Segment incoming calls by topic
Call tagging can help you locate the busiest departments or find out where agents spent the most time during calls. For example, we could label calls as: "sales", "support", "internal", "wrong call", etc.
Segment outbound calls by topic
In sales-focused outbound contact centers, calls are often labeled with one of the following options: "interested", "not interested", "no answer", "wrong number", "do not call", etc. This helps to quickly identify the right leads and generate reports of call outcome.
Identify the reason for failed leads
Tagging failed sales calls with the failure reason will later help to isolate weakness from what we are selling. For example, some labels to use could be "Failed-Pricing" "Failed-TechnicalDificulties" "Failed-FeatureMissing" "Failed-Timing".
Tagging failed sales calls with the reason for the failure will subsequently help to isolate the weak points of what we are selling. For example, some labels that can be used could be "price", "technical issues", "features", "time", etc.
Indicate the quality of leads
The call tracking feature can help you determine which marketing campaigns are generating phone calls and which are not. But identifying the campaign with the most calls may not be the same as identifying the most successful campaign. Combining call tracking and call labeling with tags such as "Suitable Lead" or "Irrelevant" will provide more accurate information.
Select calls for remarketing
It may happen that a potential customer is interested, but the timing is not the best. Labeling the call as "remarketing" can be useful to search for the lead later to contact them again.
Controlling agent performance or attitude
Labeling all calls that end in a sale as "success" can help identify the most skilled employees, but we could also monitor and label calls where the employee was not polite enough or was "rude"so that we can improve service.
Tagging references to competitors
In addition, adding a tag that shows the competitors that are mentioned in a given call can provide insight into the most relevant competitors. If we combine this with the call recording feature, perhaps later on, by evaluating all calls where a certain competitor was pointed out, we could find out how we are doing or where our product needs to improve compared to competitors.
Some other common tags
Segment callers – New customer, relevant customer, reacquired customer, blacklisted customer, partner, supplier, etc.
Customer – Corporate customer, public customer, home user, spam, unknown.
Call purpose – Sales, support, internal, test, feature request, order return, complaint, etc.
Customer mood – Angry, happy, upset, etc.
Product category – proprietary product, third-party product, new product, defective product, etc.
Phone systems usually allow you to set several tags to the same call. So, for example, you could mark incoming calls as "new customer", "corporate", "sales" and "happy".
How call tagging works on VoIPstudio
Create new custom labels
From the Administrator Dashboard, navigate to History and find CDR. At the top right of the window, you will see the Label menu. By clicking on it, you will see a dropdown with all the existing labels and, at the bottom, a link to the management section. There you can edit the current labels or generate new tags and associate a color to them to find them quickly.

Set a label for the call in progress from the softphone
When answering or making a call, once the call is established, the softphone will display the active calls panel. From there employees can add one or more tags while on a call.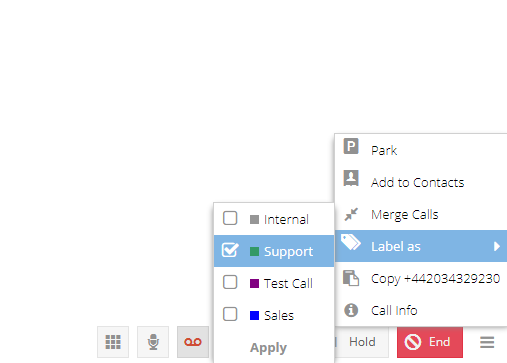 Set label for the call in progress from IP deskphone
When answering or making a call, once the call is established, agents may set the call tag by dialling DTMF code from #11 to #19. This is useful when using some IP deskphones instead of VoIPstudio own apps.
Please note before being able to tag calls using DTMF codes you need to edit your labels and assign corresponding DTMF code to them. You can do this from History > CDR > Manage labels and set DTMF code as shown: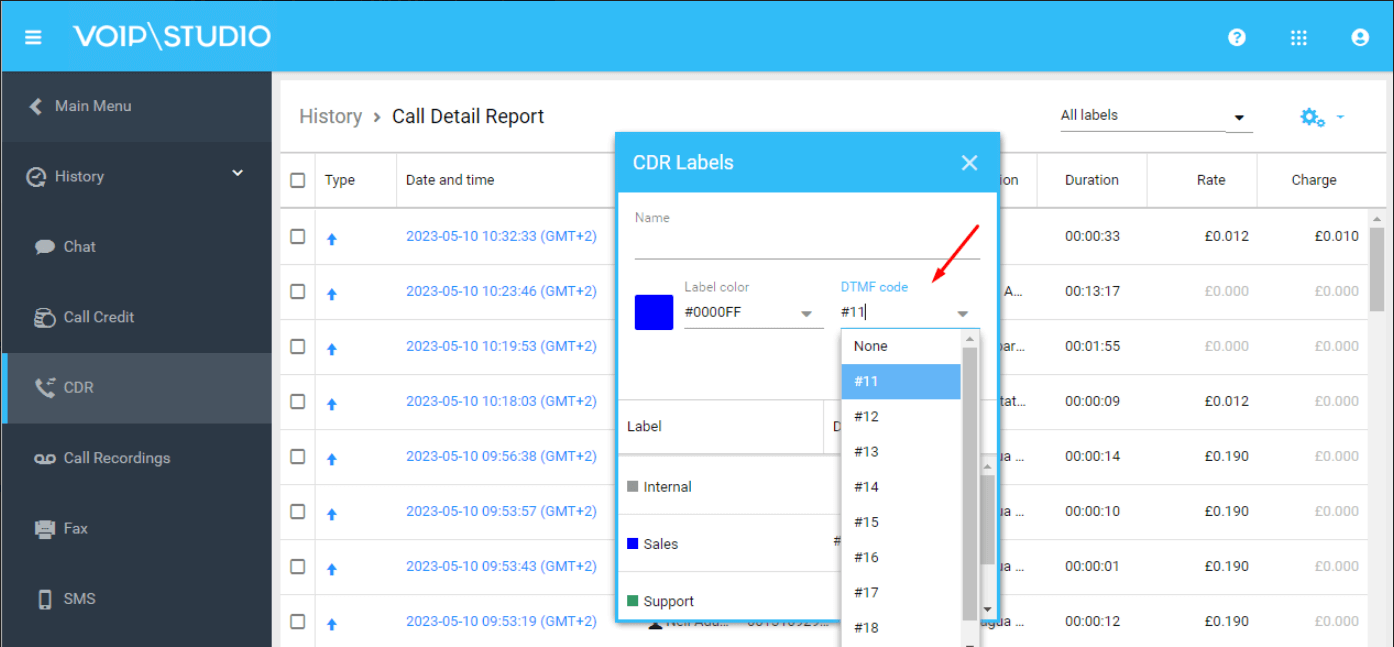 Tag finished calls from call history
In some cases, it may be necessary to add new tags or adjust the tags of a particular call after evaluating it. Thanks to the call history feature, administrators and users can easily add tags to completed calls.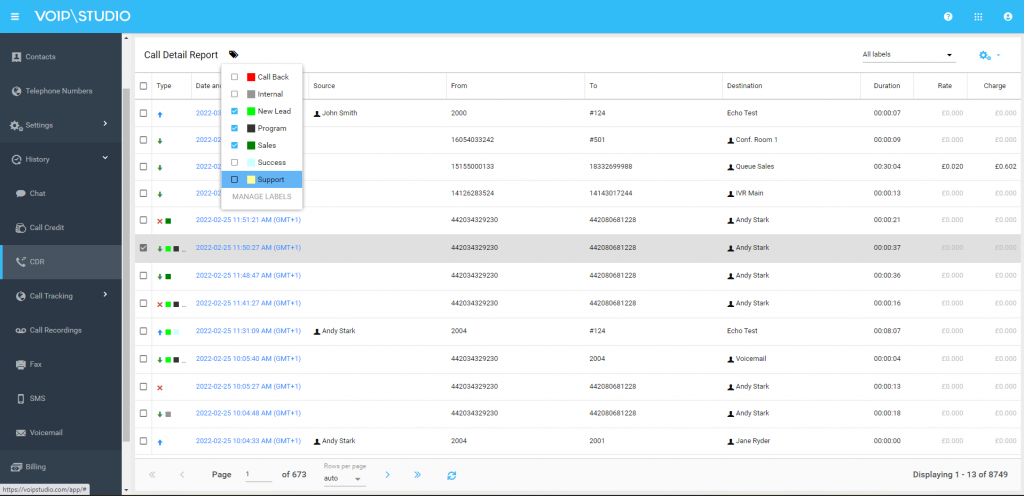 Call tagging by supervisors from PBX control panel
In VoIPstudio, supervisors with sufficient permissions can monitor calls made by agents and add tags directly from their control panel for later review.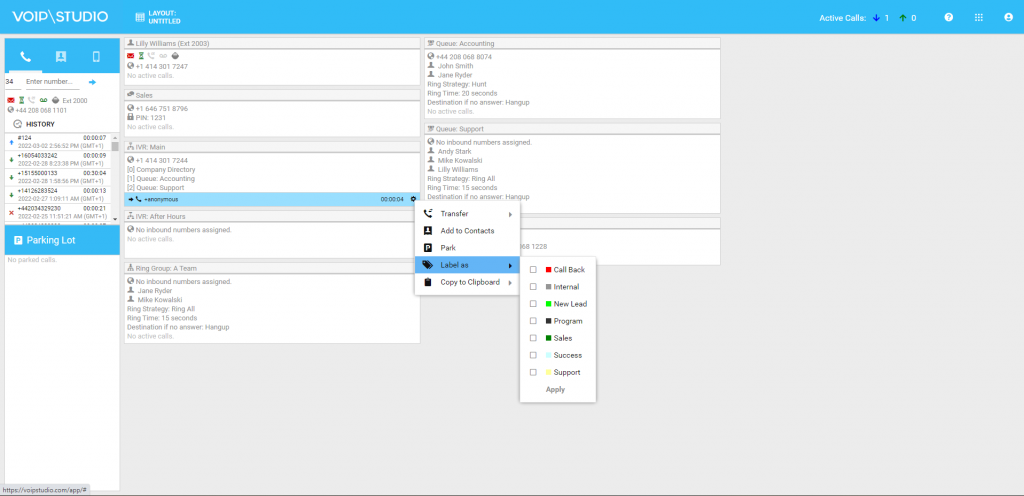 Use of labels in call reports
VoIPstudio call detail report allows filtering by any call details: dates, call origin and destination and also tags. Tags allow us to easily find a list of calls that match certain criteria. Once the filter is applied, the view can be exported to a CSV file for further processing in a spreadsheet or an external program.
Start tagging your calls now
With VoIPstudio you have a 30-day free trial, fully functional, no card required and with 200 minutes in calls, so you can test the tagging function and all the features of our telephony platform. What are you waiting for?