VoIP business service providers VoIPstudio are celebrating after receiving the ITSPA Quality Mark for excellence in service, reliability and customer satisfaction in 2012.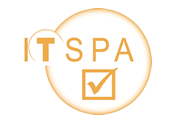 London based Business VoIP provider VoIPstudio have been rewarded with one of the few ITSPA quality marks handed out this year, thanks to the reputation they have already earned through the consistently high levels of quality and service they have provided to their customers.
VoIPstudio's Chief Technical Officer Hugh Porter commented that: "This Quality Mark means a lot to us. It's something we have been working for ever since we entered the marketplace. We knew we needed to stand out from the crowd, and there is no better way to do that than with the ITSPA Quality Mark."
The ITSPA is the official trade association representing UK based business phone network operators and service providers involved in the supply of VoIP services to businesses and residential consumers within the United Kingdom and across the European Union.
Presently the ITSPA has over 50 VoIP service providers as members, although only 18 of these members have received an ITSPA quality mark – guaranteeing that the level of quality and service provided by each of these companies is without reproach.
The ITSPA Quality Mark was introduced to: 'be a suitable way of recognising those that go the extra mile' in providing VoIP for business. Members of the ITSPA have to formally self-certify themselves each year to apply for the Quality Mark, with the criteria required to join the ITSPA being reviewed each year.
With so many business phone service providers now on the market, choosing the right service provider is more important than ever with many companies offering huge discounts over their competitors. But to ensure you are getting the best value for your money, there is no better reference point than the ITSPA register of trusted and recommended members.
So if you are looking for a business VoIP system provider it is worth doing your research and not simply looking for the lowest monthly cost. Ensuring that the company you choose has not just a proven track record – but has also received ITSPA certification – will guarantee that you are getting the best service possible for your money, leaving you free to focus on running your business.