VoIPstudio Recognized for Industry Innovation and Quality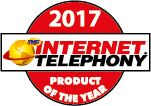 LONDON, UK, 24th January 2017 — VoIPstudio announced today that TMC, a global, integrated media company, has named it as a recipient of a 2017 INTERNET TELEPHONY Product of the Year Award. These awards recognize the most innovative and highest quality IP communications brought to market, or updated, in the past year.
With thousands of systems installed world-wide, VoIPstudio is the first choice for companies when it comes to selecting a VoIP solution. Offering an unmatched range of features
VoIPstudio has been designed from the ground-up to provide a complete VoIP communication solution for business users. It is a complete replacement for any telephony system used in a business environment and benefits from continuous innovation and an agile roadmap. VoIPstudio offers outstanding quality, reliability and is based on a secure, fully-redundant, global infrastructure.
"We've invested heavily in VoIPstudio over recent years and have seen this bear fruit in terms of our growing market presence and share," commented Chris Maciejewski, CEO of VoIPstudio. "We're delighted to win this coveted award, as it's a clear endorsement of our strategy and progress."
VoIPstudio enables greater business productivity, without the expense of purchasing and maintaining an expensive, on-premises solution. Users value its flexibility, global reach and ease of use.
"It gives me great pleasure to recognize VoIPstudio with a Product of the Year Award for 2017. I have always been impressed with their commitment to excellence and innovation," said Rich Tehrani, CEO, TMC. "In the opinion of our distinguished judges, VoIPstudio has proven to be among the best IP communications solutions available on the market. I look forward to continued innovation from VoIPstudio
The winners of the 2017 INTERNET TELEPHONY Product of the Year will be featured in the INTERNET TELEPHONY magazine in January.
For more information about TMC, please visit www.tmcnet.com.
About VoIPstudio
VoIPstudio is a cloud-based business telephone system created for organizations that require professional communications features without the hassle and expense of owning and managing on-site PBX equipment.
VoIPstudio handles all maintenance and upgrades, allowing business users to focus on core activities rather than trying to configure and run their telephone system. All user configuration is handled through a simple web portal. Internet and VoIP calls are free, meaning co-workers can talk to each without any additional charges no matter where they are located – in the next room, in a different city or on the other side of the world, they are just one extension away.
VoIPstudio is a global company, with its HQ in the UK and offices in the US.
EMEA and Global HQ:
Gable House
18-24 Turnham Green Terrace
London
W4 1QP
United Kingdom
Tel: +44 203 432 9230
Fax: +44 203 642 7909
North America HQ:
250 E Wisconsin Ave, Suite 1800
Milwaukee, WI 53202
United States
Tel: +1 414 435 9680
Fax: +1 414 435 9689
marketing@voipstudio.com
www.voipstudio.com
About INTERNET TELEPHONY magazine
INTERNET TELEPHONY has been the IP Communications Authority since 1998™. Beginning with the first issue, INTERNET TELEPHONY magazine has been providing unbiased views of the complicated converged communications space. For more information, please visit www.itmag.com. Follow INTERNET TELEPHONY magazine on Twitter or join our Linked In group. Subscribe or visit www.itmag.com.
About TMC
Global buyers rely on TMC's content-driven marketplaces to make purchase decisions and navigate markets. This presents branding, thought leadership and lead generation opportunities for vendors/sellers.
TMC's Marketplaces:
Unique, turnkey Online Communities boost search results, establish market validation, elevate brands and thought leadership, while minimizing ad-blocking.
Custom Lead Programs uncover sales opportunities and build databases.
In-Person and Online Events boost brands, enhance thought leadership and generate leads.
Publications, Display Advertising and Newsletters bolster brand reputations.
Custom Content provides expertly ghost-crafted blogs, press releases, articles and marketing collateral to help with SEO, branding, and overall marketing efforts.
Comprehensive Event and Road Show Management Services help companies meet potential clients and generate leads face-to-face.
For more information about TMC and to learn how we can help you reach your marketing goals, please visit www.tmcnet.com.
TMC Contact
Jessica Seabrook
Marketing Director
203-852-6800, ext. 170
jseabrook@tmcnet.com