VoIPstudio Recognized for Industry Innovation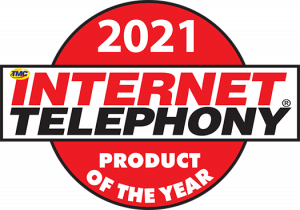 Milwaukee, WI, March 5, 2021 — VoIPstudio announced today that TMC, a global, integrated media company, has named it as a recipient of a 2021 INTERNET TELEPHONY Product of the Year Award.
VoIPstudio is a cloud-based business telephone system created for organizations that require professional communications features without the hassle and expense of owning and managing on-site PBX equipment.
"From the beginning, VoIPstudio's goal has been to help all businesses of any size to have a high quality, flexible, hassle-free and affordable communications service.", commented Chris Maciejewski, CEO of VoIPstudio. "Now more than ever, this approach is proving vital to the development of operations in a highly dispersed business ecosystem where communications play a critical role in business survival and growth."
In the last year VoIPstudio has invested heavily to bring to the service features that help companies to improve the implementation of remote work, such as videoconferencing or screen sharing.
"I am honored to recognize VoIPstudio with a 2021 Product of the Year Award for its commitment to excellence and innovation," said Rich Tehrani, CEO, TMC. "In the opinion of our judges and editorial team, VoIPstudio has proven to be among the best communications and technology solutions available on the market. I look forward to continued leadership from VoIPstudio."
The winners of the 2021 INTERNET TELEPHONY Product of the Year will be featured in INTERNET TELEPHONY magazine online and on TMCnet.
For more information about TMC, please visit www.tmcnet.com.
About VoIPstudio
With thousands of systems installed world-wide, VoIPstudio is the first choice for companies when it comes to selecting a VoIP solution. With VoIPstudio you get an all-in-one business VoIP solution, with no contracts and no hidden costs, available at consumer-level pricing. All our clients get all our features from day one, including virtual switchboard, virtual numbers, conference calling, call center, call recording and much more.
VoIPstudio also includes advanced communication tools like videoconferencing, screen sharing or integration with lots of CRM and other business tools.
VoIPstudio is a global company that serves more than 15 million minutes of daily talk time to more than 75 countries throughout the world.
VoIPstudio US
250 E Wisconsin Ave, Suite 1800
Milwaukee, WI 53202
United States
Tel: +1 414 435 9680
marketing@voipstudio.com
https://voipstudio.com
About INTERNET TELEPHONY magazine
INTERNET TELEPHONY has been the IP Communications Authority since 1998™. Beginning with the first issue, INTERNET TELEPHONY magazine has been providing unbiased views of the complicated converged communications space.  For more information, please visit www.itmag.com. Follow INTERNET TELEPHONY magazine on Twitter or join our Linked In group.
About TMC
Through education, industry news, live events and social influence, global buyers rely on TMC's content-driven marketplaces to make purchase decisions and navigate markets. As a result, leading technology vendors turn to TMC for unparalleled branding, thought leadership and lead generation opportunities. Our in-person and online events deliver unmatched visibility and sales prospects for all participants. Through our custom lead generation programs, we provide clients with an ongoing stream of leads that turn into sales opportunities and build databases. Additionally, we bolster brand reputations with the millions of impressions from display advertising on our news sites and newsletters. Making TMC a 360-degree marketing solution, we offer comprehensive event and road show management services and custom content creation with expertly ghost-crafted blogs, press releases, articles and marketing collateral to help with SEO, branding, and overall marketing efforts. For more information about TMC and to learn how we can help you reach your marketing goals, please visit www.tmcnet.com and follow us on Facebook, LinkedIn and Twitter, @tmcnet .
For more information about TMC, visit www.tmcnet.com.
TMC Contact
Michelle Connolly
Marketing Manager
203-852-6800, ext. 170
mconnolly@tmcnet.com