The business world continues to get more competitive as globalization, and rising digital innovation continues to abound. Accordingly, companies and brands are always on the lookout to ramp up sales business development strategies.
One common practice across the board has been reaching out to qualified prospects through outbound outreach campaigns. 62% of marketers said that their outbound strategy has been effective. While that's an expressive number, there is still a lot of room to grow and improve. One way to do that is to implement VoIP systems in an outbound call operation.
Non-negotiable VoIP features for outbound calls
A VoIP system helps companies manage calls better through a set of features that make phone strategies more efficient across the board. While used popularly for inbound calls, VoIP software also has a whole set of features that can prove useful for outbound strategies. Some of them include:
Contact management
Better business contact management is most helpful in B2B outbound settings, given it allows sales representatives to handle and organize prospect information better. It also gives agents a place to organize and document call data and notes so that they can consider requests, queries, and other personalized information in the future.
When paired with a powerful client relationship management tool, this will improve outbound sales strategies across the board.
Agent management
On top of managing prospects and leads, a business VoIP phone service will also be able to manage your staff as well. Integrated with an employee management system, a VoIP system gives your organization a more effective way to manage agents' performance, compliance, and attendance.
With agent management, you can also better correlate performance with responding agents by having a dashboard that displays the feedback given to callers. That way, managers can review call performance and respond accordingly— whether that's via reward or coaching.
Call management features
On top of managing agents and contacts, VoIP systems also provide a way to manage the call themselves. Some of the call management features that come in handy include:
Call recording — Record your calls and store them for instant playback, and review.
Forwarding — So that outbound teams can collaborate and forward calls if a prospect wants to speak to another agent with another offering or specialty, for instance.
Dynamic Caller ID — You can present a caller ID from the customer's country.
Agent coaching — Drop into a live call and provide some helpful hints to your agent in 'whisper mode'.
Agent monitoring — Drop in on and listen to live calls to monitor and review agents' performance.
Parking — In the case where representatives might need to put people on hold.
Pulling — In the case where callers need to switch devices.
Insights and recording
The power of data has become the focus in recent years as businesses turn to numbers to make informed decisions. VoIP systems give business access to more data and analytics that could be helpful in evaluating their sales representatives, strategies, and products.
Call recording features can also come in handy for various reasons that you will learn in a little bit too. Most VoIP services also store recordings on cloud-based systems so that you don't have to keep them in a physical storage device that could take up resources and space.
There are definitely many other features that VoIP systems can provide for outbound calling teams and other business applications.
Ways VoIP systems help to improve outbound calls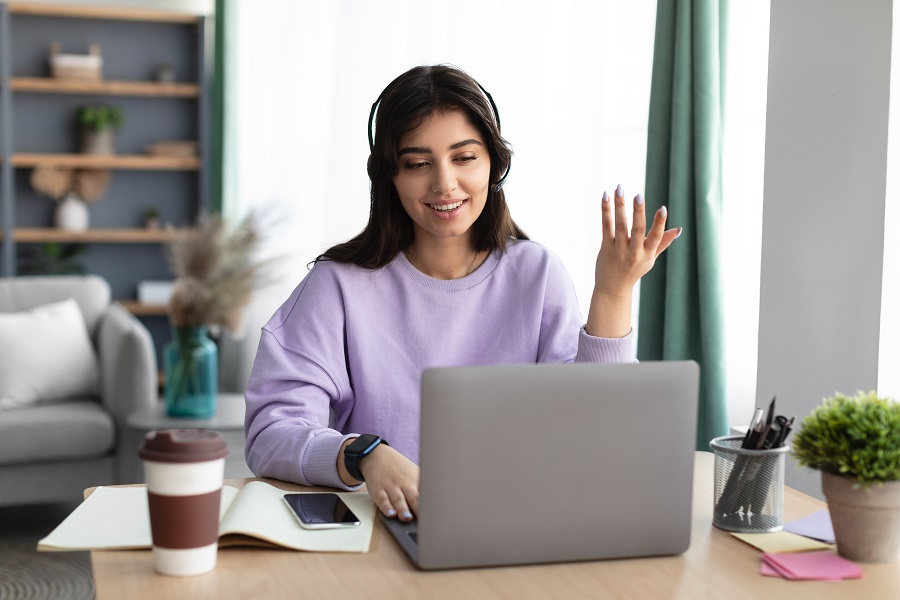 So with all of these features now in mind, the bigger question you might be asking is "how do all these features help my outbound calling team or agents?" Here are some of the ways that your team and business as a whole could benefit from using a VoIP system.
Manage outbound reps better
Outbound sales representative management entails a well-founded human resource operation where you get to manage your team's output and workload efficiently. Having to check calls, assign leads, and provide feedback manually can be taxing for managers and supervisors. So having a VoIP system could help alleviate the workload and stress that a manual team management process could bring.
With a VoIP system, your outbound sales team supervisor can now focus on more high-value tasks, including:
Finding new target persons.
Networking.
Training sales personnel.
Creating incentive structures to boost performance.
Manage contacts better
Companies that drop or lose leads will not do a good job of converting prospects into customers. Up to 60% of leads will say no four times before saying yes. But the average agent rarely gets to the first follow-up. What could help with this process is putting up a better lead management system where they can track and analyze lead information to help turn a prospect into a customer.
With better contact management, agents and sales representatives can go back to old leads and make necessary follow-ups to help them close more deals.
Improve calls through analytics, coaching, and feedback
Because a VoIP phone system effectively tracks call feedback and analytics, sales teams and business development managers can use that data to make more informed decisions. That data could be used to evaluate team performance and provide coaching and feedback that can help improve outbound outreaches.
VoIP systems also often have a feedback survey mechanism that automatically asks for feedback from call receivers.
More efficient call forwarding
In B2B lead generation, some callers might have specific niches or products on their slate. In cases where a lead might want another product or service that belongs to another department, outbound callers can simply forward calls to the right representatives.
Having this ability via a VoIP phone system for business-to-business sales could improve collaboration in a team and even increase closing rates. When running a call center operation, this might not always be the default.
But by encouraging a culture of collaboration, a team of agents is actually able to achieve more for the individual as much as they do for the whole team or business. That's because teams tend to benefit more when there's mutual support versus unhealthy internal competition.
Boost sales
At the end of the day, there is one thing that an agent and the whole company that employs them want—more sales. An effective VoIP system can help the company achieve that when they streamline all their call activities.
The final goal of every feature and benefit discussed is to put the company in a position to make high-converting calls that can bring in a return to the bottom line. By improving systems with features like integrating with sales tools, companies and their outbound team have a better chance of achieving that.
Outbound is still a driver of growth
There's been a lot of noise around inbound marketing. And while it's highly effective, it doesn't discount the power of outbound strategies. 32% of professionals in a survey said that outbound strategies produced more leads for them— a figure equal to that of inbound lead generation.
So if you want to implement an outbound selling system and get more clients through phone sales, a VoIP system could be the key to helping you get more business through the door. By doing so, you set the whole organization up for more growth and expansion in the near future.
If you are interested in learning how you can improve your company's calls with a VoIP system, do not hesitate to try our tool for 30 days totally free, with no commitment.