Every sale counts in the business world, and controlling costs is essential. Would you like to find a solution that helps streamline and optimize your sales processes without spending a fortune on complex software implementation?
There's no doubt that finding the right CRM, considering our company's size, costs, and features it offers, can be challenging. However, Zoho Bigin presents itself as an excellent CRM platform.
Integrating CRM with various communication channels such as email, forms, telephony, and social media allows you to centralize all information and save time when contacting your clients. For example, telephony integration enables the automatic recording of phone conversations with clients.
Additionally, with a simple click from the CRM, we can make a call, and when receiving a call, we can quickly identify the contacting client. All these functionalities are vital to increasing the efficiency of our business.
What is Zoho Bigin?
Zoho Bigin is a cloud-based CRM focused on the distribution channel designed for small businesses.
Zoho Bigin offers a user-friendly interface with the correct features to help small businesses attract more customers and grow organizationally. With this solution, you can manage your contacts, sales deals, and contracts and monitor customer activities and interactions. You can also generate performance metrics such as profits, sales ratios, etc.
Benefits of Zoho Bigin
Different versions of Zoho Bigin
One of the main advantages of Zoho Bigin is that it offers free and affordable editions, making it accessible for entrepreneurs and small businesses. Unlike other CRMs, you can start using Bigin for free with up to 500 records without incurring costs.
If you need a higher record limit and additional features, you can opt for the paid version of Zoho Bigin. For just $7 per user per month, you can access a wide range of enhanced features and capabilities, with a limit of up to 50.000 records (and the possibility to expand it further).
Compared to competitors' prices in the market, Zoho Bigin stands out for its affordability. While other CRM solutions can cost between $14 and $30 per user per month in their most economical editions, with Bigin, you can save up to 75% on the cost of your CRM without compromising the quality and functionality you need to manage your customers efficiently.
Enjoy Zoho Bigin anywhere
One of the standout advantages of Zoho Bigin is its accessibility; you are no longer confined to an office to work or access relevant data. With Bigin, you can use it from any device with an internet connection, allowing you to manage your customers from anywhere.
Whether using your mobile or tablet, you can download the Bigin app for Android and iOS devices and quickly access your data. There is no need to install any software on your computer; you can access Bigin through any web browser, such as Google Chrome or Firefox. Simply click this link and log in to your account.
With Zoho Bigin, you can work remotely and access your CRM data and functions from anywhere, ensuring constant tracking of your customers, real-time updates, and the ability to perform essential tasks, all conveniently from your preferred device.
Increase your leads from your website
Today, websites have become one of the primary touchpoints with customers; for many businesses, they are a valuable source of leads. Integrating this information with your CRM is essential for an effective lead management process.
In both the free and paid editions, Zoho Bigin enables you to create forms that you can easily embed on your website. All users who register on your site to request information or quotes will be sent directly to your CRM. With your marketing campaigns in full swing, this ensures a steady flow of leads.
With Zoho Bigin, you can maximize your online presence by efficiently and automatically capturing lead data generated through your website. You can effectively manage and nurture these leads, ensuring every business opportunity runs smoothly.
Automation
One key advantage of Zoho Bigin is its ability to automate tasks. With Bigin's workflows, you can save valuable time by automating repetitive tasks that consume a significant portion of your time and resources.
Imagine not worrying about manually assigning leads or sending individual welcome emails. With Bigin, you can automatically set up custom workflows to handle these tasks.
Assign leads to the appropriate team members, send personalized welcome emails, create reminders, and specific tasks.
Incredible integrations
A CRM becomes even more powerful when it integrates with the tools you use daily. Zoho Bigin understands this and offers various integrations to enhance your experience and productivity.
With Zoho Bigin, you can easily sync your email, contacts, and events from your Google or Microsoft 365 account. That means all essential data stays up to date and is accessible from one place, eliminating the need to switch between different applications. Zoho Bigin integrates with popular email marketing platforms such as MailChimp and Zoho Campaigns.
This integration allows you to send email marketing campaigns to your contacts directly from your CRM, providing an efficient way to stay in touch with your customers and generate new sales opportunities.
Regarding online meetings, Zoho Bigin allows you to integrate with tools like Zoom and Zoho Meeting. With just a few clicks, you can schedule and conduct virtual meetings with your clients and colleagues, all from the familiar environment of your CRM.
In addition to these specific integrations, Zoho Bigin is also compatible with automation platforms like Zapier and Zoho Flow and its own API. It means that all essential data stays up to date and is accessible from one place, eliminating the need to switch between different applications.
Quick and easy integration of VoIPstudio and Zoho Bigin
VoIPstudio and Zoho Bigin are ready to be integrated into just a few clicks.
If you don't have an account yet, the first step is to start a free trial on both platforms:
A 30-day free trial of VoIPstudio
A 15-day free trial of Zoho Bigin
Here's the process:
While VoIPstudio is a self-service platform, we recommend contacting us so we can advise you on the configuration that best suits your business model and get the most out of your communications.
Step 1: Install the VoIPstudio application from the Zoho Bigin marketplace. To do this, go to (1) Settings, (2) Channels – Telephony, search and install the "VoIPStudio" application as shown in the image: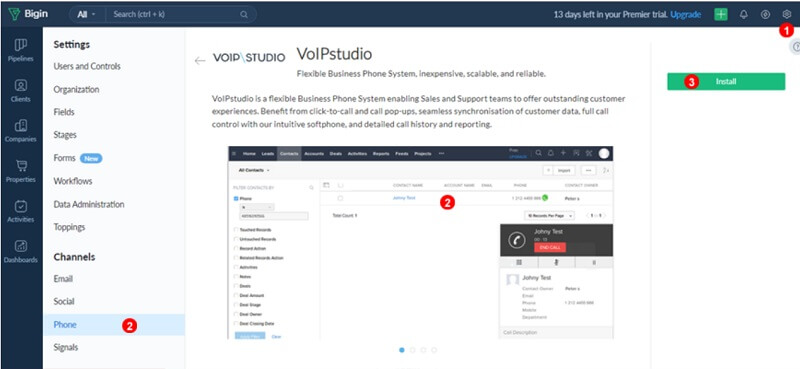 Step 2: Zoho Bigin will indicate one more step in the VoIPstudio section. Now it's time to go to the VoIPstudio control panel. Go to the Integrations section (1), search for the integration with Zoho, and click Enable Zoho Integration to activate it (2).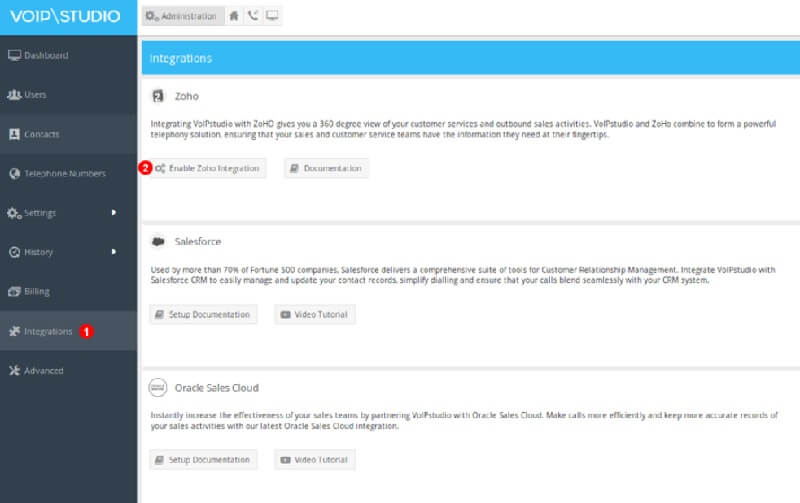 Step 3: Select the users who need the integration and configure the format type for the phone numbers.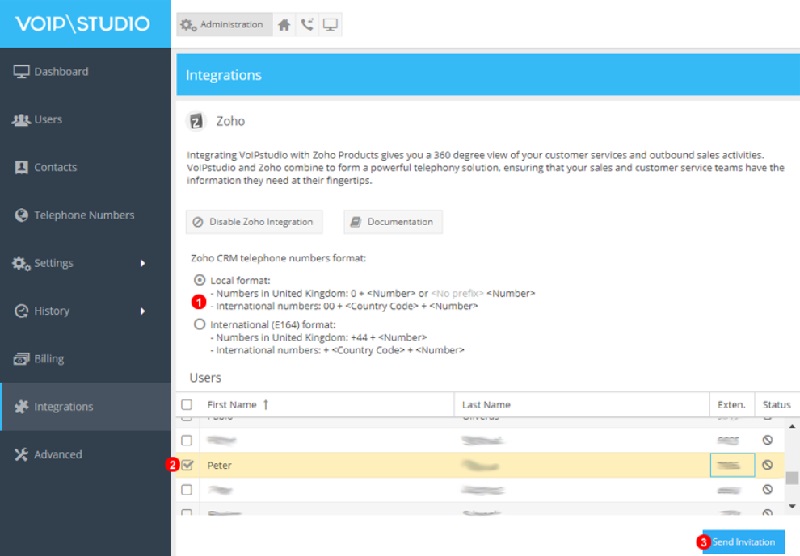 These users will receive the invitation via email. They need to click the link to activate the integration with their Zoho account.
If the user doesn't receive the email or encounters any issues, there will also be a notification in the VoIPstudio control panel for them to activate this integration.
Note: This final step must be performed by the specific user with their credentials, not the administrator. For more details, you can refer to our manual.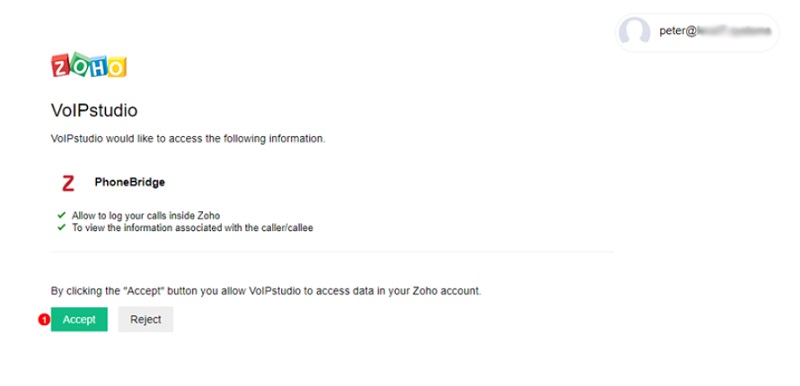 Using the integration on a smartphone
Zoho Bigin is designed to be used on a smartphone and has a dedicated app. Similarly, VoIPstudio also has a smartphone app where you can make your business calls. The only thing to remember is that the integration will work slightly differently.
You can use click-to-call functionality to make calls from Zoho on your mobile device. The difference is that, in this case, instead of choosing the device to make the call, it will be directly done through the VoIPstudio app on the mobile.
Call activity and recordings are logged in the same way.
The active call panel will not be available in the Bigin smartphone app.
Using the integration on your PC
To make and receive calls, you only need to activate the integration and have the VoIPstudio Softphone or an IP phone active with your user.
You can make calls with just one click from your computer, view active calls within Zoho, and associate the activity with a new or existing contact. You can also manage the call from either Zoho or the VoIPstudio app.
Please take a look at our demonstration video.
What other advantages do we have when combining Zoho Bigin and VoIPstudio?
Integrating Zoho Bigin with VoIPstudio lets us click on Zoho contacts to initiate a call directly. Additionally, we have control over that call within the Zoho panel.
When we receive a call, we can identify the calling customer, allowing us to provide more personalized customer service and automatically access their profile.
All phone activity is automatically recorded in the customer's profile, including the call time, duration, and even the recording itself.
This activity log is handy when dealing with multiple employees. It allows us to monitor calls made by sales and technical staff, enabling us to evaluate their performance and the quality of service we provide to our customers.
Easy and clear sales process
In Zoho Bigin, they understand that every business has its own unique sales process. That's why they offer you the flexibility to define up to five different sales processes within the platform.
You can also customize each process's stages to fit your organization's operation. This allows you to have a transparent sales process tailored to your specific needs, making it easier to manage your sales opportunities and improve your sales team's efficiency.
With Zoho Bigin, you have complete control over your sales process, helping you make more informed decisions and achieve your business goals more effectively.
Comprehensive reporting
With Bigin, you don't have to worry about that. The platform provides you with ready-made reports for your convenience. From sales funnel charts to key performance indicator (KPI) cards, you can obtain a clear and quick overview of your overall business situation.
Conclusion
As you can see, Zoho Bigin is the perfect solution for small businesses looking to optimize their sales processes and keep costs under control. With its channel-focused approach, user-friendly interface, and wide range of features, Bigin lets you centralize customer information and save time on interactions.
Furthermore, the integration with VoIPstudio brings even more advantages, such as making and recording calls directly from the platform. Propel your business towards success with Zoho Bigin and its powerful VoIP integration!