The increasing use of instant messaging applications is reducing the number of phone calls made, especially among younger audiences. In addition, this is making commercial calls increasingly annoying and recognisable, so many people are already finding out how to block unwanted calls.
There are many types of unwanted calls. In the business world, minimising or preventing them can improve your company's productivity, as you are not spending time and resources on answering them.
If you are a VoIPstudio user and these calls bother you, we tell you how you can easily block them in this post.
Types of unwanted calls
There are several types of unwanted calls that you can differentiate by their nature or origin. These are the most relevant:
Calls you do not want to answer
These calls are made from identified numbers that, for whatever reason, we want to stop answering.
Calls from hidden numbers
Calls from hidden, private, or unknown numbers do not show the number from which they are calling. Therefore, we cannot know who is calling us.
Automatic pre-recorded calls
These are known as robocalls. They are pre-recorded calls from a computer executed the moment someone answers them.
Spam calls
These are commercial calls whose only purpose is to close a sale or present a product or service without our prior explicit consent.
Identify and block suspicious spam calls
Spam calls made by individuals are the most complicated to fight. We can find different methods to avoid spam depending on the system we use to handle these calls.
It will also depend on the resources in force in the communications law of each country. Let's look at some scenarios:
Android devices
Android already identifies incoming calls suspicious of spam, as you can check in this link.
Specific apps
There is the possibility to install specific apps. What these apps do is very similar to what Google does: they compare incoming call numbers with numbers identified as unwanted, and if there are matches, they block them. The most relevant and reliable apps for this purpose are Truecaller, Hiya or Nomorobo.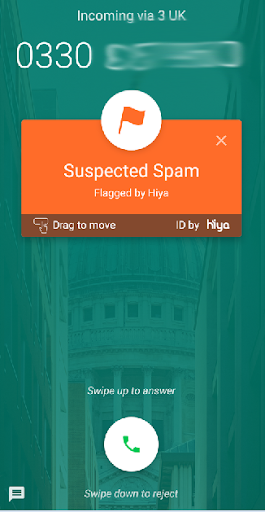 In UK, include your phone number on the Telephone Preference Service (TPS) List
The UK has a list of numbers that should not be disturbed by marketing or sales calls. Users can add telephone numbers to the Telephone Preference Service (TPS) list. Businesses are obliged to consult it before making mass calls.
The Telephone Preference Service (TPS) is the UK's only official Do Not Call register for landlines and mobiles. It allows individuals and businesses to opt out of unsolicited sales and marketing calls.
Registering a phone number is free and quick. If you do, you will reduce the number of unwanted sales and marketing calls you receive.
There is also a registry for businesses, the Corporate Telephone Preference Service (CTPS).
If a number is registered with the TPS/CTPS, organisations are legally obliged to refrain from calling by the Privacy and Electronics (EC Directive) Regulations 2003. In the UK, the Information Commissioner's Office enforces the law and has the power to fine companies that breach it. Organisations are required to carry out a TPS/CTPS screening at least once every 28 days.
If your company needs to make calls to the UK and comply with the TPS list, you can contact VoIPstudio's support team for more information.
In the USA, the choice is to verify the caller's ID
To combat the plague that automated and spoofed calls have become, the US telecommunications regulator, FCC, as of 30 June 2021, requires all incoming and outgoing voice service providers operating in the United States to implement STIR/SHAKEN standards in their Internet Protocol (IP).
STIR/SHAKEN is a set of technical standards and protocols that enable authentication and confirmation of caller ID information when calling over IP networks. It allows users to trust the caller ID they see on their phone screens, reducing the effectiveness and success of fraudulent calls.
Caller ID authentication technology also makes it easier for users and law enforcement authorities to identify the source of illegal calls, reducing their harmful impact.
However, it is essential to note that the STIR/SHAKEN protocol is not a complete solution to spoofing and caller ID spoofing. It will not prevent phones from ringing when a fraudster calls unless the service provider uses additional anti-spoofing tools.
In Spain, include your phone number on the Robinson List
Since these spam calls can be very annoying, many countries already provide their citizens with mechanisms to prevent them.
In Spain, there is the Robinson list. This free online directory allows citizens to sign up and register telephone numbers or email addresses where they do not wish to receive advertising. Only companies to which you have given express consent will be allowed to contact you to try to sell you their products.
It works for telephone, postal mail, email, and SMS/MMS advertising. It will also enable you to revoke previously given permission to any company.
Including your company's contact numbers on this list is very convenient, especially if your contact details are published on your website or any other place on the Internet.
Solutions to block unwanted calls with VoIPstudio
Depending on the type of call, we have several solutions to tackle these problems.
Block calls from specific numbers
This section will explain how to block calls from specific numbers. This can be very interesting in the following scenarios:
Block calls from annoying suppliers or customers.
Block calls from numbers that you know for sure are advertising numbers.
Reject calls from specific origins. For example, if you know all your customers are British, you may be interested in blocking calls from other countries.
There are always cases where a customer or scammer continuously calls your company or business to make some profit. With VoIPstudio, you can block these calls if you know the number of these unwanted calls.
The configuration needed to achieve this is as follows:
1. Register the numbers you want to block
From the control panel, go to Settings > Routing Rules > Settings > Caller IDs. You can add the phone number to be blocked or even block numbers following a specific pattern.

2. Create a routing to hang up the calls or direct them to a voicemail
Once the call has been identified, you can end it or notify the caller, for example, that they cannot contact us by phone and have to contact by email. To do this, create a new routing rule from Settings > Routing Rules > Inbound.
The rule would be configured as follows: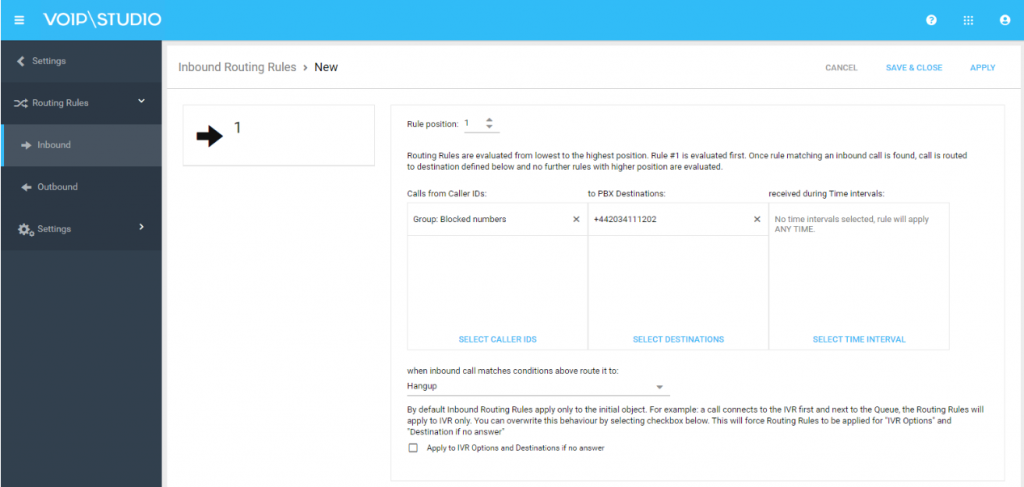 The rule says that all incoming calls from the "Blocked numbers" group to the specified number, received at any time interval, will be routed to "Hangup" without being answered.
Block calls from unknown numbers
95% of calls from unknown numbers are misleading or advertising calls. Many companies are opting directly to block these calls or set up a voice message indicating that the company does not accept incoming calls from unknown numbers.
This configuration is more straightforward than the previous case, as the "unknown" origin is already predefined. Therefore, you only need to create an inbound routing rule that indicates the following:
All calls from an "Anonymous" number to the specified number, received at any time interval, would end up without being answered.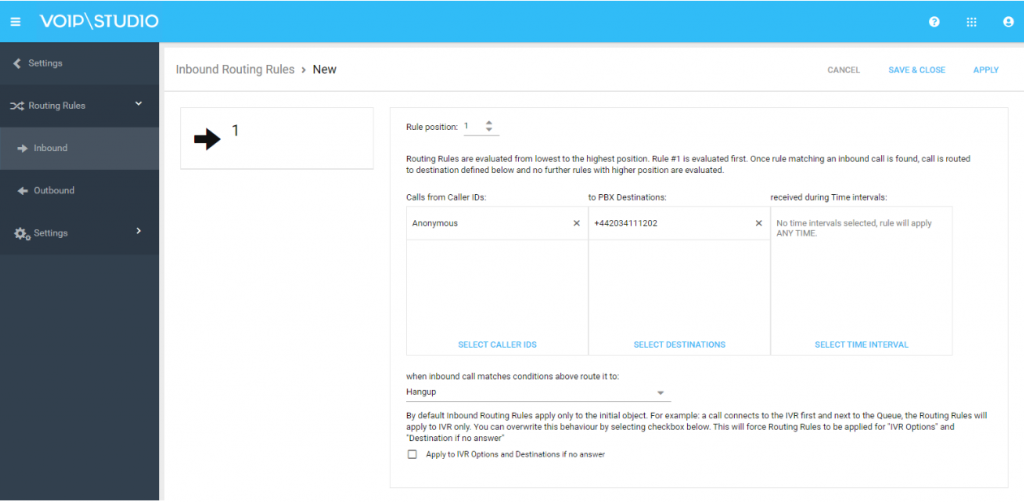 Blocking IP calls
If you have purchased an IP phone and have configured it to its default settings, it will have started to receive calls repeatedly. These calls have no content, and they get answered and finished automatically.
Network auditing systems generate these calls to determine if the IP endpoints are operational and the telephony port is working. This is okay as long as this process is internal. The problem is that, in most cases, someone malicious is trying to find out which equipment can potentially be affected.
In addition, it can be annoying, as the affected phone may continue receiving these calls to the point where it becomes unusable for regular operation.
The good news is that preventing such calls is very simple. It will depend on the brand and model of the IP phone, but basically, what we have to adjust is the following:
Allow incoming calls only from known origins.
Verify the SIP user for incoming calls.
Change the SIP listening port to one other than the default port, 5060.
Below is an example of the configuration on a Grandstream terminal.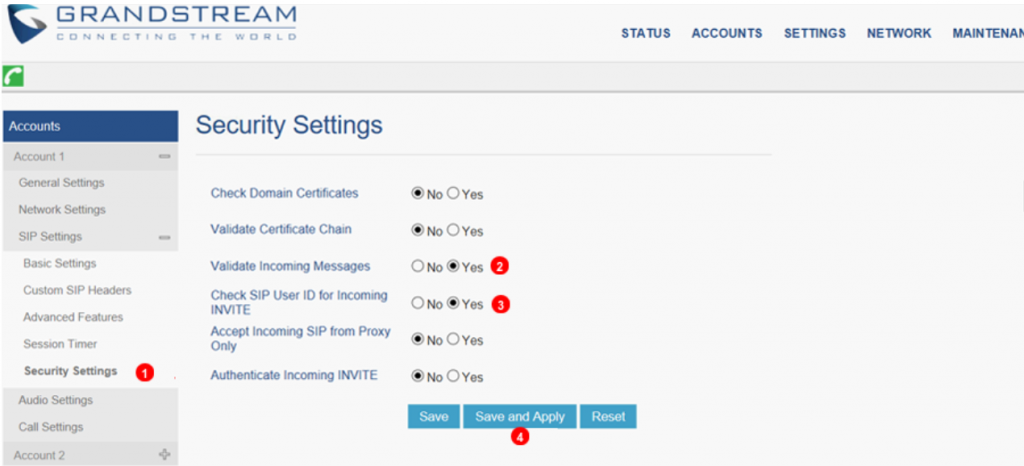 Block robocalls
Preventing robocalls can be as simple as setting up a welcome message on your business number with an auto attendant. This way, the customer will have to choose which department to contact.
Although these robots usually try to sell something, they are just a recording, so they do not establish a conversation. In other words, the program making the call does not listen, so it will not be able to select any options, and the call will not be answered. We will be blocking a robot using another robot.
Contact our support services
In this post, we have seen the simplest and most common methods to block unwanted calls to our VoIP numbers, with some practical examples you can quickly implement.
However, if you need more information or help blocking unwanted calls in VoIPstudio, contact our support service, and a technician will help you configure your system to suit your needs.