At VoIPstudio, we are committed to helping you optimize your business communications to support all areas of business, from sales to customer service.
With that goal in mind, we continually develop and incorporate new features to our platform that facilitate the work of agents and support teams and help improve the customer experience.
On this occasion, we are pleased to introduce the "Call Me Back" widget. This new feature will allow you to optimize conversions on your website, helping your sales teams to improve sales and improve customer service.
What is the Call Me Back widget?
When a visitor browses your website, they may often have questions that require interaction with someone from your company. These doubts may be related to a possible purchase, or it may be a customer looking for help to solve a problem.
Usually, the most common options to contact us through the web are a contact form or an email. It is also possible to provide more advanced options, such as an online chat service or a support ticket service.
Each of these options has its advantages, but on some occasions, the user needs an immediate response and personalized and close attention, which not even the chat can provide.
Even in the likely case that you have a contact phone number on your website, often the fact of having to pick up their personal or professional phone to call your company can be a barrier for the user. Some of the main drawbacks often mentioned are the complex voice prompts, difficulty reaching the right person quickly, or the cost of calls (especially with international customers).
The Call Me Back widget provides a quick solution to these barriers, providing a simple and free method for the customer to get personalized phone support immediately.
How does it work?
Once you install the code on your website, following a simple procedure we will discuss later, visitors will see a small widget in your chosen location. You can also decide on what pages you want to show it (it can be on the entire website or some specific pages).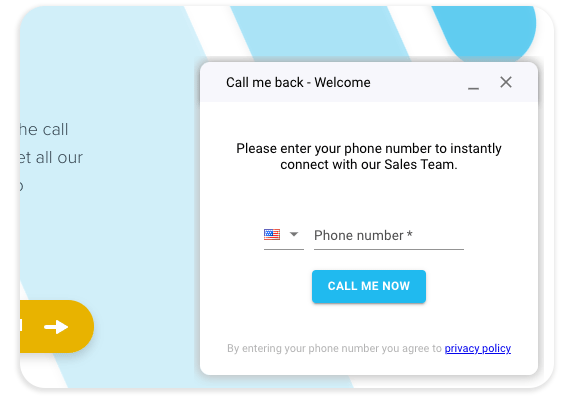 When users click on the icon, a small pop-up window will open in which they can enter the number where they want to receive the call from your company. By clicking on the "Call me now" button, the system will automatically issue a call from the number of your company that you choose to the phone number indicated by the user.
At that moment, the operator's terminal or the queue assigned to your company number will ring while the call is established with the user. Thus, the right agent will be talking to the user in just a few seconds.
Installing the Call Me Back widget
The installation of the Call Me Back widget on your website is straightforward and is done in a simple 2-step process:
1. Access your administrator panel and configure the widget according to your preferences, indicating the page where you will install it, the phone from which you will make the call, and other options, such as the icon to display or the position of the widget.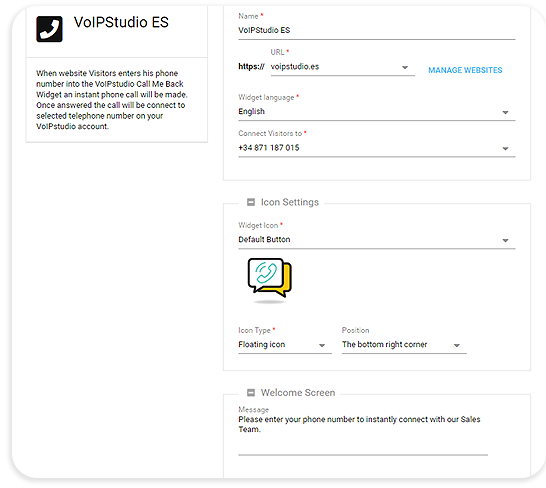 2. The system will show you a simple code that you can copy and paste into your website. You can do this process yourself if you have a minimum knowledge and management of your website (with WordPress or other CMS) or send it to your programmer to incorporate it into the web.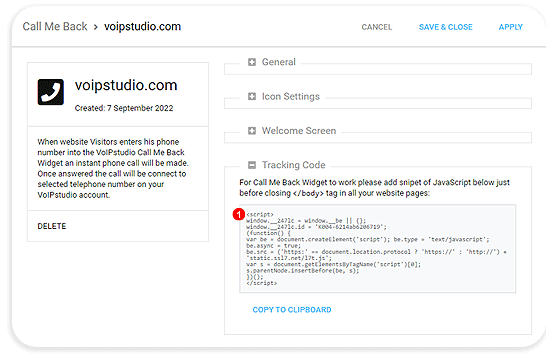 You have detailed instructions in our administrator manual.
In any case, if you need help or support to get your Call Me Back widget up and running, remember that you can contact our international support team through a support ticket, the chat on our website, or using our Call Me Back widget!