Any generic SIP phone is compatible with VoIPstudio's cloud PBX. As our customers know, selling hardware is not the purpose of our business, but we like to experiment, so we can advise our customers on the product that can fit them best.
In this post, we will talk about the manufacturers Fanvil and Yealink; taking advantage of the fact that they have released new equipment, we will show the most outstanding devices of each one of them.
In this case, we have focused on the T5 series from Yealink and the new V series from Fanvil. Both brands offer excellent value for money with a wide range of devices, from the most affordable to the most innovative.
Fanvil VoIP terminals
Quite a few VoIPstudio customers already use Fanvil devices. Within its latest series, we highlight the Fanvil X3S, a terminal that costs around $50 and includes the power supply. This is one of the most affordable options if we want to install an elegant and fully functional desktop terminal in our business.
By spending just a few dollars more, we can have more advanced equipment such as the Fanvil X4; less than $100 in this case.
But if we need a traditional reception terminal with an arsenal of programmable keys, our device is the Fanvil X210.

But this is the "old" Fanvil series; now, the new Fanvil V-series models are available, ranging from the V61 to the V67. The latter is already a fully functional touchscreen terminal. We have already been able to test the Fanvil V65 with our cloud PBX VoIPstudio.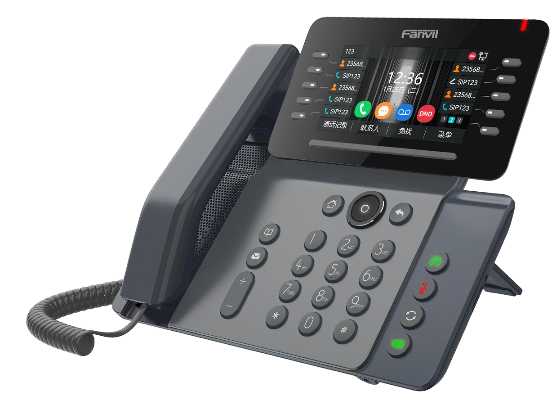 The Fanvil V65 has built-in Bluetooth, to which we connected our Jabra 65 headset without any problems.
In addition, the V65 works over WiFi or cable. We didn't notice any difference in sound quality when using it in WiFi or wired mode.
The internal software is very agile and functional, which makes navigating through the screens to access keys or the directory very easy.
This terminal does not have a camera, but it allows video input. So if you receive a call with standard H.264 video, you can see it on its 4.3-inch screen. In this case, we tested it with the VoIP door phone from Fanvil. From the V65, we can see the person waiting at our business's entrance and opening the access door.
Yealink VoIP terminals
Yealink terminals are more robust and have a more elegant appearance compared to their predecessors. The price is slightly higher, but they still offer excellent value.
The basic model of the new series is the Yealink T53, which can be found for around $130. From this, we move on to Yealink T54W, which has a colour screen, WiFi, Bluetooth and many other features, for around $160. Finally, this series' best model is the T58W-PRO-CAM, a device with a 7″ touch screen, WiFi, Bluetooth, video conferencing capabilities and much more for around $230.

We particularly like the exceptional DECT wireless solution of this manufacturer. It offers excellent value for money and a wide range of devices and is highly scalable.
For example, a basic Yealink W70P package is available for around $120. This is a handset and antenna with an approximate range of up to 50 metres indoors and up to 150 metres outdoors, making it ideal for any shop. The great thing about this device is that the basic package can be expanded with up to 10 handsets, or the coverage can be increased with up to 6 additional antennas. In addition, the manufacturer has more rugged terminals for businesses where working conditions are more challenging.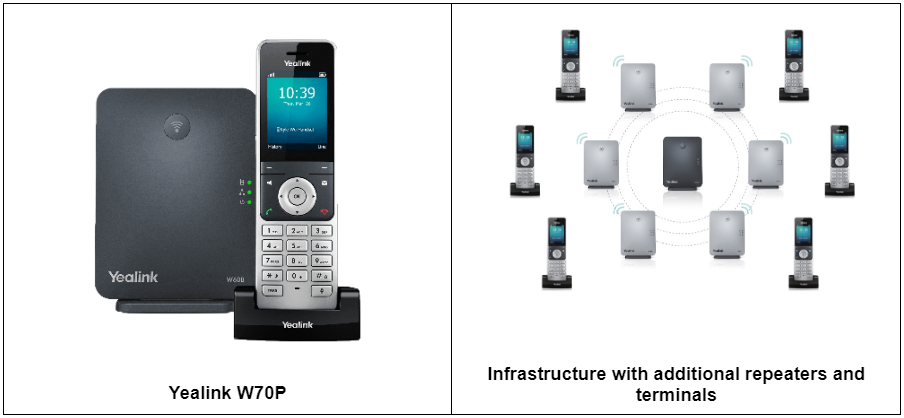 While we're on the subject of devices we like from this manufacturer, we would also like to highlight their WH62 DECT headset. As far as we know, there is no other DECT wireless device that is more affordable (around $130), robust, and works. Moreover, you can connect this headset to your VoIPstudio apps on your computer and your Yealink desktop phones via a USB connection.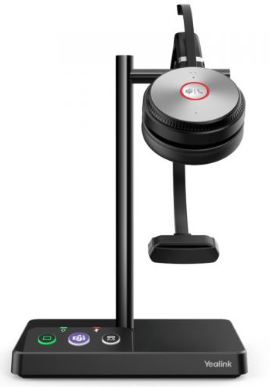 Keep in mind that the interesting thing about a wireless headset with DECT technology and not WiFi or Bluetooth is that DECT offers a wide range of travel. DECT technology provides a range of 15-50 metres, while Bluetooth technology usually has a range of 5 metres. Apart from this, DECT is a unique and specially dedicated telephony standard, which makes it very robust and reliable.
Are you unsure which equipment is best for you? You can contact our support team by chat, on our customer service hotline or by opening a support ticket.
We will be very pleased to help you and provide you with customised offers to get the most out of your VoIPstudio virtual PBX.