Purchasing phones for your business is a big decision, one that's complicated by the fact that there are so many options out there. Wireless VoIP phones are a great choice for any business since you don't have to deal with messy cables everywhere. Wireless phones offer limited portability, at least within the office, as well. 
But how do you know which one is the right option for your organization? Keep reading to find out the best wireless VoIP phones you can find in the market today.
What is a wireless VoIP phone?
Wireless VoIP phones work exactly as their name suggests. They can connect to the network and make/receive VoIP calls without the need for a wired ethernet connection. In every other respect, these phones are similar to the standard VoIP phones you can see in any office. Wireless IP phones offer the features you come to expect in a desk phone but combine them with the portability of a mobile device (within a building or office).
Wireless VoIP phones are not particularly hard to use either. The experience of making or receiving a call does not change. In fact, most VoIP phone manufacturers emphasize the ease of use of their various VoIP phones. And should you run into any issues, your VoIP service provider will most likely help you out.
How to choose the best wireless VoIP phone
When you have a big decision to make, it's helpful to break it up into smaller steps that are easier to accomplish. In other words, you need to simplify the purchase decision. In a world where there are dozens of wireless VoIP phones – and more releasing every day – you need a way to narrow down the list.
1 – Consider your budget
Wireless VoIP phones come in all shapes, sizes, and price points. From basic models at less than a hundred dollars to premium handsets that cost several hundred, there is no dearth of choices. But rather than worrying about a specific price for each phone, keep in mind your overall budget. 
If you need the best range and features, even a small business can afford to splurge on a couple of high-end phones. But if you're thinking of equipping the entire office of 200 employees with wireless VoIP phones, then the costs will add up. This is why a budget is important, rather than the price of each phone.
You can mix and match models as well. Consider buying a few top-end models for executives, 2 or 3 conference speakers for your meetings rooms, and more basic options for the rest of the staff. You may be surprised to find that some workers (salespeople for instance) don't want a desk phone at all and are happy to use their mobile devices for business calls.
2 – Evaluate the must-have vs. nice to have features
There are many phones available that offer a superlative range, multiple technology options, the ability to add several numbers/handsets, and other features. But consider what your business needs versus the features that are nice to have but not dealbreakers. For example, a must-have feature could be a large screen with multi-function buttons for quick shortcuts. But if your staff is working in a small office, do you care about the phone having a wireless range of 300 meters?
The reason for evaluating the different features is to rank choices in order of suitability. Two phones at the same price may have completely different feature sets. Having a list of must-haves and wants will make it easier to eliminate options that don't do what you need.
3 – Plan for the future
The third aspect to keep in mind is what you need today vs. what your business may require down the line. Your company might be a small 10 person organization today but in five years? You may have multiple offices and dozens of workers to consider. It pays to have growth in mind and plan for it accordingly. 
Try to focus on a model that allows you to add more handsets, more accounts, or extend the wireless range should the need arise. That way you can start small with exactly what you need now and expand when necessary.
The bottom line is that you have to balance your needs with budget considerations and make sure you're planning for the future as well. After all, you don't want to spend thousands of dollars on equipment that will become obsolete if you expand or change service providers. On the other hand, you don't want to spend thousands of dollars on equipment that's hardly ever used.

What is the best wireless VoIP phone?
Having talked about what features you may want in your wireless VoIP phones, it's apparent there's no single 'best' phone out there. It mostly comes down to what is suitable for your needs and fits within the budget. That being said, here are a few models that you should consider in your search for the perfect wireless VoIP phone in 2022.
Grandstream DP720: Excellent budget choice
It's true that the best wireless VoIP phones don't come cheap. After all, you pay for the quality and features they offer. However, that does not mean you need to spend hundreds of dollars to cover basic needs. This model offers quite a few features for the price (approx $60) including crystal clear HD audio quality, a must-have for any business phone. 
While you can buy and use this as a standalone device, it shines exceptionally well when paired with the base station. The base can connect up to 5 devices and supports 10 different VoIP accounts. It also comes with call features like 3-way conferencing for remote collaboration with colleagues on-site, call forward, call waiting, call hold, etc. 
The device is ideal for small offices with a wireless range of 50 meters indoors and 300 meters outdoors. It's easy to use with clear navigation for the various menus and does not need any configuration if used with a Grandstream IP PBX. 
Datasheet: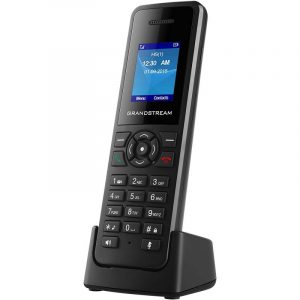 Yealink W60P: great audio for slow networks
Looking for a compact and affordable DECT platform? The Yealink W60P is a great choice as it can handle up to 8 concurrent calls and connect 8 cordless handsets. You can extend coverage by connecting up to 5 DECT repeaters for improved range.
The Yealink W60P also features built-in support for the Opus codec, ensuring excellent audio quality even under poor network conditions. This system will not buckle under heavy usage, allowing users to talk for around 30 hours before needing to recharge. The standby time is also impressive, around 400 hours. With quick charging, 10 minutes of charging allows you to talk for 2 hours!
The handset features a 2.4 inch color display, perfect for using some of the more advanced functionality here. You can achieve zero touch provisioning if needed, no need to wait for setup. You can mount the small device on a wall or it can stay out of the way on a desk. With support for call hold and call transfer, there is no dearth of features for any business.
Datasheet:
Price: $155

Key features: 8 devices, 8 concurrent calls, 400 hrs standby time and quick charging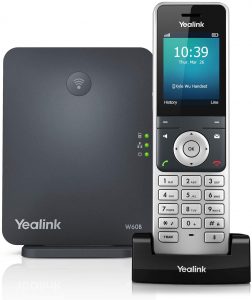 Grandstream GXV3350: Android-based VoIP phone
Businesses looking for more might want to consider Android-based wireless VoIP phones. The GXV3350 is one such device that features a bevy of options thanks to the Android platform. It's an advanced device combining the traditional IP phone with the functionality of an Android tablet.
If you plan to conduct virtual meetings or group video calls, this device has a 1 MP CMOS camera to help with that. With a 5 inch capacitive touch screen, dual microphones, and HD video, it's more than just a phone. It's a communication and collaboration platform that's easy to set up and use. With support for 6-way audio conferencing and 3-way video conferencing , you will be hard pressed to find a better productivity solution for the office.
For connectivity and peripherals, the device has a USB port, HDMI-out, headset jack, and EHS. Users should consider this as a versatile multimedia workstation, rather than just a wireless VoIP phone. If your staff is used to smartphones, then the GXV3350 is the perfect desk companion. Although it's a bit pricey, you don't have to invest in separate hardware for conference calls or video chat making it a worthwhile investment.
Datasheet: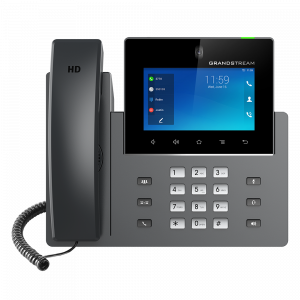 Siemens Gigaset 510IP base + A690HX handset: perfect option for European businesses
While the GXV3350 is a good phone, it's not perfect. Another great option to consider is the Siemens Gigaset 510IP base + A690HX handset combo. The base can handle up to 2 VoIP calls and 1 analog call simultaneously, allowing you to switch between them with a single button.
You can register up to 6 handsets with the base station and it also allows linking up to 6 SIP accounts from different providers. The device provides excellent audio quality on calls without any distortion or static. Pair the base station with a compatible handset such as the A690HX for a versatile platform.
While the base is compatible with multiple Gigaset models, the A690HX is a good choice with a 2-inch graphical display. It offers quite long talk times of 12+ hours and a standby time of up to 180 hours. Interestingly, the handset can double up as an intercom system as well.
About the only downside for this device is the fact that due to the cordless frequency it uses, it is only available for sale in Europe. Businesses located outside will have to go with some other models on this list.
Datasheet:
Price: $200 (for the base station) + $40 (for the handset)

Key features: Android platform, 7-inch HD screen, 2-megapixel camera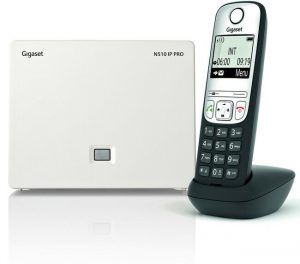 Fanvil WiFi dongle for U series phones
Sometimes the phone model you like does not come with WiFi support out of the box. That's when hardware like the Fanvil WiFi dongle comes into play. This tiny device gives you the option of converting any U series Fanvil IP phone into the wireless phone you need. The WF20 is a small device that is designed to consume very low power since you'll be using it to connect your phones to the WiFi network.
The transmission rate for the WF20 dongle is 150Mbps, making it a reliable option for quick and seamless connectivity. It's a plug and play device, meaning there's nothing to configure or setup. Simply plug it into an available USB port (practically standard on most IP phones) and you're good to go.
It's also compatible with the major WiFi standards, including IEEE802.11n, IEEE802.11b/g, and 802.11ac. Thanks to it's low power design, you won't lose connectivity in the middle of a call either. At less than $20, it's inexpensive to boot. Unless you have more than a dozen devices to connect, this USB dongle is a good choice for a small office.
Datasheet: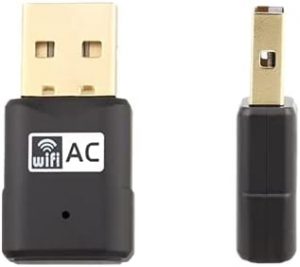 Grandstream WP820: slim portable phone
The Grandstream WP20 is a slim and portable WiFi phone offering dual band connectivity 802.11a/b/g/n support. It has built-in Bluetooth so you can pair other peripherals like a headset or a mobile device. Featuring a full color display and buttons for specific functions like push to talk, it's a versatile headset for most office environments.
It has dual microphones and support for HD audio, providing crystal clear conversations with up to 7.5 hours of talk time. The rechargeable 1500mAh battery provides a decent standby time of 150+ hours. It's compatible with the GMC08 battery charger that can power 8 batteries at a time, so you can recharge several of these headsets at once.
With support for 2 SIP accounts and 2 lines, it's a small yet powerful headset for your telephony needs. With its small footprint, you can leave it on a desk and it won't take up too much room, unlike some VoIP phones.
Datasheet: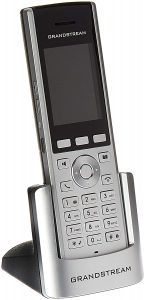 GXP1760W: budget-friendly, mid-range phone
If you're looking for a more budget-friendly yet versatile device, look no further than the Grandstream GXP1760W. It's a sleek model offering call management features ideal for moderate volumes. Growing businesses that do not handle extremely high call volume will love everything this phone has to offer.
This device supports up to 6 lines and 3 SIP accounts at once. It also includes up to 24 programmable keys for quick access to everyday functions. With an integrated 3.3 inch backlit LCD screen, the model offers additional personalization features in the form of custom ringtones. It can also integrate with web and business applications, offering flexibility.
Connectivity options abound in this model ranging from built-in PoE (power over ethernet), USB port for data transfer, support for EHS-compatible headsets, and automatic provisioning. Strong encryption technology ensures additional security for your communication.
This phone is a great choice if you intend to conduct virtual meetings, conference calls, and training sessions. It supports HD wideband audio and provides an excellent hands-free experience, complete with echo cancellation. You can add up to 4 other participants to a group call without any loss of fidelity or interruptions.
Datasheet:
Price: $95

Key features: 6-line, 24 digitally programmable BLF keys, HD Wideband Audio, Full Duplex hands-free speakerphone.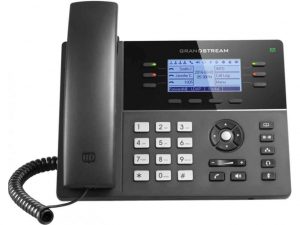 Panasonic KX-TGP600: Extendable range for larger office
Like many other phones on this list, the Panasonic KX-TGP600 comes with a base station and a handset. Setup is quick and easy, requiring no knowledge or previous experience. It can support up to 8 handsets when paired with the base station. Each handset can have a unique number or you can connect multiple devices to the same phone number. 
Like the Snom M9R, you can use repeaters to extend the robust range of the base station. The system supports up to 6 repeaters, which means you can ensure coverage even in remote corners and several floors. The handset has 11 hours of talk time and almost 200 hours of standby time, so you'll spend less time charging the device. 
If you run the occasional team meeting or online training session, the 3 – way conference feature will come in handy. If you don't have much desk space, you can even mount the base unit to the wall as there are no messy cables to hide. Whether you use phone service from a third-party provider or manage your system locally, this Panasonic model can be configured with ease.
Datasheet:
Price: $170

Key features: extend the range with repeaters, 8 concurrent calls, wall mounting option for the base unit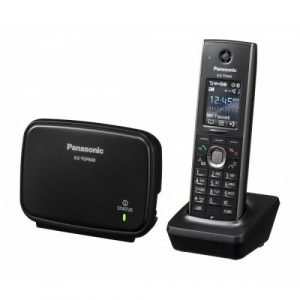 RTX8660 IP DECT Base Station + RTX8630 Handset: Option for large organizations
So far most of the wireless phones on the list have been suitable for small teams, with a few models (using repeaters) for larger physical spaces. But what if your office already has 50 – 100 employees and expansion is on the horizon? The RTX8660 base station + RTX8630 handset is the solution for your office.
This system offers repeaters so you can extend the wireless range to a large area. Additionally, you also have the option to connect up to 40 base stations together and build a much bigger system when you need it. That means you don't need to buy more devices than you need today but it offers scope for expansion and growth tomorrow. 
Since the base station is compatible with the RTX8830 and RTX8430 handsets as well, you can choose different models based on user requirements within the same office. Boasting a color display, a large phonebook, and almost 200 hours of standby time, this RTX system is a great choice for growing businesses.
Datasheet:
Price: $450 for 1 base station and handset

Key features: extend the range with repeaters, support 200 users with 40 base stations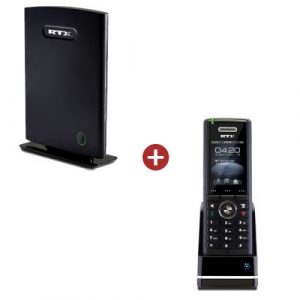 VTech VDP650 + VDP658 + VDP651: Multiple handset choices
The VTech VDP650 system functions similarly to the RTX above. It comes with a base station you can pair with either the VDP658 or the VDP651. The base can connect up to 10 handsets with a range of 500 feet. As it uses DECT rather than other wireless protocols, the 658 handset provides good quality audio without interfering with other devices. It also comes with backlit keys making it easier to sue in low light.
The second handset you can pair with the base station is the VDP651. Unlike the 658 which takes up quite a bit of space on a table, this is a much smaller cordless handset. Equipped with 4 LED-backlit keys and HD quality audio, it's a cost-effective way to add new users to your system.
Datasheet:
Price: $140 for VDP658 and $85 for VDP651

Key features: backlit keys, programmable function keys, up to 1 week of standby time
Wireless VoIP phones offer mobility and flexibility. But remember that they rely on your network for audio quality and to make calls reliably. That means you need a robust corporate network that handles the system. If this is not possible or you have dead spots within the office (warehouse, basement, etc.) consider using wired ethernet connections. 
If bandwidth and network traffic is not an issue, then wireless phones are the way to go. With no cables to worry about and how easy it is to set them up, there's no need to hesitate.
For more information about the devices and accessories that best suit your needs, please visit VoIPstudio.