A VoIP phone service is a feature-packed phone service that allows businesses to make and receive phone calls over the internet. This robust system allows companies to present a professional image with enterprise-grade features such as IVR, ACD queues, ring groups, conferencing, voicemail, instant messaging and more. Even better, all these features cost a mere fraction of the price of a conventional phone system. Getting a VoIP number will bring many benefits to your business.
Once you have a better understanding of VoIP phone numbers, you'll be ready to get started with VoIP phone service. In this post, we describe how to get a VoIP phone number from your vendor and an example of how to do it with VoIPstudio with a step-by-step process.
You can learn more about VoIP phone services and VoIP numbers in these related posts:
Obtaining a virtual VoIP number from your vendor
There are many ways of getting a virtual number, and not all require payment. Many free services work very well for personal use but are often not flexible or powerful enough for companies. In some cases, the providers explicitly state that the numbers cannot be used for commercial or business purposes in the terms of service.
There is also no requirement that the virtual numbers have to be from the same vendor with whom your company has regular VoIP service. By their very definition, virtual numbers are not attached to any hardware. You can purchase a virtual number from any provider and use it with your regular lines or hardware.
However, most vendors will provide virtual numbers for their clients – as part of their regular plans or for a small fee. It is much less hassle if you do it this way but being able to purchase from anyone means that companies without business phone systems can also use virtual numbers should the need arise.
Getting a new virtual number is relatively easy with any VoIP vendor. Generally, companies can use the online dashboard to order or purchase virtual numbers. These numbers can have any area code or country code, depending on the business requirements. However, your vendor may not be able to provision a virtual number immediately.
It can take anywhere from a few hours to even a month to get a virtual number depending on the regulations governing the use of such numbers in each country. Some countries require the business to have a physical address that must be verified before getting a virtual number.
For instance, European privacy regulations related to VoIP and virtual numbers make it so that businesses usually need to budget some extra time to get a virtual number. You should not wait until the last minute to purchase a number (especially for time-sensitive requirements) because you can't be sure that the number will be available immediately.
How to get a VoIP number step by step
Different VoIP providers have their own methods to make the process of obtaining a VoIP number as easy as possible. At VoIPstudio we are concerned with making this process as simple as possible so that the user feels comfortable and confident from the start.
Getting a virtual number for a small business should be a relatively simple process in a few minutes. We make it easy for anyone to get a free VoIP number to start making/receiving calls over the Internet. VoIPstudio is a hosted VoIP service that offers numbers in over 30 thousand cities worldwide and is a great option to demonstrate the process of obtaining and setting up a VoIP number.
1. Create an account at VoIPstudio
Before you can get a VoIP number and start making calls, you need to create an account at VoIPstudio. Our VoIP phone service offers a 30-day free trial.
Signing up for a VoIP phone service account only requires your first and last name, a unique password, and an email address.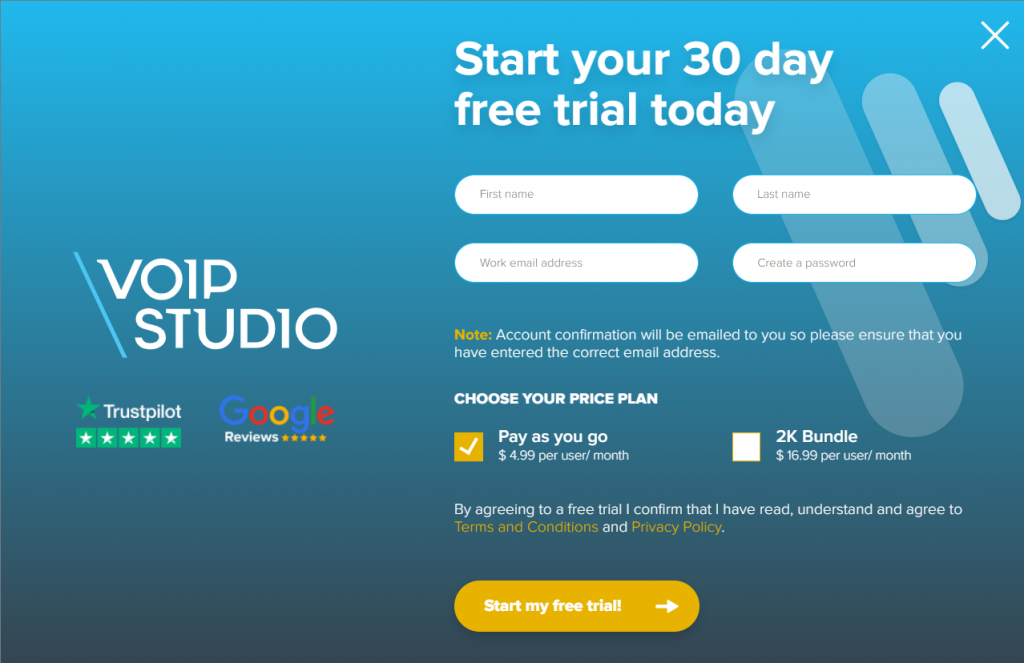 The free trial comes with all the features that are included in the paid version; it is not a restricted plan. The best part is there is no need to provide a credit card to try the service.
Important information that you will need later includes the email address you registered with, as well as the password. You can choose any price plan at step 3 since the first 30 days are free and don't require you to pay for anything.
An email will be sent to your account for confirmation, after which you can log in to VoIPstudio's website.
2. Use the "Set up Wizard"
Once you have registered with VoIPstudio you will need to set up your account to start using it.
It is often very tedious to start the process of using VoIP numbers; that's why VoIPstudio has simplified the steps and added a wizard to help you.
3. Enter your personal details (Step 1 of 5)
It is a very simple step in which you only have to enter your account identification data.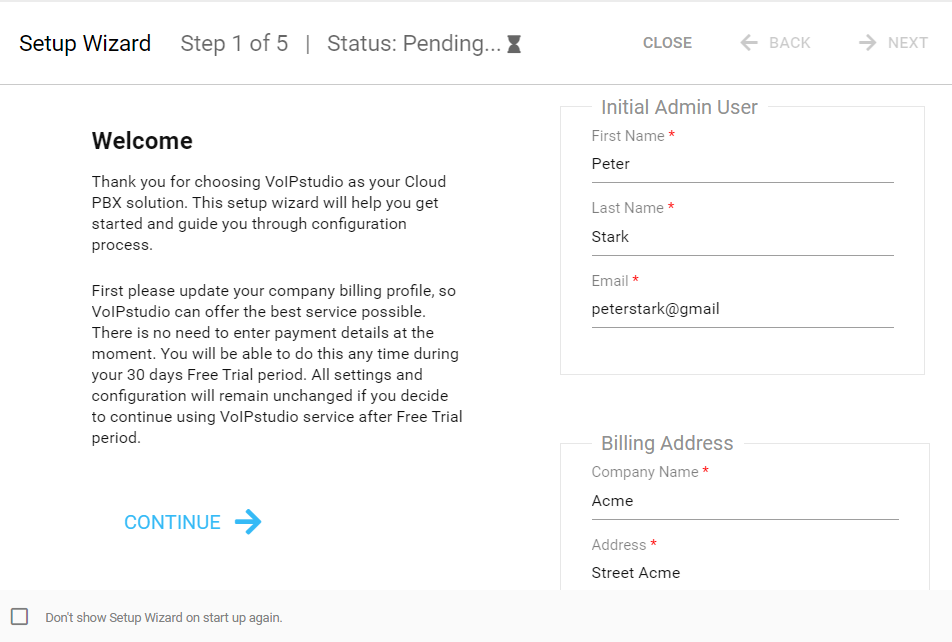 If we look at the image, we can see that you will have to enter an email address with your name at the top.
In the bottom section, you will see the billing area, where for the moment, you do not have to enter any credit card or bank account. You only have to indicate data such as the currency used, country, postcode, etc.
4. Activate free Trial (Step 2 of 5)
In this second step, you will let VoIPstudio verify your current phone number.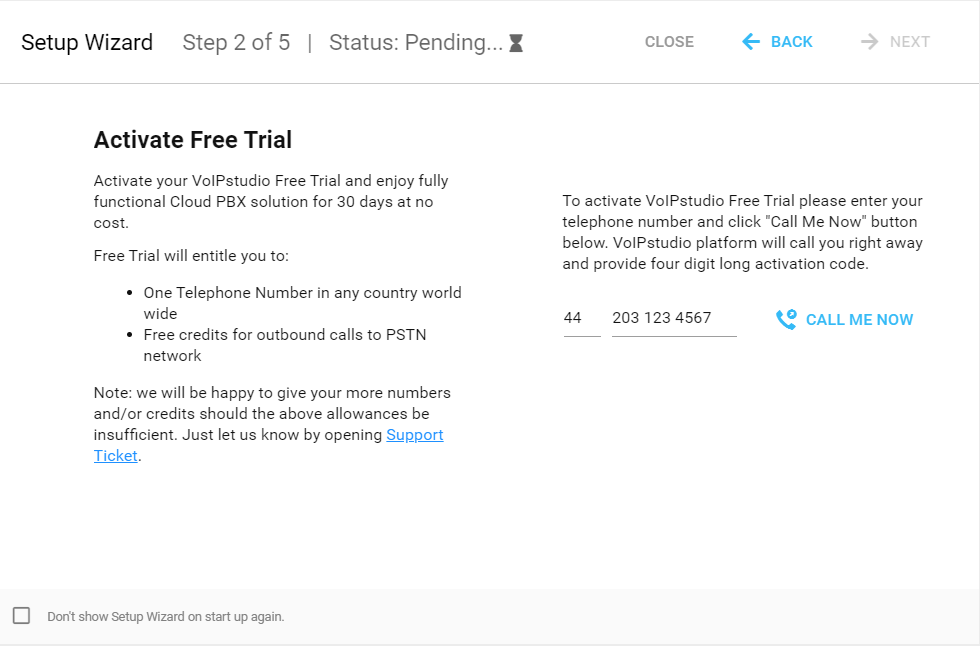 To do this, you must have a phone number at hand. In the first field, you will need to add the country code for the country of this number. For example, to dial the London dialling code, you would dial 44.
In the second field, you only have to introduce your phone number. It's as simple as that.
Once you have done this, click on the "Call me now" button to verify it.
5. Call handing setup (Step 3 of 5)
In this step, we have the options for using VoIPstudio services.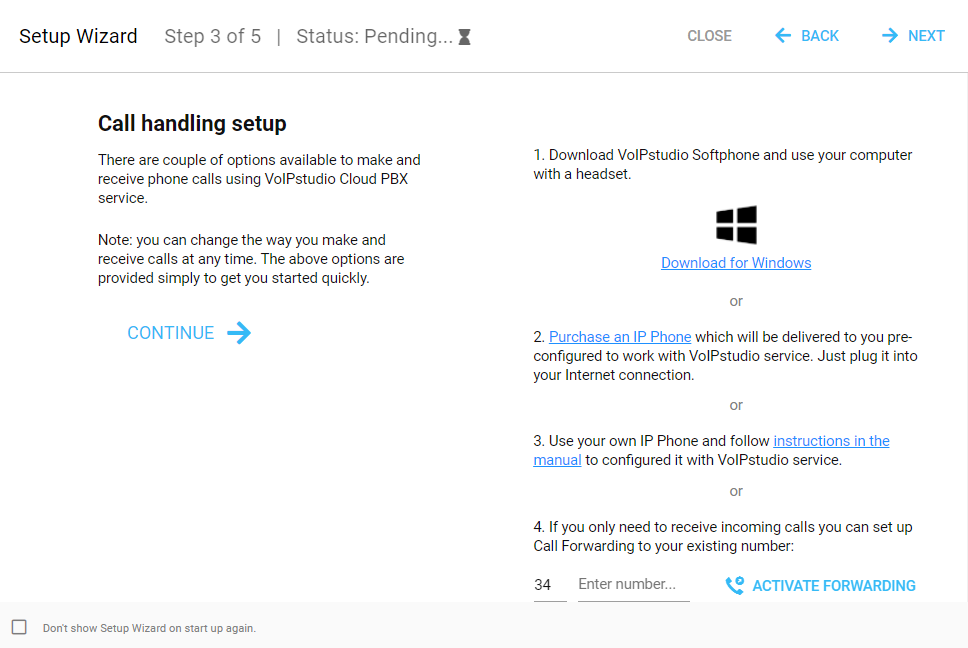 The first one is the use of VoIPstudio Softphone for the computer. This option is the one we recommend the most. You have the possibility to download the Softphone for Windows Linux and Apple Mac. By default, the system will choose which one is right for you.
The other options we are given are:
Finally, if all we want is for VoIPstudio calls to be forwarded to an external number, we can do this in the last option.
6. Inbound numbers (Step 4 of 5)
In this step, we will finally configure our VoIP numbers. On the next screen, you will find the information you need to purchase a number.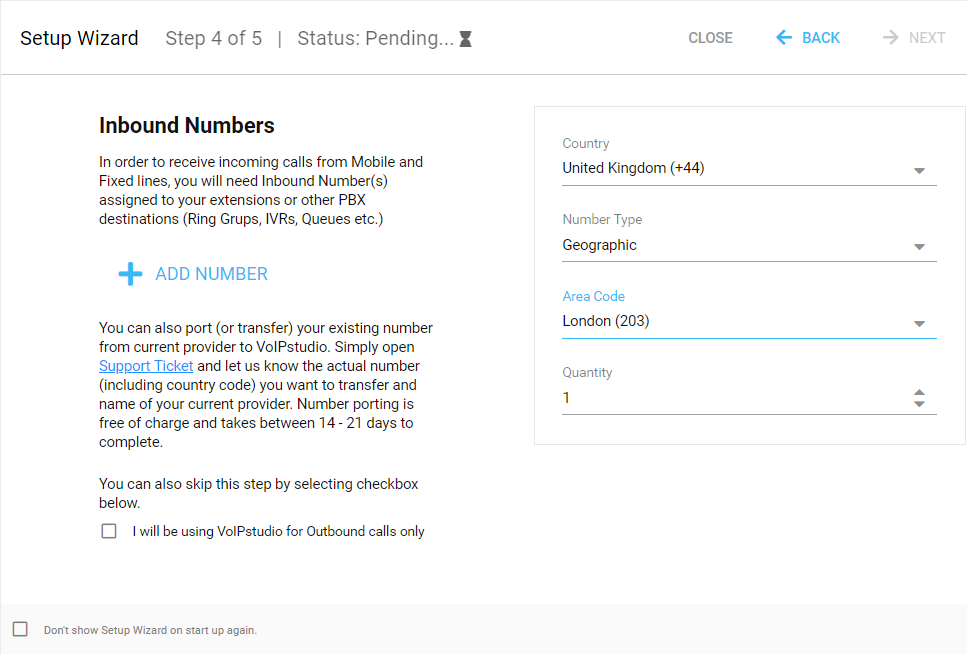 We only have to select the city, the type of number, the area code and the amount of numbers you want. Then click "Add number", and we are almost at the end of the process. Remember that you can choose where you want your number to be from and how many numbers you want.
7. Verification (Step 5 of 5)
In this last step, the aim is to check that everything is working correctly. To do so, it asks us to:
Make an outgoing call from the softphone or an IP phone.
Receive an incoming call to our number.
Once we have done the following steps, click on the blue buttons to verify that we have done both. Click on the Next button and finish the process.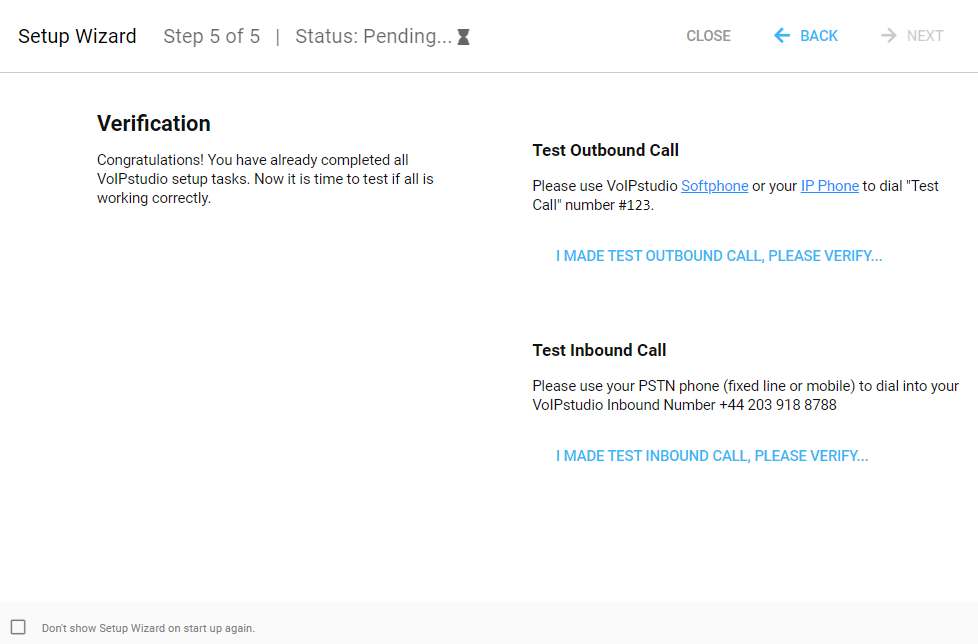 As you can see, getting a small business VoIP number and making calls is a very quick process and takes no more than five steps.
VoIP number portability
Upgrading to new technology or switching to a new provider is a difficult decision for a business.
Some of the most common questions organisations ask is: what happens to all my numbers? What happens if you switch to VoIP? Can you take your number with you or not?
Your phone number is everywhere, from your advertising to your company letterhead. Your customers are familiar with it, and many have even memorised it.
Will I need to change my number?
One of the reasons that people and businesses hesitate to switch carriers is the thought of having to use a new number. Thanks to various laws on number portability, users can take their phone numbers with them. But some restrictions can impact some transactions. Limitations in technology, service area, coverage, and geography can make it difficult for some businesses to keep their numbers. For the most part, you can keep your number when you switch service providers.
The ability to keep your number varies by country as well. For instance, some countries do not allow porting numbers from landlines to mobile phones and vice versa. Others allow for complete portability – you can take your number from a landline to a mobile phone to a VoIP service without issues.
VoIP is set to become the dominant communication platform in the future. Therefore, it's not surprising that VoIP service providers are subject to number portability regulations.
>> Do you need to port a phone number? Talk to our support service now. <<
How long does it take?
The reporting process is not long, and most requests are completed within a few days. Telecommunications regulators usually indicate that number portability should be completed within one day. Even so, it is always a good idea to ask your new service provider about the estimated time for the porting process so that you do not lose your company's telephone service, however short the interval may be.
Below, we explain how to proceed if you have any problems with your portability:
Check Your Reporting Request for Mistakes: The biggest reason is mistakes and errors in the written request.
Call the Vendor: Talk to someone who can clarify the problem and verify that it's not because of a mistake you made.
File a Complaint: A vendor may not have numbers in the specific area code you need, but in most other circumstances, you should be able to take your VoIP number with you