Telephone Numbers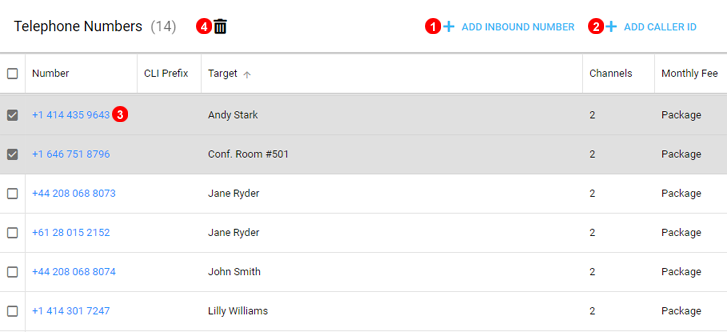 Figure 5.1 Telephone Numbers panel.
Inbound numbers allow to make calls from traditional telephone network to your hosted VoIP systems.
We can assign telephone numbers from more than 4000 cities around the world.
Click Add Inbound number to provision a new telephone number. Numbers are instantly ready to use.
Add number you already own as Caller ID to use it when making outbound calls.
It is also possible to port (transfer) number(s) from your current provider to VoIPstudio. Please open Support Ticket and include:
List of numbers you wish to port.
Recent invoice from your current provider.
Add Number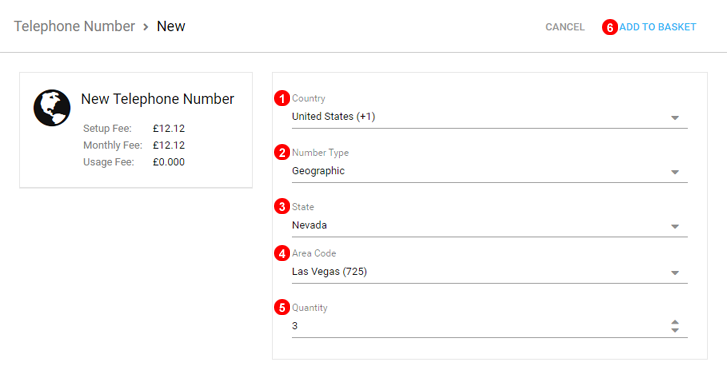 Figure 5.2 Add Number window.
To add a new telephone number click Add Inbound Number button shown as (1) in Figure 5.1 above and follow steps below:
Select Country in which your telephone number should be located.
Select number type: Geographic, National or Toll Free.
Select State (for United States only).
Select City in which your telephone number should be located.
Enter desired amount of number(s) you want to purchase.
Click Add to Basket button.
Complete checkout process to finalize number provisioning.
Note: Under some scenarios DDI can not be provisioned immediately and will be marked as pending while our support team processes them. The DDI will be displayed as pending as shown on the screenshot below.

Figure %IMG_ADMIN_DDI_ADD_pending% Pending DDI Warning.
Edit Number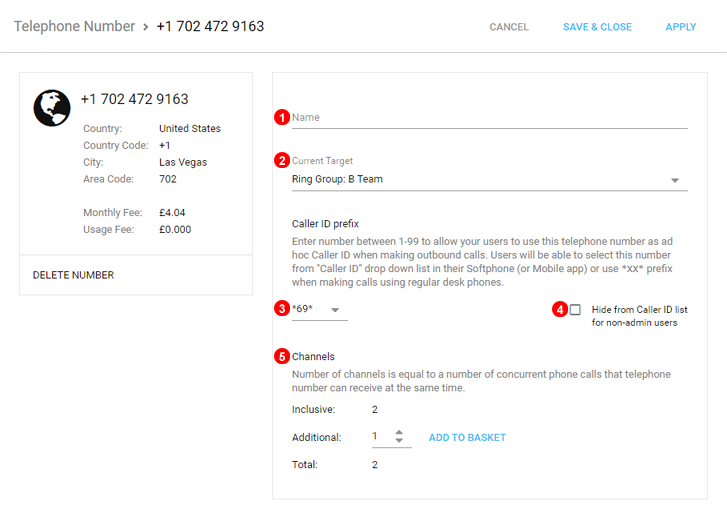 Figure 5.3 Edit Number window.
To edit telephone number settings click icon shown as (3) in Figure 5.1 above and follow steps below:
Provide Identifier for the number, this will display on web dashboard, desktop app and mobile app.
Set required number of channels. Each number is initially provisioned with 2 channels which allow for maximum of 2 concurrent inbound calls. Additional channels are required to be able to receive more than 2 calls simultaneously.
Set where inbound calls should be routed to.
You can have many caller IDs and easily switch between them. Choose any 2 digit number to dial before making an outgoing call to use number as CLI for that call only.
NOTE: 3 digit code 141 can not be used, this is reserved as special number to set Caller ID as anonymous, adding 141 before dialed number will set out going Caller ID as anonymous.
Select Box to hide number from user caller ID lists unless number is assigned directly to User as Default or Dynamic Caller ID.
To cancel subscription to a number click Delete button.
Click Submit to save your changes.
Add Caller ID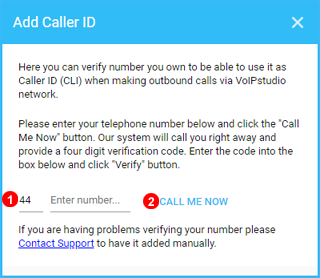 Figure 5.4 Caller ID add window.
To verify a number and use it as your Caller ID click the button shown as (2) in Figure 5.1 above and follow the steps below:
Enter your chosen telephone number
Click Call Me Now button to prompt our system to call you with a verification code
Enter the four digit verification code into the box
Click Verify to complete the verification of your chosen telephone number
Fax Setup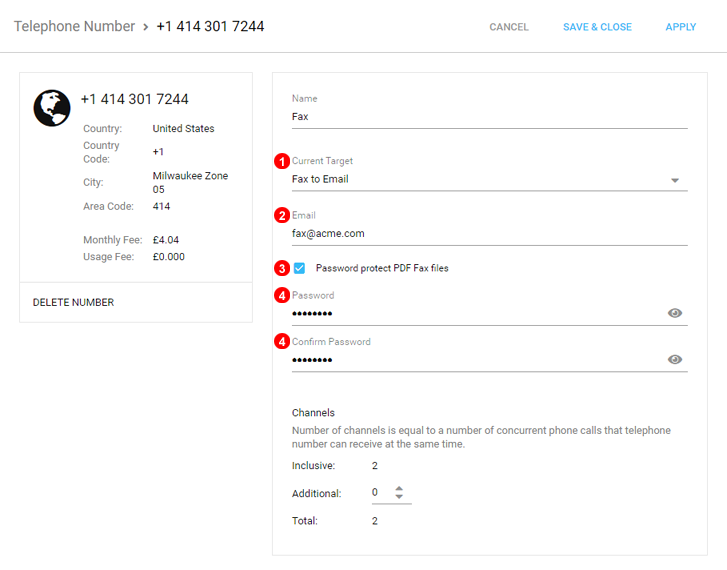 Figure 5.5 Fax Setup Window.
To edit telephone number settings click icon shown as (3) in Figure 5.1 above and follow steps below:
Change Number Target to Fax to Email.
Enter the email address you want Faxes delivered to.
Tick box to set password protection on PDF file.
Enter and Confirm the Password PDF Files will be encrypted with.
Click Submit to complete the set-up.
Note: Maximum File size of 4MB and Supported Formats are: gif, jpg, png, ppt, txt, gzip, pdf, doc, xls, odt, odp