Settings - Conferences¶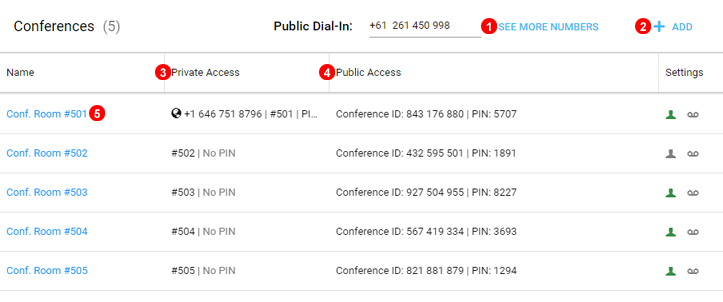 Figure 6.1 Conferences panel.
Here you can add conference room or view and edit their settings.
Click see more numbers to see all available public dial in numbers available for conferences.
Click to add a new conference room.
Shows a summary of Private dial in settings.
Shows a summary of Public dial in settings. Conference ID and Pin will has to be shared anyone invited to join the conference.
Click to edit an existing conference room.
Add¶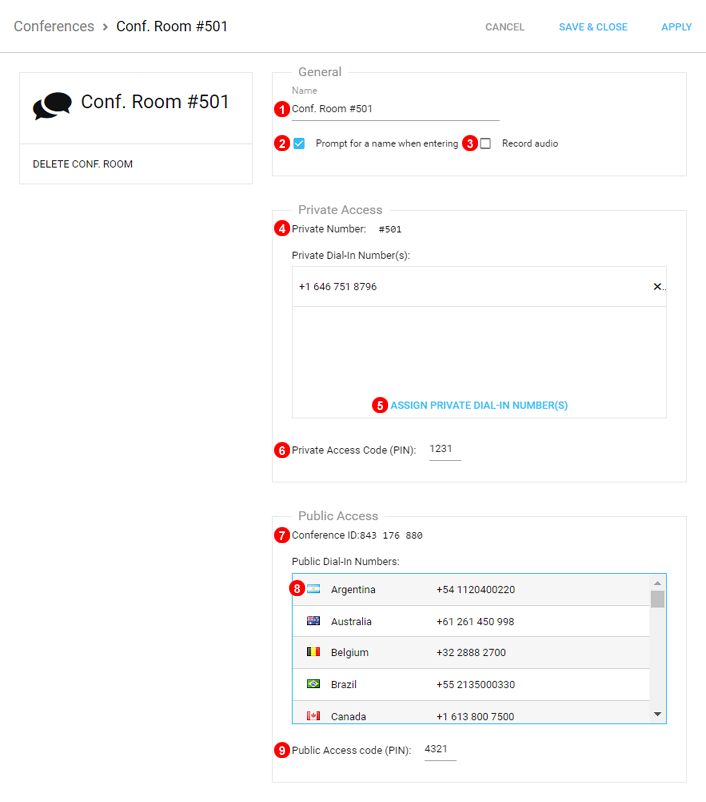 Figure 6.2 Conference window.
To add conference room click button shown as (5) in Figure 6.1 above and follow steps below:
Use default name or change to any desired identifier for conference room.
Select this checkbox if guests should be asked to record their name when joining the conference.
Select to record calls for this conference room. A single recording will be generated starting from first participant joining and ending when last one leaves. This will display to admins only and can be found under History --> Call Recordings as from: Conference Members and to: Conference Room #50X
Short Dialcode for Conference room, users can utilize to enter conference room internally.
Select Private telephone numbers from the account to assign to the conference room.
Optionally enter PIN number required to enter the room via the selected numbers or conference dial code #50X.
Conference ID will be required when using any of the public numbers to identify the correct room to join.
Any of the Public numbers can be used to join the conference room from outside of VoIPStudio Network.
Set a PIN to ensure only authorized persons can join the conference when dialing in from Public access numbers.
Edit¶
To edit conference room click button shown as (2) in Figure 6.1 above.