Advanced¶
Includes Advanced features like FTP Access and Organizational Units(OU).
Data Retention¶
Data Retention settings allow you to delete or set up a schedule for data to be kept or removed.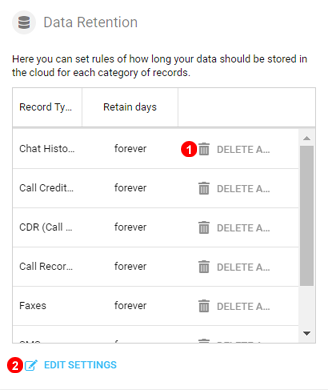 Figure 12.1 Data Retenton.
Click to Delete ALL records immediately for selected category.
Click to Edit Retention Rules.
Delete Confirmation¶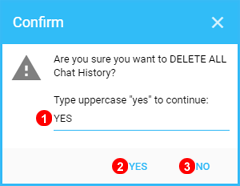 Figure 12.2 Data Retention Confirmation.
If Delete All Is Selected "YES" is required to complete.
Click Yes after filling in "YES" in the text box to Delete ALL Records of Selected Category.
Click No to Cancel and NOT delete any records.
Edit Data Retention Settings¶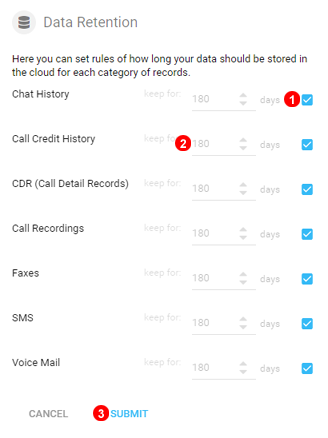 Figure 12.3 Edit Data Retention.
Select to Keep Records for Specific Category Forever.
If Keep Forever is not selected specific Time Frames (between 1 and 999 days) can be selected. If Records are older than selected time they will be removed automatically.
Click Submit to Save Changes.
FTP Access¶
It is possible to bulk download CDR (Call Details Reports) and Monitored (recorded) Calls MP3 files using secure FTP program. First you need to obtain your FTP login details.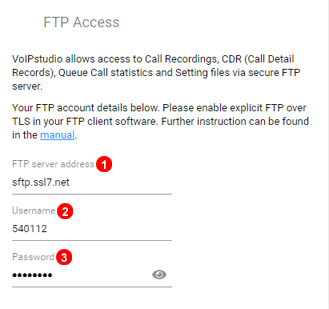 Figure 12.4 File Transfer Protocol.
Server address for FTP
FTP Username.
FTP Password.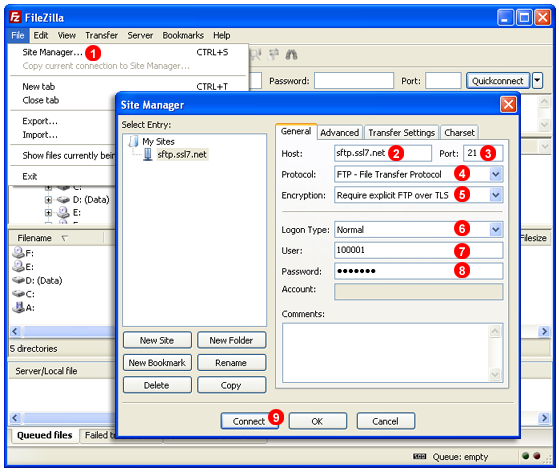 Figure 12.5 Monitored calls - bulk download.
Next please follow steps below to configure popular FileZilla http://filezilla-project.org/ FTP client:
Select Site Manager... from the File menu.
Enter sftp.ssl7.net into Host field.
Enter 21 into Port field.
Select FTP - File Transfer Protocol.
Select Require explicit FTP over TLS.
Select Normal logon type.
Enter your username - see Figure %IMG_FTP_ACCESS% (5) - into User field.
Enter your password - see Figure %IMG_FTP_ACCESS% (6) - into Password field.
Click Connect button.
CDR (Call Details Reports)¶
Call details reports can be found in CDRs directory. Format of YYYY-MM-DD.csv CDR files is as below:
id - unique call ID
calldate - date and time of the call (in GMT+0)
src_id - source ID (relevant only for outbound calls to PSTN - will show SIP Username of the caller)
src - source number
clid - Caller ID
dst - destination number
dst_name - destination name (for example: "John Smith", "IVR Sales", "Queue Sales")
duration - total duration of call in seconds
billsec - number of seconds call was billed for
disposition - call outcome (for example: "CONNECTED", "BUSY")
destination - name of the destination (relevant only for calls to PSTN - for example "USA", "Germany Mobile" etc.)
rate - per minute rate
charge - total cost of the call
t_cause - Termination Cause (for example 'Normal Clearing', 'Busy', 'Congestion' etc.)
Note: CDR files are uploaded to FTP site every 24 hours (at 01:00:00 GMT+0), so you may have to wait until the most recent ones becomes available for bulk download.
Queue Call Reports¶
Specific Call Reports for the Queues can be found under QueueCalls directory. Two reports are generated and uploaded to FTP site every 24 hours (at 01:00:00 GMT+0):
YYYY-MM-DD-queue_call.csv contain detailed records for each call.
YYYY-MM-DD-queue_user_call.csv this report show for each call all the points where it has been connected. For example, for each call we will have records showing all the agents where it has rang, as well as voice mailboxes or redirections to queues or IVRs.
This reports can be found into a zip file with name format as follow: YYYY-MM-DD-queue-calls.zip. Here you can find descriptions for this files attributes:
id - unique ID for the given record
user_id - user where call ring
location_id - location identifier for the given user
call_id - identifier for the incoming call
queue_id - identifier for the queue
ddi - called number
cli - calling number
callers - amount of calls in the Queue
agents - total number agents on queue
start_time - date and time of the call
hold_time - total amount of time that call spent on queue
ring_time - time during call was ringing under given agent
conn_time - conversation time for the call
final_dst_type - resource where call is routed: V Voice mail, U User/agent, Q another Queue, R Routed to an IVR
final_dst_id - identifier for the call destination
disposition - ring order of the call. As there are several agents on the queue call will ring under each agent till it is finally connected with a single user
t_cause - termination cause of the call, it can be C Call Connected with the destination or H Hanged UP
Monitored (recorded) Calls¶
Format of recording files as below:
YYYY_mm_dd_HH_mm_ss-SIP_USERNAME-CALLER_ID-CALLED_NO-UNIQUEID.mp3
Note: recordings are uploaded to FTP site in real time and are available for download few seconds after the call is completed.
Organizational Units¶
Using OU you can have Groups or Departments managed by on or more Admins these Admins will have access to the call records and recordings of the Users in their department only.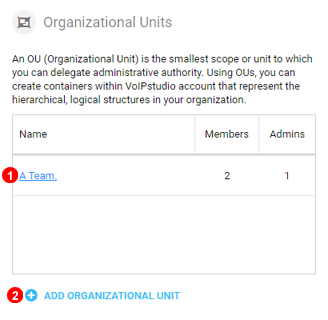 Figure 12.6 Organizational Units.
Click on the Name of an existing unit to edit.
Click to add new OU.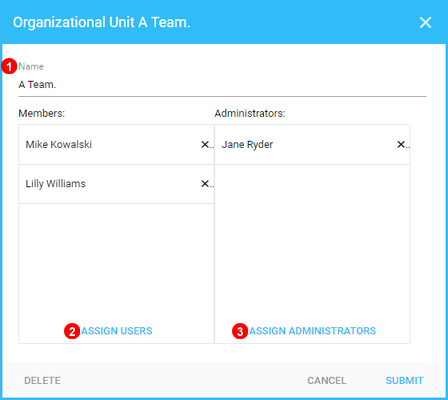 Figure 12.7 Add Organizational Units.
NOTE: User has to have Security roles set to Administrator before adding them to a OU as an Administrator.
Provide Identifier for Unit.
Select users to be part of Unit.
Select Administrator(s) that will manage or monitor selected Users.
NOTE: Initial User or Extension cannot be used as an Admin in OU to prevent a complete lockout of the account.
Call Barging¶
Call Barging allows for Call Centre supervisor to barge on (or join) ongoing call between customer and an agent. It is a great way of providing training or monitor quality of customer service. There are three Call Barging modes available:
Silent - supervisor is muted and quietly listens to conversation.
Whisper - supervisor can talk to an agent, but customer cannot hear this.
Barge - supervisor joins the call and can talk to both an agent and the customer.
In all three mode there is no audible indication to an agent or the customer supervisor has joined.
Enabling Call Barging involves two steps:
Creating Call Barging Permissions as described below.
Allowing Call Barging feature on selected user accounts - see point (13) in Figure %IMG_USERS_FEATURES_GROUPS_PANEL% "Users" - "Features and Groups" chapter.
How to Barge¶
To Barge onto ongoing call dial:
#44 + User extension number - for example to Barge onto User's extension 2005 dial #442005. Initial mode is to Silently listen to a call answered by an Agent. When connected to ongoing call you can press:
5 - to switch to Whisper mode.
6 - to join a call in a three way conference.
4 - to return to Silent listen mode again.
Error Announcement¶
Denial of service - User who is trying to barge is not member of "Allowed Users" in the Permission Group of which the other user has to be a "Member".
Call is not yet connected - There are no connected calls to barge into.
Configuration¶
Using Call Barging Permissions panel you can define groups of extensions and delegate selected users permission to barge into ongoing calls received by group user.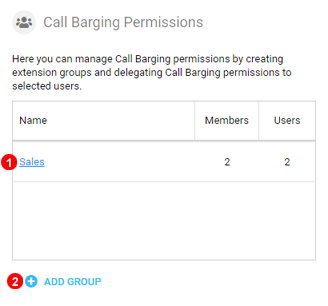 Figure 12.8 Call Barging Permissions.
Click to add new Call Barging Permission group.
Click to edit existing Call Barging Permission group.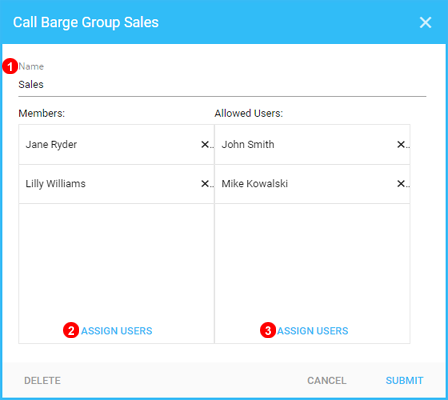 Figure 12.9 Call Barging Permissions window.
Provide Identifier for the Group.
Select users to be part of Group.
Select users that will be allowed to barge into calls of selected Users.
Team Policies¶
Team Policies make use of Teams to quickly and easily apply certain settings and permissions.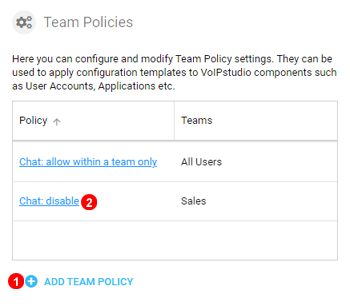 Figure 12.10 Team Policies.
Click to add a new Team Policy.
Existing policies can be changed or deleted by clicking on the name.
Add Team Policies¶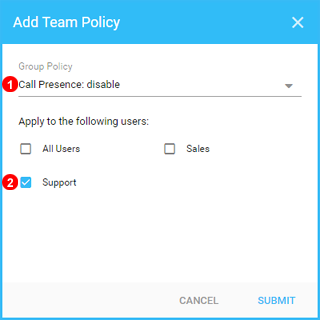 Figure 12.11 Add Team Policies.
Select the Group Policy to Apply.
Select which team to apply the policy to.
Current Policies:
User Settings: disable changes - Users cannot make any changes to their user settings.
Call Presence: disable - don't show call status (ringing, on call etc.) of other users
Call Presence: hide phone numbers - when showing call status (ringing, on call etc.) of other users, don't show phone numbers
Chat: allow within a team only - Team Members can only Chat with other members of the same team.
Chat: disable - Chat completely disabled.
Call Recordings: disable access - When Ad-Hoc Recording is enabled Users will have access to call recordings made form their user, this setting disables this access while maintaining Ad-Hoc Recording ability.
Desktop Softphone: copy number to clipboard - Allows Copy to Clipboard directly from Desktop Application.
Call Centre Wallboard¶
The Call Centre Wallboard is an excellent tool too monitor live calls and Statistics making the identification of sudden changes or issues easy to resolve.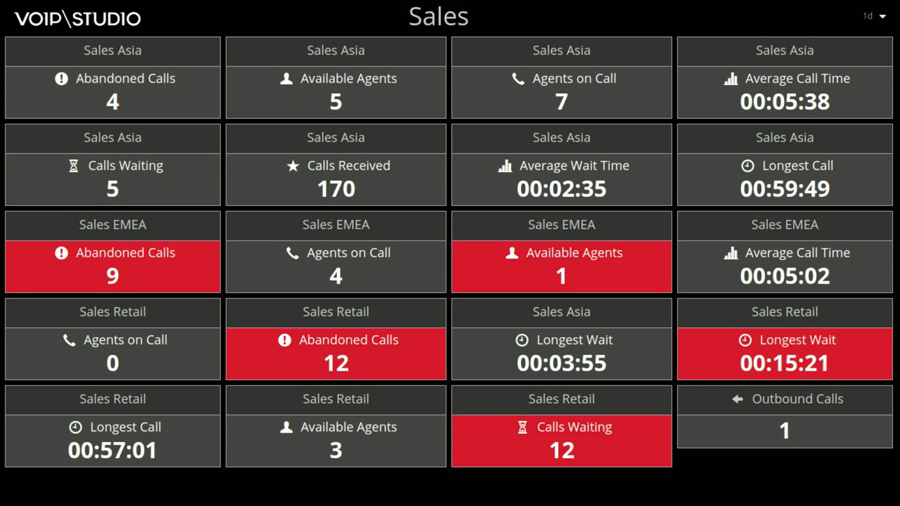 Figure 12.12 Call Centre Wallboard Animated.
Main Menu and Settings¶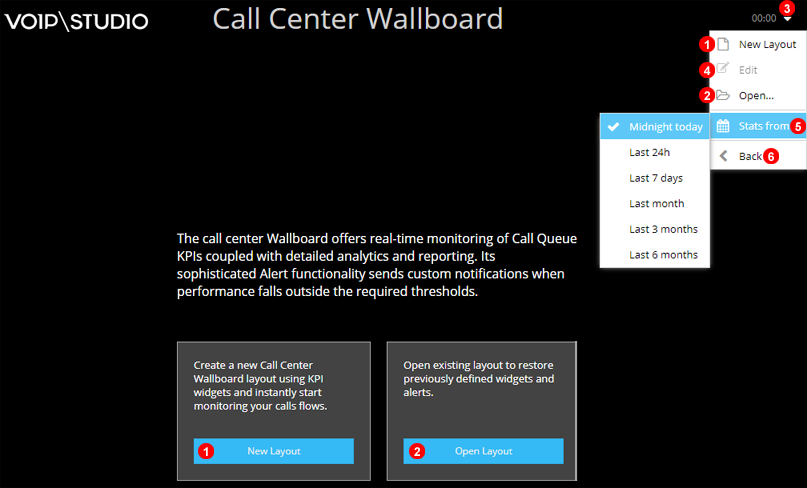 Figure 12.13 Call Centre Wallboard.
Click to Create a new Wallboard Layout.
Click to Open Existing Wallboard Layout.
Click Arrow to open Contextual Menu.
Edit Currently open Wallboard Layout.
Select Timeframe to Monitor.
Select to Go Back to the main admin screen to manage account.
Add New Layout¶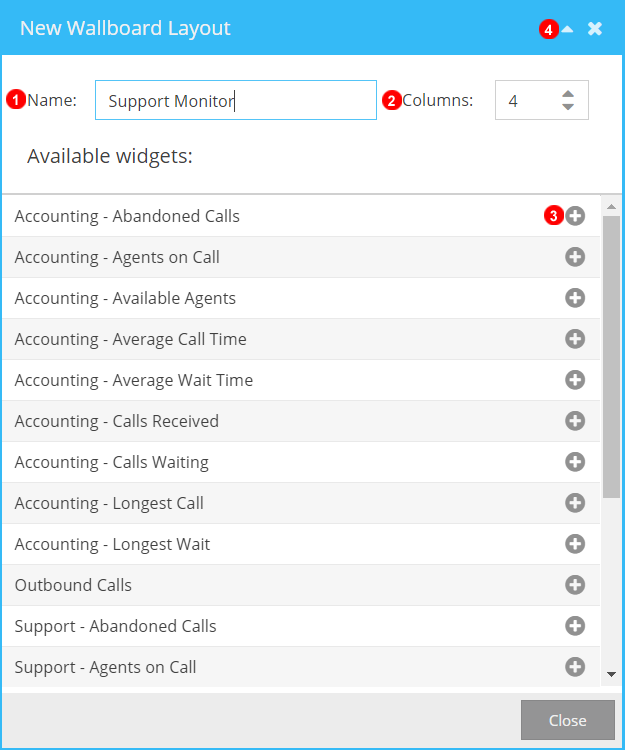 Figure 12.14 Add New Wallboard Layout.
Provide name for new layout used to identify and open.
Select the number of Colums to display layout in.
Click "+" to add specific elements of each individual Queue as needed.
Click Triangle to Collapse the menu to preview layout and make changes.
Edit Alarms and Thresholds¶

Figure 12.15 Edit Alarms and Tresholds.
Click the Gear Icon to Open Context Menu.
Click Alerts to modify settings.
Enable Alerts to proceed.
Select when Alerts will come into effect either Greater or Less than Thresholds.
Set Amber Threshold Limit.
Set Red or Critical Threshold Limit.
Open Layout¶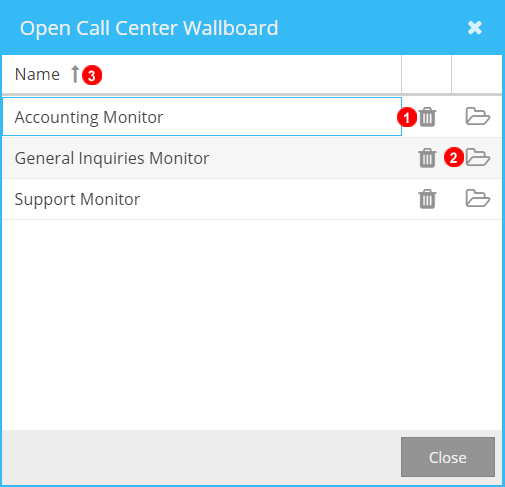 Figure 12.16 Open Wallboard Layout.
Click Bin Icon to delete Selected Layout.
Click Folder Icon to open Selected Layout.
Click on Colum name to sort Accending or Decending.