Getting Help
In our Help section for the Administrator you will find extensive explanations and help tools that are at your disposal.
Walk Throughs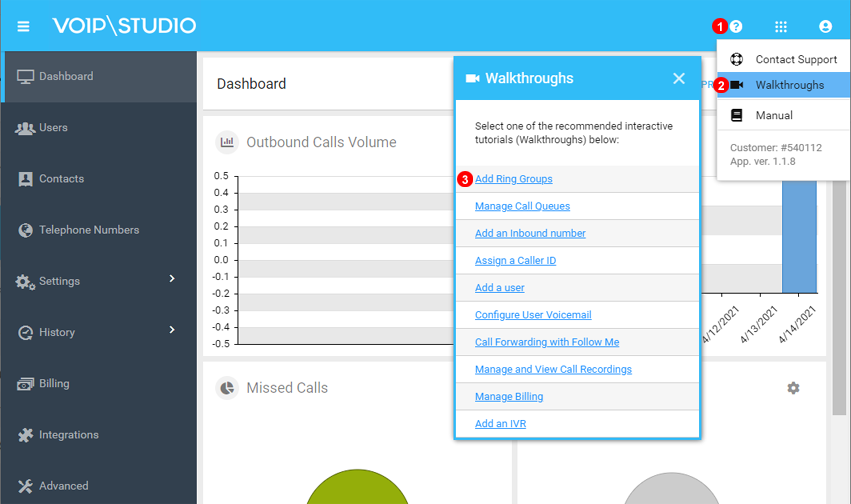 Figure 13.1 Walk Throughs.
To Begin Click Help.
Select Walkthroughs to see a selection of step by step instructions to help setup your account.
Click on the Topic or feature you wish to setup and follow the onscreen instructions.
Provides easy access to Online Manual
Click to switch for Contact options if further support is needed.
Contact Support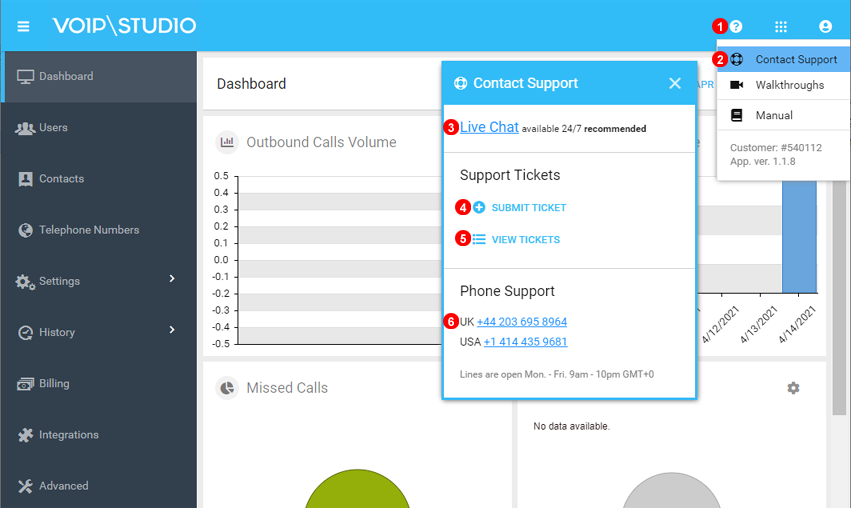 Figure 13.2 Contact Support.
To Begin Click Help.
Change View to Contact Support.
Select live chat to connect to one of support agents on chat.
You can also Submit a Ticket, you can attach files and documents for requests like porting or troubleshooting.
Click to View or Reply to Closed and Active tickets.
For Telephone support you will also need a PIN, click Get PIN button which will provided a 4 digit pin required when calling.
Provides easy access to Online Manual
Click To Swap Back to Walkthroughs.
Remote Support
If requested by our support team via a Ticket, live Chat or Telephone support please use link below to download the Anydesk file required for us to assist remotely.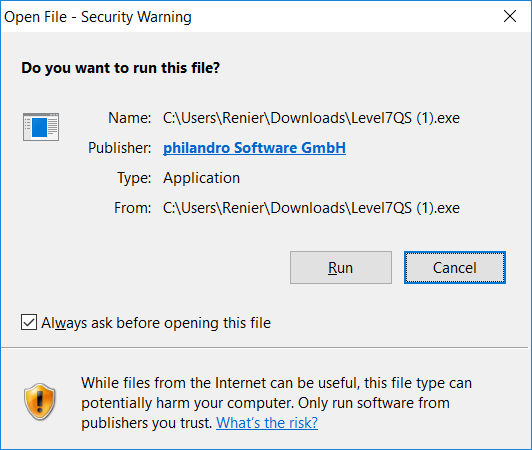 Figure 13.3 Remote support install.
As soon as the download is complete just run the file.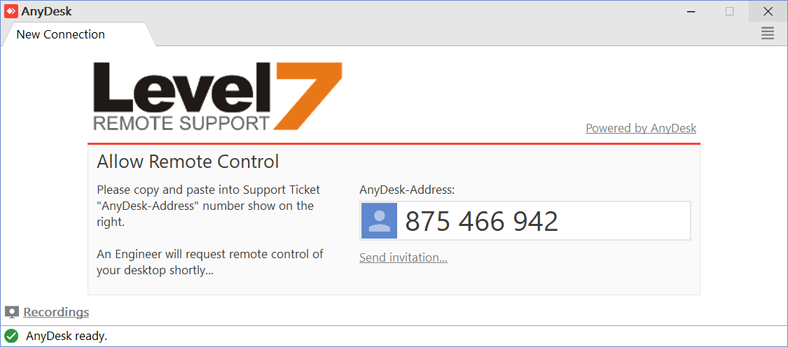 Figure 13.4 Remote support ID.
If support was via a Ticket please copy and past the unique ID generated by the support tool into the ticket and wait between 15 and 20 minutes for a member of support to join.
For live chat and Telephone support you can provide this ID to them directly.
Manual

Figure 13.5 Manual.
To access VoIPstudio manual:
Switch between manual sections using drop down shown as (3) in Figure 13.5 above.
Search information using field shown as (2) in Figure 13.5 above.
Use navigation on the left to browse chapters.
Click Back button shown as (6) in Figure 13.5 above to go back to VoIPstudio control panel.
Submit Ticket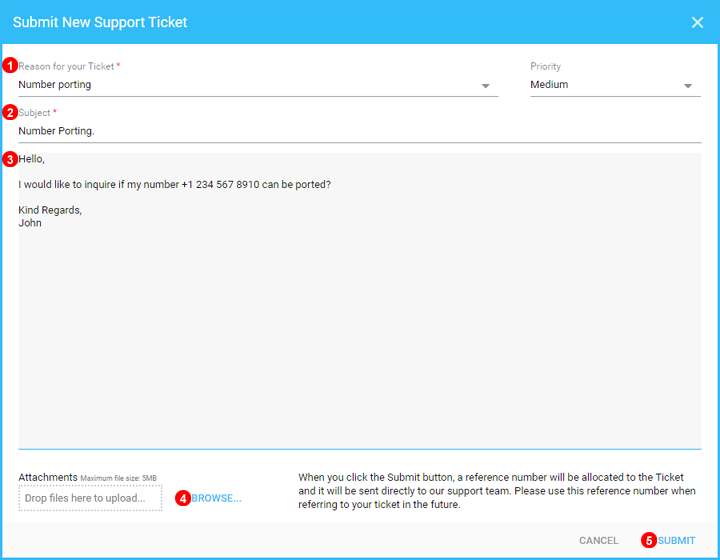 Figure 13.6 Submit Support Ticket.
To contact 24/7 VoIPstudio Technical Support:
Select reason for your ticket from drop down shown as (3) in Figure 13.6 above.
Enter subject of your ticket.
Enter details of your ticket providing as much details of your problem as possible.
Option to attach a file, the file size can be no larger than 2Mb.
Click Submit to send the ticket.
When you submit a ticket a unique reference number will be allocated. Please use this reference number when referring to your ticket in the future. You will be notified by email when response is posted.
View current and closed tickets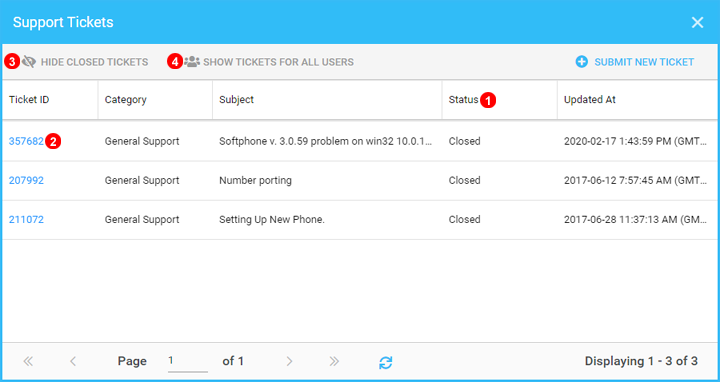 Figure 13.7 View Support Ticket list.
Under this section you can review tickets status and update them.
Use status filter to select which ticket should be displayed.
Use the edit button on the ticket to access the details, or update it.
By default closed tickets will not be shown. You can use Show Closed Tickets button to view them.
By default only the tickets generated by the current user are displayed. If you are an organization Admin you can click Show tickets for all Users to view the tickets of the entire organization.
Reply to Ticket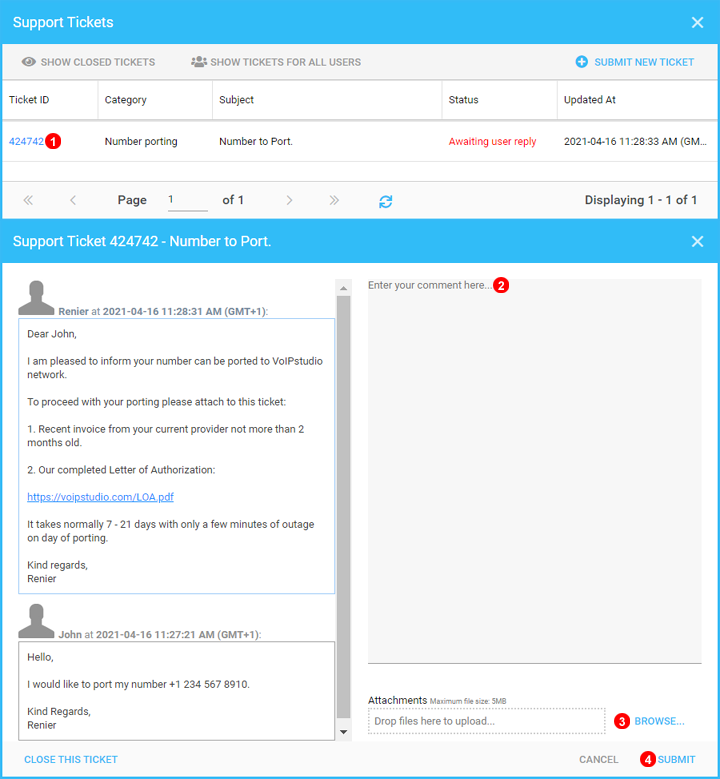 Figure 13.8 View Support Ticket and reply.
On the Support tickets
Select the ticket you are going to update. Click icon shown as (1) in Figure 13.8 above.
Enter your reply.
Option to attach a file, the file size can be no larger than 2Mb.
Click Submit button.