Sounds¶

Figure 6.1 Sounds panel.
Here you can add Sounds or view and edit their settings.
Click to create new Audio file using Text to Speech.
Click to Upload MP3 file.
Click to Listen to Audio file.
Click to Download selected MP3 file.
Click to Edit existing audio file.
Text to Speech¶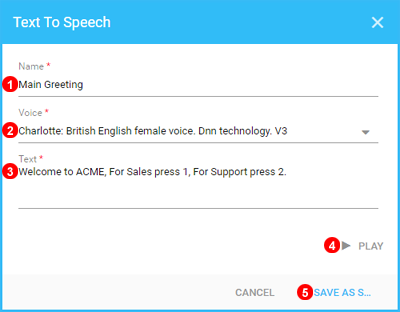 Figure 6.2 Text To Speech window.
Name Audio file for easy identification.
Select Language and voice to use for Text to Speech.
Enter the desired Phrase, certain characters will affect how speech sounds for example "," will create a short pause.
Click to listen audio.
Save file to use with IVR, Queue etc
Add Sounds¶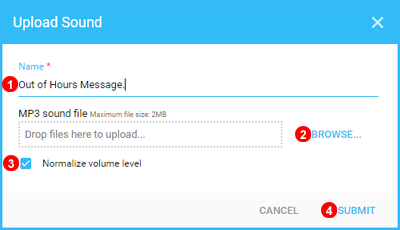 Figure 6.3 Sound window.
To add a Sound click button shown as (1) in Figure 6.1 above and follow steps below:
Enter text transcript of the sound file.
Select audio file to upload.
Check if you want to normalize volume level.
Click Submit button to save settings.
Edit¶
To edit a Sound click button shown as (5) in Figure 6.1 above.