Hardware Configuration - Manual Configuration - Yealink¶
While doing manual configuration, it is always best to perform a Factory Reset described in Factory Reset section above. You can obtain your phone IP by following the steps described in Find phone IP section above.
To configure Yealink phone to work with VoIPstudio service login into web interface of the device and follow steps below:
Upgrade Firmware from below link -
http://www.yealink.co.uk/downloads/
Follow below Steps:
Login to your phone via web browser
Upgrade
Browse the Firmware you downloaded
upgrade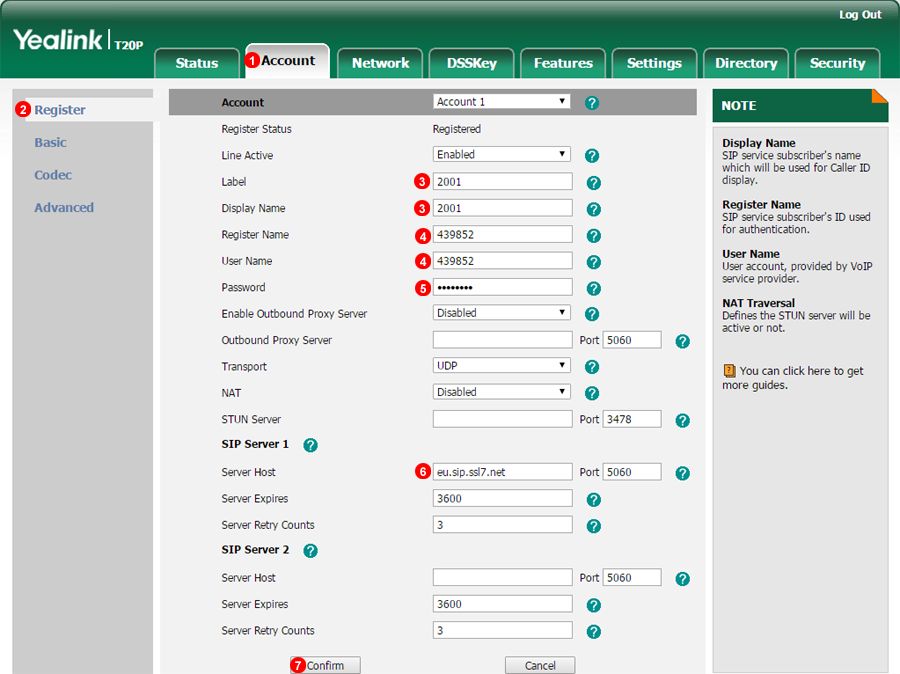 Figure 9.1 Yealink manual configuration
Select Account.
Select Register.
Enter Extension Number.
Enter SIP Username.
Enter SIP Password.
Enter SIP Domain.
Click Confirm to save changes.
Note Reboot may be required.
Voice Mail Set UP¶
To configure Yealink voicemail button with our voicemail service please do the following:
Navigate to Account tab.
Select Advanced section.
Enter Voicemail number #445 into Voice Mail field.

Figure 9.2 Yealink Voice Mail
Yealink BLF(Busy Lamp Field)¶
Busy Lamp Field on the Yealink, enables fast call to the user by pressing the button and monitors other extension current status for example when the extension is on a call.
The LED lights will change colour and state depending on the current status of the Phone as follows:
Green = Available
Flashing Red: Ringing
Red = On Call

Figure 9.3 Yealink BLF
From DssKey tab
Select the key set you like to edit.

The number of available programmable keys will depend on your Yealink device model

Line 1 is the main extension used for making and receiving calls, do not modify

Over the the line Key you will edit select: BLF
Enter syntax as follows: __SIP_USER__@__SIP_DOMAIN__ (replace __SIP_USER__ for 6 digit SIP username that will be monitored and replace __SIP_DOMAIN__ with your actual SIP Domain)
Enter any identifying label.
Click Confirm to save changes.