Advanced - Call Barging¶
Call Barging allows for Call Centre supervisor to barge on (or join) ongoing call between customer and an agent. It is a great way of providing training or monitor quality of customer service. There are three Call Barging modes available:
Silent - supervisor is muted and quietly listens to conversation.
Whisper - supervisor can talk to an agent, but customer cannot hear this.
Barge - supervisor joins the call and can talk to both an agent and the customer.
In all three mode there is no audible indication to an agent or the customer supervisor has joined.
Enabling Call Barging involves two steps:
Creating Call Barging Permissions as described below.
Allowing Call Barging feature on selected user accounts - see point (13) in Figure %IMG_USERS_FEATURES_GROUPS_PANEL% "Users" - "Features and Groups" chapter.
How to Barge¶
To Barge onto ongoing call dial:
#44 + User extension number - for example to Barge onto User's extension 2005 dial #442005. Initial mode is to Silently listen to a call answered by an Agent. When connected to ongoing call you can press:
5 - to switch to Whisper mode.
6 - to join a call in a three way conference.
4 - to return to Silent listen mode again.
Error Announcement¶
Denial of service - User who is trying to barge is not member of "Allowed Users" in the Permission Group of which the other user has to be a "Member".
Call is not yet connected - There are no connected calls to barge into.
Configuration¶
Using Call Barging Permissions panel you can define groups of extensions and delegate selected users permission to barge into ongoing calls received by group user.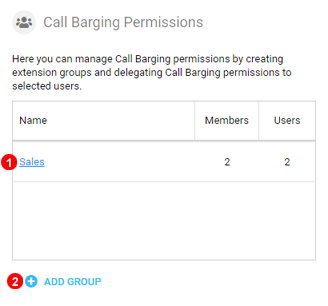 Figure 12.1 Call Barging Permissions.
Click to add new Call Barging Permission group.
Click to edit existing Call Barging Permission group.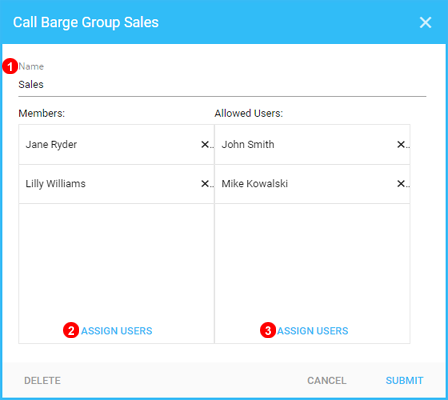 Figure 12.2 Call Barging Permissions window.
Provide Identifier for the Group.
Select users to be part of Group.
Select users that will be allowed to barge into calls of selected Users.