Settings - Ring Groups

Figure 7.1 Ring Groups panel.
Ring Groups allow to link several extensions into a group with a single inbound number (DDI) assigned to it.
Here you can add Ring Group or view and edit their settings.
Add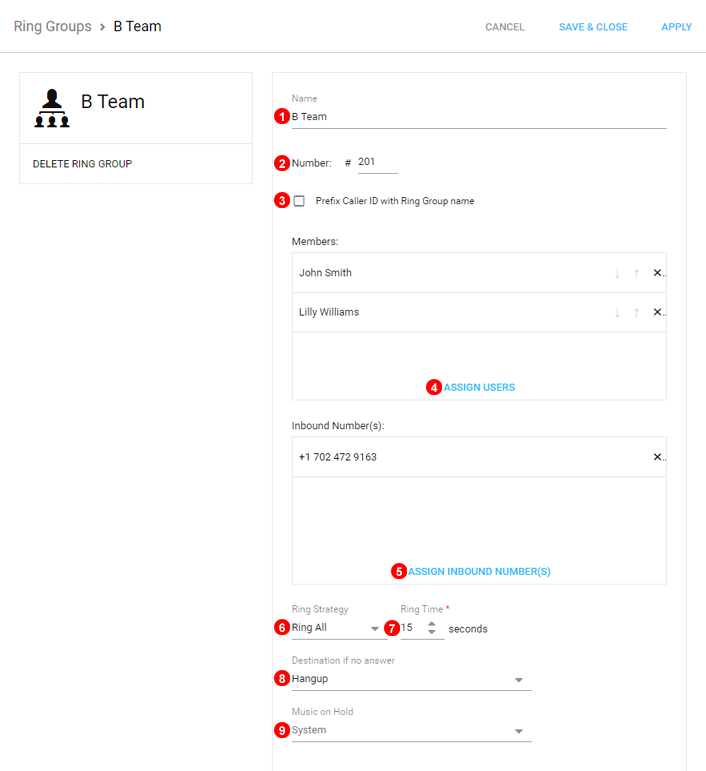 Figure 7.2 Ring Group window.
To add Ring Group click button shown as (1) in Figure 7.1 above and follow steps below:
Enter unique name.
Ring Group Number used to transfer calls directly into a Ring Group, this can be changed to any 3 digit number. To Transfer use #200 as shown in this example.
Select to have name of Ring Group ahead of caller ID.
Select users who should be members of this Ring Group.
Select numbers assigned to this Ring Group.
Select Ring Strategy - see diagram below for more information.
Define how long group members should be called before redirecting to Destination if no answer.
Select what to do if call is not answered.
Select Music on Hold, either system or custom music.
Click Submit button to save settings
Edit
To edit Ring Group click button shown as (2) in Figure 7.1 above.
Ring Strategies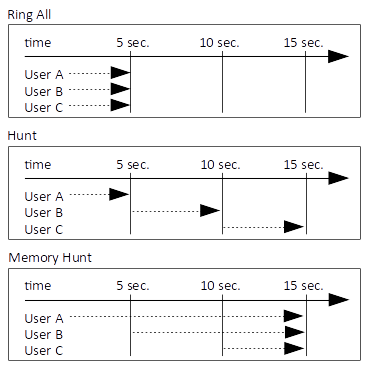 Figure 7.3 Ring Strategies.
Diagram above illustrates Ring Strategies for an example Ring Group with users: User A, User B and User C and Ring Time set to 5 seconds.