Reporting¶
Reporting allows for detailed colated data using custom settings for metrics, date and time and users.
Users¶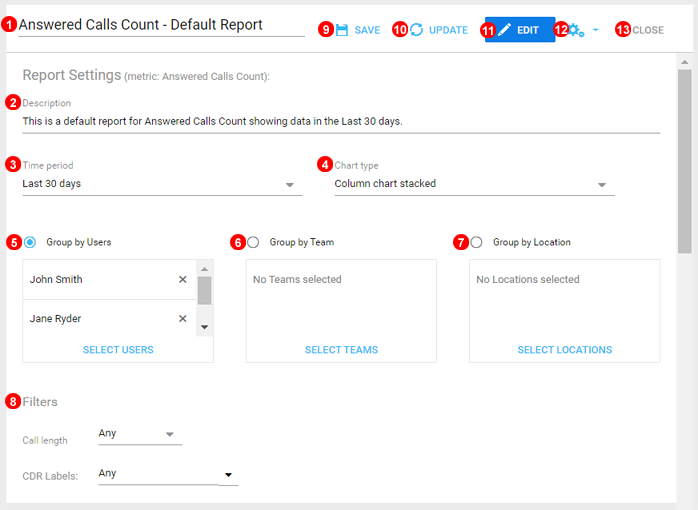 Figure 7.1 Reporting Users Panel.
New Custom Reports can be created here.
Open To view the report.
Use the Gear Icon to delete any report this includes the default if not needed.
Add¶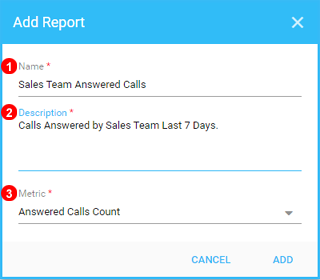 Figure 7.2 Reporting Users Add Window.
Name the Report.
Provide a Brief discription of what the report will show.
Select what Metric the report will sumerize.
Open¶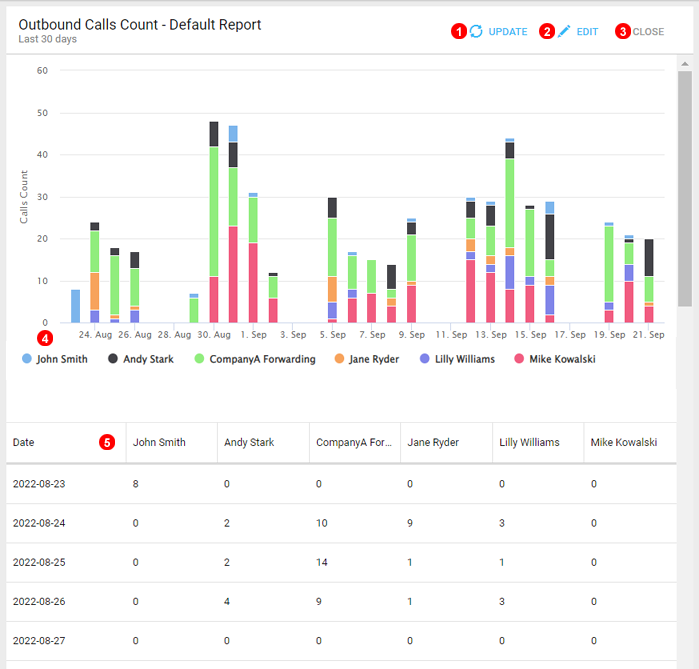 Figure 7.3 View Report Details.
Click to update to pull any new data from server.
Click to edit and change report settings.
Close the current report to return to main menu and select other reports.
Report will show data in easy to read graphs 4 styles are available.
Day by day data is also shows and columns can be added and filters set.
Edit¶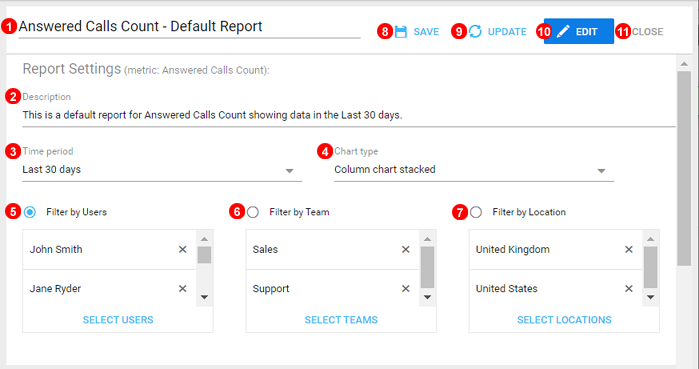 Figure 7.4 Reporting Users Edit Window.
Name of Report can be changed as needed.
Discription can be changed and updated if report parameters are changed.
Select what time period the report will generate from, a custom period can be selected however the maximum ammount of time is 1 year.
There are 4 Column styles to choose from and can be changed at anytime.
Filter can be set to according specfic users.
Can also select if filter is according to Teams this can be set from user menu.
If many offices or Physical locations are used filter can be set accordingly too.
Click to Save any changes made.
Update Button will pull new data from Server if time has lapsed.
Toggle Edit Mode by cicking Edit.
Close the current report even if in edit more, and error will appear if changes are not saved providing time to save or to discard changes.