Google Chrome extensions are tiny programs or extra features that allow you to customize your browser. They enable users to tailor Chrome's functionality and behavior to individual needs or preferences. They also improve performance and user experience, making Google Chrome more customizable for the user.
The VoIPstudio extension for Google Chrome is, in essence, a fully functional VoIP softphone. By logging in with your VoIPstudio email and password, you can access all user features, calls, SMS, recordings, and more.
The Google Chrome extension provides similar features to those offered by the computer application or Smartphone app, but from a different place.
What is the VoIPstudio extension for Google Chrome?
The VoIPstudio extension allows you to make and receive phone calls (VoIP) directly from the Google Chrome browser. This extension also works in Microsoft Edge.
The extension simplifies making outgoing calls when browsing the Internet, as the extension converts phone numbers into clickable links and automatically launches the call.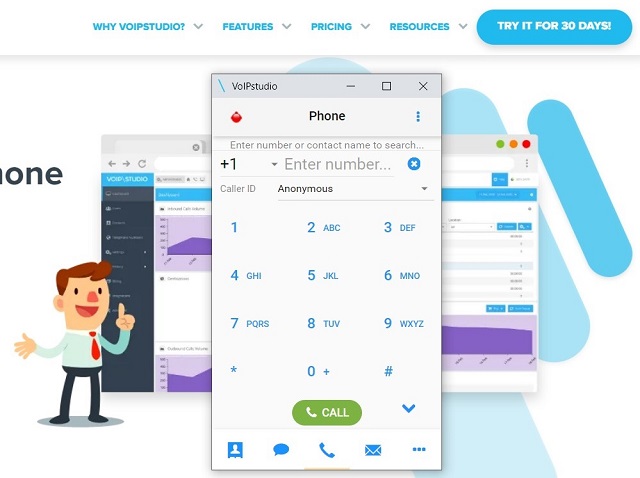 How to install the VoIPstudio Chrome extension
Installing an extension for Google Chrome is very simple, and having the VoIPstudio application downloaded to your browser will only take a couple of minutes. Below, we will explain step by step how to go about the process:
First, you must access the Chrome shop, where you will find plenty of applications.
To access go to the Google Chrome Store.
The next step is to locate the VoIPstudio application in the shop. From the search engine on the top left-hand side of the page, type and search directly for the word "VoIPstudio". Click on the application, and you have found us.
When you have accessed the application area by clicking, locate the button "Install" on the upper right side. Click on it, and the extension will start downloading in your Google Chrome session.
Once you have done the previous steps, the only thing left is to make the extension accessible at first sight. To do this, you will need to "Pin" the extension to your Google Chrome bar.
Look for the puzzle piece in the toolbar, click on it and click on the drawing pin next to the VoIPstudio extension. This process will ensure that the application is fixed and always visible in your toolbar.

Once you have done the installation process, you now have the symbol of our application on the top right-hand side of Google Chrome. Just click on it, log in and directly access the application to make and receive calls.
You can see this process explained in the following video:
On the other hand, some customers ask us if they can install VoIPstudio in another browser.
Currently, the VoIPstudio extension is only in the Chrome repository, but it works perfectly on Microsoft Edge.
How to Install VoIPstudio on Microsoft Edge
To make use of the extension from these repositories, follow the steps below:
Click on the three dots icon from the top right and select extensions.
Click on "Manage Extensions."
In the administration panel, you must check the box "Allow extensions from other shops," located in the lower left area.
Once selected, click on Chrome Web Store as shown in the image.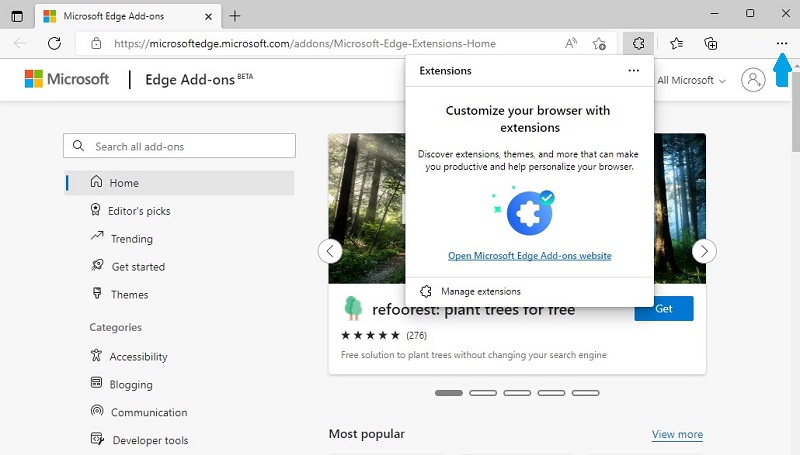 Once you have done these steps, you can search for extensions within the Chrome Web Store. You can search for VoIPstudio to find ours and follow the same procedure as explained above to install an extension.
Unfortunately, Chrome extensions are not compatible with Firefox, so you will not be able to use them from your Firefox browser.
Why has an extension been created for VoIPstudio?
The Chrome extension is a fully functional softphone, allowing you to work without installing specific software on your computer. This solution can be beneficial when working with non-business devices (BYOD – Bring Your Device).
However, you can also use it as a regular tool if your work requires you to click on web-hosted contact numbers as text or if you like it better than other softphones.
The reason VoIPstudio offers the possibility to have its application through a Chrome extension is to be able to better adapt to any client. We believe enabling the customer to work with their VoIP telephony provider most easily is essential.
We offer many options for using our system (softphone, Chrome extension, and mobile app).
The Google Chrome extension serves customers as an alternative for their work. It offers the convenience of having the application integrated into their browser.
Working from Google Chrome is especially interesting for customers working from Chromebooks. The extension will allow them to use the VoIP telephony service from their Chromebook by simply adding the extension in the browser without needing to install any app.
Main features of the VoIPstudio extension
We are in the midst of change when it comes to business telephony. Usually, doubts arise when new concepts, such as using the phone from the web browser, appear.
The Google Chrome extension is one of the novelties that can bring users doubts about its functionalities, compared to the application or its use.
Many users also ask about the audio quality, whether the calls are still stable or other problems that may cross their minds. The VoIPstudio extension offers you the same quality as the desktop application.
In addition to making and receiving phone calls, the Google Chrome extension provides access to the rest of VoIPstudio's user functionalities, such as the following:
Access to contacts
Call history
Voicemail
Call recordings
Chats
SMS
Fax
Configuration settings such as call forwarding
In short, the Google Chrome extension is a fully functional softphone that gives you access to all the user features of VoIPstudio. With it, you can continue to enjoy the benefits of VoIPstudio without the need to download the application for your computer.
Benefits of extension
VoIP technology offers users a wealth of options in terms of usage, subscription plans, hardware, or software.
There are many benefits that a VoIP phone system brings to the people or companies that contract it. Regardless of how you use the technology (application, extension, or mobile), the benefits are as follows:
Savings: The ability to dispense with hardware and not buy different devices to use VoIP technology makes it a perfect point to consider. Apart from saving money, it also saves on space optimization and movement capacity or flexibility.
Low barriers to entry: The VoIP service is straightforward for new users, has no complications, and you have your system up and running in a short time.
Flexible for all workers: It is a perfect system for office workers and those working remotely. It adapts to any situation, as you can take VoIP technology anywhere.
Scalability: It is a system that allows you to adapt as your needs grow or decrease. You can increase your capacity if the situation requires it at a very affordable cost.
When we refer to using the VoIPstudio extension, some advantages make it different from the others. This solution is for an audience that needs the capabilities it offers. Therefore, some of the benefits it brings with it are:
No installation required: There is no need to install any software on your computer. The VoIPstudio extension for Google Chrome takes up less space than the application, so it is perfect for those people who have computers with little capacity or who need space to do their work.
Click to Call: This option enables the "Click to Call" function on phone numbers presented as text on the web. For example, when you go to a company's website and see their phone number at the top, the extension will recognize it, and all you have to do is click on it to initiate the call.
Who can take advantage of the extension
Anyone with a VoIPstudio account can use the extension for Google Chrome. This section shows profiles that can make the most of the extension due to their work needs.
Employees who use CRM tools: Those employees who work with web-based CRM (Customer Relationship Management) tools should use this extension, as it will allow them to launch calls to their contacts by simply clicking on the phone number.
Remote workers: Those who work from a different computer or workstation than usual may find it more pleasant to use the extension instead of the softphone and avoid installing software on many computers.
Growing companies: VoIP technology allows companies the flexibility to add more users as the company grows. This option is valuable when the company is in a growth phase.
Profiles that do not have physical devices: Many companies do not have or do not want to make an outlay on office phones and are looking for different options. With VoIPstudio, you only need your computer to make and receive calls.
How the Click 2 Call option works – Extra settings
Many companies are looking for ways to streamline or automate outbound calls so that employees only have to worry about selling products and not spend time manually dialing phone numbers on their handsets.
VoIPstudio's Chrome extension helps employees easily click on a phone number to launch a call without copying and pasting or manually typing numbers into the phone's dial pad.
This Click to Call functionality has two relevant settings:
Define the device to use when we click to call within the browser.
Exclude web domains from this functionality if we are not interested in recognizing their numbers as links.
Below, we explain more about the features of the Click to Call option in VoIPstudio.
Define the device to use for the call
If you are interested in being able to click to call from the web but prefer to use your computer's Softphone or your desktop phone, you can do so. Just enable the "Use other devices for calls" functionality as shown:
Please find out more about Click 2 Call functionality in our dedicated post.
Exclude websites you are not interested in from this feature
It can be interesting for some websites not to recognize numbers as links. This function is handy, for example, if the number is already a link. If the string is already an HREF link, the Google Chrome extension can overwrite it. This way, a callback will be launched in parallel to the HREF link action when you click on the link.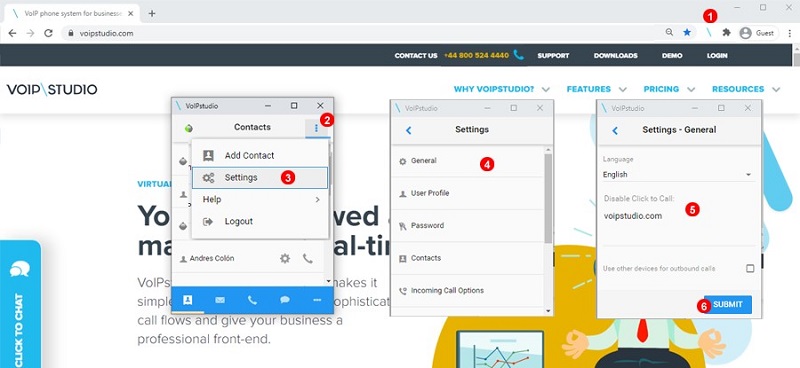 Learn more about the VoIPstudio extension by consulting our online manual.