With the ability to sell anywhere at any time, e-commerce is currently the driving force in sales for many businesses. So much so that online-to-offline (O2O) is becoming more common nowadays than the opposite journey. Amazon and its purchase of Whole Foods is an example of that trend. However, with a growing number of digitally native stores, communication with customers and potential leads is limited chiefly to online interactions. Building up the right e-commerce communication toolkit is critical for sales and branding.
Maybe you are thinking about opening a new online store or reassessing your current e-commerce communication strategy. How to improve engagement and customer success? If you would like to enrich customer communication (and retention), there are a few areas you need to address.
Before moving ahead, you should consider a few basic guidelines. Regardless of your preferred communication tools, they should be accessible during the sales process, easy to use, and, if possible, immediate to provide the customer with a quick and quality response. So, let's assess each one briefly.
Main e-commerce communication channels
The e-commerce website
A few years ago, a website was the staple of online communication for any business. Nowadays, some companies rely on social media or apps, and their website is almost an afterthought. E-commerce stores still require a complete website as their core communication and sales tool. There are several critical elements you will need to address:
A proven platform with room for growth like Woocommerce, Prestashop, Shopify, Wix, Magento, or BigCommerce.
Indexation and SEO. Following best SEO practices and using tools like Google Merchant Center to optimize search results with structured data.
Quality pictures and videos to grab your users' attention and offer a smooth browsing experience.
Security. All pages should offer HTTPS encryption to build trust and avoid data leaks. Also, your site must be Payment Card Industry (PCI) compliant if you accept credit cards.
Regardless of your choices, every online store needs a content management system or CMS, i.e., the program where you will upload the texts and images of your products for your daily operation. Here, WordPress and its WooCommerce plugin can be helpful. However, a website builder specialized in online stores such as Prestashop, Shopify or Wix provides built-in CMS functionality.
Keeping an updated blog can be a chore, but the time and resources will ultimately pay out. Offering valuable advice to your clients and creating charts and infographics will help to drive traffic and feed your social media timelines.
Also, contact forums can be a helpful way to gather queries and classify them by topics, address concerns and allow customers to make their voices heard, thus creating a community.
Besides the content and sections in an e-commerce website, several tools or widgets will make your life easier. These would be some of the main ones:
Chat service
Live support should be readily available from all pages on the site. The best option for sales and customer service can be a chat support widget, which users can access anytime. Chat widgets can offer an automated response or connect to live operators. This means you can have a customer support team in place during business hours and provide scripted answers when no human agents are available.
In the following image, belonging to the VoIPstudio website, you can see an example of a chat widget: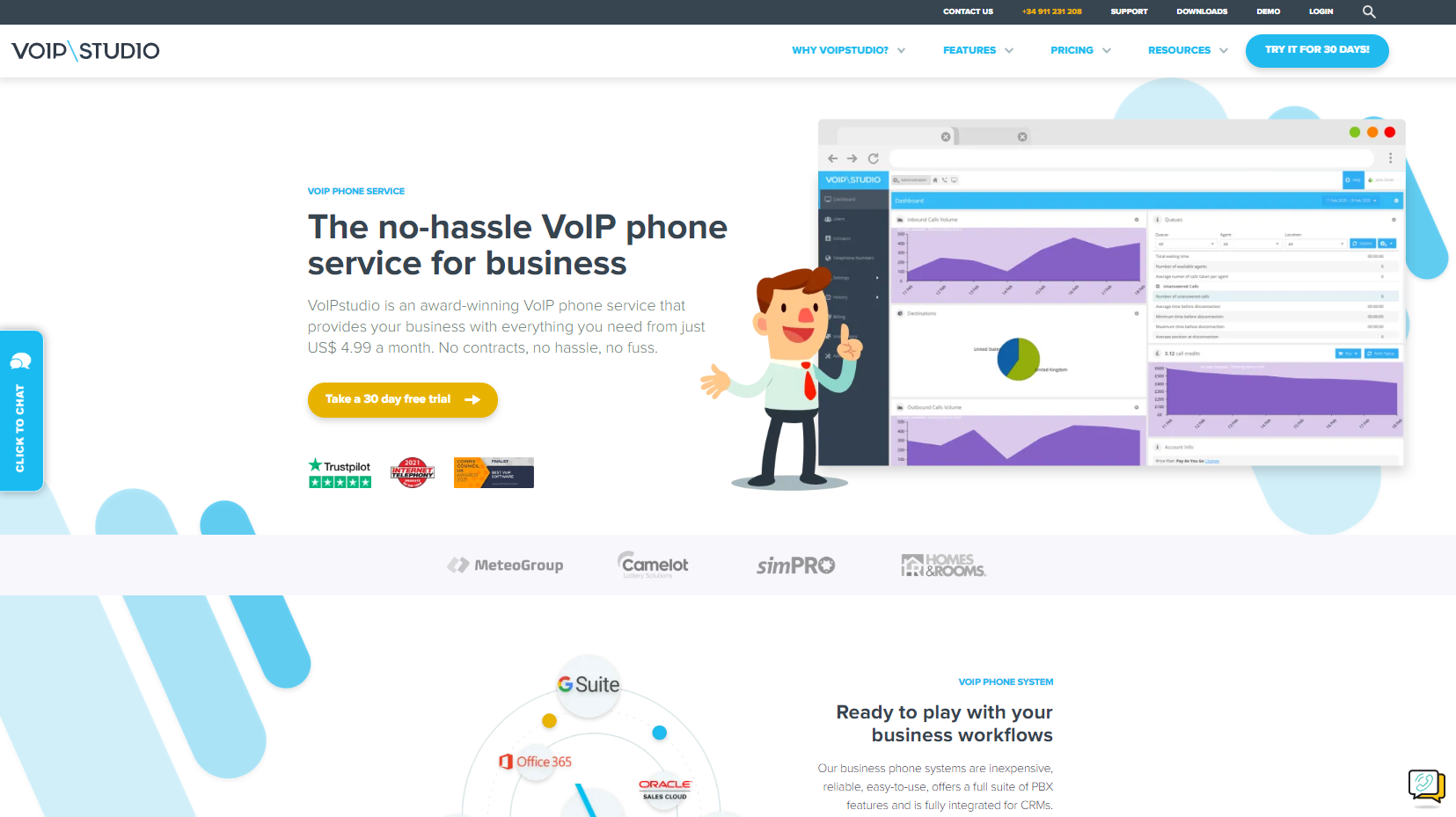 Clicking on the Online Chat icon opens a small window where visitors can chat with your sales and support team: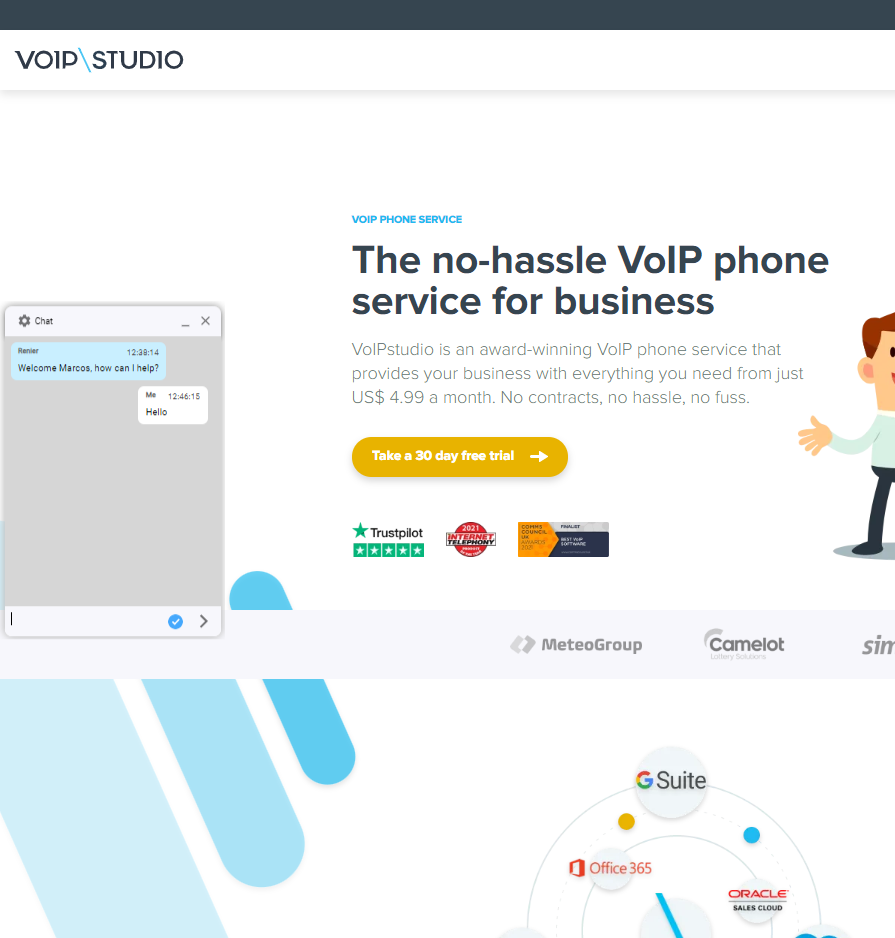 Customers really appreciate this communication channel to answer their questions about products or services.
Having a quality online chat tool can be a critical sales-boosting technology. However, it can prove challenging, since it requires a specialized customer service team capable of responding immediately – at least within specific support hours.
As already mentioned, companies use chatbots to solve frequently asked questions when they are out of business hours. In this case, tools that allow you to automate certain responses and answer customers efficiently will greatly help.
Regarding specific chat software, platforms like Shopify and Wix offer their options, but you can also implement third-party solutions such as:
247LiveChat– a personalized chat tool that can be integrated with VoIPstudio, allowing you to take calls and chats from the same platform.
Tidio– a chat software that allows you to check order statuses and invoices and automatically respond to orders.
Re:amaze – allows you to answer questions based on the FAQ or knowledge base.
Call Me Back widget
A swift response can make all the difference when a user needs an immediate response, either to make a purchase or to solve a problem with your product or service.
Email or chat can be cold for some people. In that case, one of the best options to engage with a user is implementing a Call Me Back widget.
There is no need to scroll to find a FAQ link or search the site for a "contact us" form. Instead, this solution can be implemented on a website with a specific bubble. This little bubble has a great visual impact and really gets customers to contact you so you can answer queries and convert sales as quickly as possible.
A simple click will allow a user to request a phone call from a human agent to their number.
VoIPstudio includes a Call Me Back widget that can be easily implemented in your online store. This widget also has the advantage of being fully integrated with the phone system, which allows you to assign it to a specific queue, activate an IVR auto attendant, or directly contact a particular agent, depending on the page where you place the widget.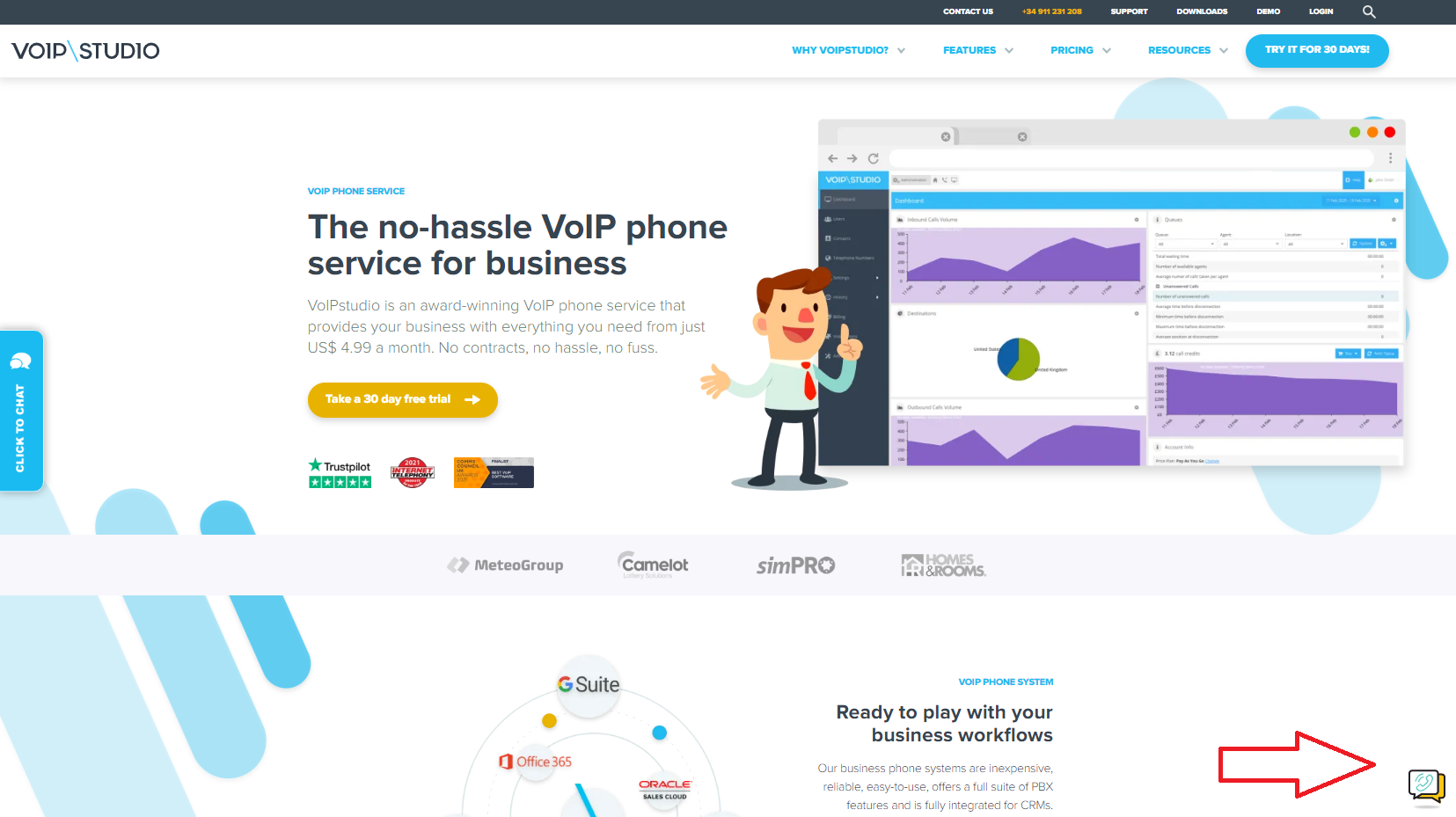 Voice calls
E-commerce stores usually rely on chatbots or e-mail messages, but a human voice is still one of the best ways to close an important sale. If you are thinking about offering phone support, your call center should provide the following phone features:
Premium numbers so your customers can remember them easily.
Welcome messages and customized support service hours.
An accessible API to develop customized support services where customers can enter their purchase order or ticket number.
Waiting queues and essential call center management.
CRM integration to automatically record activity.
Call recording service for dispute resolution.
Notifications and reports.
Currently, most e-commerce stores use cloud-based call center solutions, which are more flexible and entail fewer maintenance costs or specific hardware. VoIP phone support can combine desk phones, desktop computers, smartphones, or tablets, so anyone with a landline or an Internet connection will be able to contact you.
You can try VoIPstudio for free, with no strings attached, for 30 days, with unlimited users, and 200 minutes in calls. Our support service will help you set up your system in just a few minutes.
Further down the road, you can immediately upgrade your cloud call center if you need more phone lines or additional services.
E-mail
A ubiquitous communication tool for any e-commerce business, marketing, and customer support purposes. Newsletters, polls, marketing campaigns, customer satisfaction, or support tickets can all use e-mail as a communication channel. Naturally, this post doesn't aim to provide an in-depth analysis of the endless stream of e-mail applications. There are, however, some tips to harness the potential of e-mail in your e-commerce store.
Use a shared mailbox accessible to the employees of each department so no messages end up stuck in an individual mailbox.
Make sure to use automated response messages when customers submit forms or make queries.
Templates for specific replies will help to save time and prevent communication errors.
Regarding software tools, there are plenty of options around; these are some of the most widely used:
Hubspot is one of the best-known CRMs and a one-stop shop for marketing efforts.
MailChimp is probably the most common mailing platform.
SMS
Is the SMS dying a slow death? Have WhatsApp and other communication channels finally spelled the end of its long reign? Think again. It looks like the rumors of the death of the SMS have been exaggerated. At least, according to an article in Forbes magazine, it could be the future of e-commerce. And this is for several reasons – it's an instant communication channel, enables two-way conversations, and has an incredible 98% open rate. And no additional software is required – technically, even a dumb Nokia cellphone from the turn of the century could still handle current SMS messaging.
SMS enables communication with your customers on several levels:
As an efficient marketing tool.
As a communication channel to track shipping and delivery of orders.
As a security tool to confirm purchases and sign contracts.
As a tool to improve customer experience.
So, what about software implementations? How can you leverage the potential of SMS in your workflow and software platforms? These are some of the main approaches. You can use middleware, or you can go for standalone solutions:
VoIPstudio allows you to send SMS directly from the platform or using the REST-API or Zappier as middleware so you can send SMS from your CRM.
TxtCart– a manual and automated SMS platform that comes with MMS functionality.
Acumbamail– e-mail marketing and SMS tool to manage your e-mail campaigns, SMS, landing pages, and much more.
WhatsApp
Together with SMS, WhatsApp is a great way to engage with your customers. Initially, WhatsApp was a personal communication software ignored by businesses and marketers. However, with the launch of WhatsApp Business in 2018, it became a powerful e-commerce communication tool.
Not only that, but besides creating groups for marketing purposes, you can add a WhatsApp button to your website, just like the widgets that we mentioned at the beginning of this post.
Online fax
Unlike SMS, fax is really on its way out. In the unlikely event you ever need to use it, a physical fax machine should be out of the question. Here you can use fax features provided by VoIP solutions like VoIPstudio to send and receive fax notifications.
Besides avoiding the purchase of unnecessary hardware, it will be more eco-friendly as it will enable paperless faxes.
Social media channels
In a cat-and-mouse game with Google, SEO experts have worked for decades to improve website search rankings and achieve the holy grail of search results – the first page. But what if that would soon become obsolete? What if a new generation of users didn't ask Google for the best roasted chicken recipe or DIY tips? According to a recent AdWeek article, 40 % of Gen Z users prefer using TikTok and Instagram for search over Google. That's just an example of the power of social media in areas critical for an e-commerce store, such as product reviews.
Branding, marketing, and customer support need to leverage social media for an efficient communication strategy. Your customer support team and your community manager should work together to solve queries, address concerns, and raise awareness. Customers expect (fast) answers on Twitter, Facebook, or Instagram, so you better deliver them.
There are several tools you can use to achieve that. They range from schedulers to social media management software with unified dashboards to keep all your content under control. The following are some of the most helpful around:
Referral Candy – a referral program that tracks social media shares.
Hootsuite– a social media scheduling platform that features numerous reports and analytics.
Buffer– a social media tool that helps you manage and grow your social audience.
Other valuable tools for your e-commerce
Managing your e-commerce goes beyond communication, as you must consider many vital processes for good performance. Below, you can read about some critical aspects of your e-commerce store:
Reporting dashboard
From a business perspective, an e-commerce store is all about the metrics. The ability to detect trends, product performance, frequently asked questions, or customer satisfaction can be crucial when defining marketing campaigns or making the right business decisions.
Data analytics is currently a necessity for online businesses. Many applications allow the collection of data for analytic purposes.
If your e-commerce store lacks integrated analysis tools, you have other options available. There are more customized reporting tools, even if they are external. Some of the tools offering the best value to users would be:
Google Analytics: It is a powerful free tool that will allow you to monitor online sales. It has an "e-commerce module."
Groove: It is a reporting tool with predefined reports specially focused on e-commerce.
Power BI: This is a Microsoft data analysis service that provides interactive visualizations and business intelligence capabilities with an interface simple enough for end users to create their reports and dashboards.
Like in the previous sections, online stores created through Shopify or Wix integrate their reporting tools.
ERP and CRM
A CRM (Customer Relationship Management) is a software that enables managing all aspects of customer relationships, such as communications, opportunities, documentation, etc.
In turn, the ERP is the company's resource management tool where, among many other functionalities, you can manage invoicing, accounting, product stock, etc.
It is essential to have tools such as ERPs or CRMs to keep up to date with accounting, invoicing, stock, customer relations, inventory management, etc. In many cases, both features are integrated into a single tool.
In both ERP and CRM, you can store and manage information related to your store and your customers, such as:
Contact data
Customer category
Order records
Billing data and history
E-mail, calls, SMS, or records for all activity of each customer.
The CRM should connect the largest possible number of communication channels open to your customers. Thus, when a customer contacts you by phone, SMS or chat, or any other means, you can quickly identify them and anticipate their needs or see the transactions in progress.
Firstly, that feature offers a better quality of service, but also improves the productivity of your employees, since at a glance you can access all the necessary information at all times.
It is also crucial that conversations are automatically reflected in the CRM, regardless of the channel used. For this reason, having communication platforms such as VoIPstudio, which are natively integrated with some of the leading ERPs and CRMs on the market, such as Hubspot, Zoho or Salesforce, is essential.
VoIPstudio also provides an API that allows you to design integrations with any other tool, even with custom solutions.
Last thoughts
Choosing the right software tools for your e-commerce store is only one part of the job. With a growing number of channels, it's critical to develop an effective omnichannel strategy so that they all work consistently. Integrating your CRM, VoIP call center, e-mail, and SMS tools is critical for the long-term viability of your business.
Finally, besides the technology implementation, you must implement a consistent message and branding with the right tone for your target audience to follow them throughout their customer journey.
VoIPstudio integrates four communication channels into the same platform: telephone, SMS, fax, and chat, and offers integration with several CRM, which makes it an ideal solution for any e-commerce store. Also, remember that you have a 30-day free trial without obligation and without a credit card. What are you waiting for?