Voice over Internet Protocol (VoIP) has revolutionized communication in today's digital age. With the advent of smartphones, the integration of VoIP on iPhones has opened up a world of possibilities for users, both personal and professional. This guide explores the relevance of VoIP for iPhone users, focusing on professionals and businesses.
As we navigate this dynamic landscape, we'll delve into topics ranging from making VoIP calls on iPhones to choosing the best VoIP apps and services for enhanced communication. The seamless blend of VoIP and iPhones empowers users to stay connected and offers cost-effective and flexible business solutions.
In a world where mobility and efficiency are paramount, harnessing the power of VoIP on your iPhone can be a game-changer. We aim to provide valuable insights and recommendations to help you optimize your iPhone for VoIP and elevate your communication experience. Whether you're an individual looking for cost-effective calling or a business seeking a robust communication solution, this guide is your roadmap to unleashing the full potential of VoIP on your iPhone.
Understanding VoIP and the difference with Wi-Fi calling on iPhone
Communication is crucial in today's interconnected world, especially for business professionals. Voice over Internet Protocol (VoIP) has emerged as a powerful tool for enhancing communication capabilities. To fully grasp the concept, let's break down what VoIP is and how it differs from Wi-Fi calling, specifically on an iPhone.
What is VoIP?
VoIP, or Voice over Internet Protocol, is a technology that enables voice communication and multimedia sessions over the Internet. Instead of traditional telephone lines, VoIP routes your calls through the Internet, allowing you to make calls from various devices, including your iPhone. This technology converts your voice into digital data, transmits it over the Internet to the recipient, and transforms it into audible sound.
Benefits of VoIP
VoIP technology brings a wealth of advantages that can enhance communication and productivity for individuals and businesses. Let's explore some of the key benefits that VoIP brings to the table.
Cost-Efficiency:

 VoIP services are often more cost-effective than traditional phone services, making it an attractive option for businesses looking to reduce communication expenses.

Flexibility:

 VoIP allows you to make and receive calls from anywhere with an internet connection, providing flexibility for professionals on the go.

Feature-Rich:

 VoIP services typically offer a range of features, including voicemail, call forwarding, and video conferencing, enhancing your communication capabilities.
VoIP vs. Wi-Fi calling on iPhone
While VoIP and Wi-Fi Calling leverage the Internet for calls, they have distinct purposes and differences, mainly when used on an iPhone.
VoIP on iPhone
Utilizes dedicated apps: To make VoIP calls on an iPhone, you typically need to download and use a dedicated VoIP app. These apps are available from various providers and can be customized to meet your business needs, often with additional features such as video calls, text messaging, and voicemail.

Cost and service providers: VoIP calls can be cost-effective, especially for international calls. Businesses can choose from various VoIP service providers to find the most suitable option for their needs.

Advanced features: VoIP apps often have advanced features, making them suitable for professional use. These features include call recording, integration with other business tools, and advanced call routing.
Wi-Fi calling on iPhone
Native iPhone feature: Wi-Fi Calling is a feature built into iPhones that allows you to make calls over a Wi-Fi network. It's handy in areas with weak cellular coverage.

Simple Setup: To enable Wi-Fi Calling on your iPhone, go to Settings > Phone > Wi-Fi Calling. You should enter your address for emergency services. When Wi-Fi Calling is available, it's indicated in the status bar as "Wi-Fi.". Check Apple's support page for more info: https://support.apple.com/en-us/HT203032

Emergency Calls: Wi-Fi Calling can also be used when cellular service is unavailable. Your device's location may aid response efforts during emergency calls.

If you can't turn on or use Wi-Fi Calling, 

ensure that your carrier offers Wi-Fi Calling

 and that your devices have the latest software.
In summary
The critical difference between VoIP and Wi-Fi Calling on iPhones lies in their capabilities:
VoIP allows for various call types, including app-to-app, app-to-phone, and hybrid options, making it a versatile choice for personal and business use.

Wi-Fi Calling primarily serves as a backup to make regular calls when your cellular signal is weak, with no additional features for calling non-app users.
The choice between VoIP and Wi-Fi Calling depends on your specific communication needs, whether for staying in touch with other app users, reaching out to traditional phone numbers, or having the flexibility to do both.
Choosing the right VoIP app for your iPhone: Personal vs. business needs
When making VoIP calls on your iPhone, you'll encounter different categories of VoIP apps, each with unique capabilities. It's essential to understand these categories to choose the one that suits your needs:
VoIP apps exclusively for App-to-App calls (e.g., FaceTime): These apps, such as Apple's FaceTime, are designed for calls between users of the same app. For instance, FaceTime allows free calls within the Apple ecosystem but is limited to those with an Apple ID. Importantly, you cannot use FaceTime to call regular landlines or mobile numbers.
VoIP apps for App-to-Phone calls (e.g., Skype, VoIPstudio, RingCentral): These apps offer more comprehensive communication solutions. They provide the flexibility to make app-to-app and app-to-phone calls (to regular landlines and mobile numbers). This versatility is perfect for both personal and business use. You can reach anyone, whether they have the app or not. Based on the service provider, they usually offer good quality and very competitive rates.
VoIP apps are not limited to simple audio calls; they offer advanced features, making them versatile tools for personal and business communication.
VoIP for personal use
For personal use, VoIP apps offer convenient and cost-effective ways to stay connected with friends and family. These apps allow you to make audio and video calls, send text messages, and even conduct video meetings. Some common VoIP apps for personal use include Skype, WhatsApp, and FaceTime. They are perfect for staying in touch with loved ones, no matter where they are.
Features for personal use:
Audio and video calls

Instant messaging

Multimedia file sharing

Group chats

Video conferencing and group video calls

Social media integration

Emojis, stickers, and GIFs
VoIP for business use
VoIP apps also cater to the demanding needs of businesses. They go beyond essential communication and offer advanced features suitable for professional settings. VoIP solutions like VoIPstudio, RingCentral, 8×8, and others provide audio and video calls and an array of business-centric features.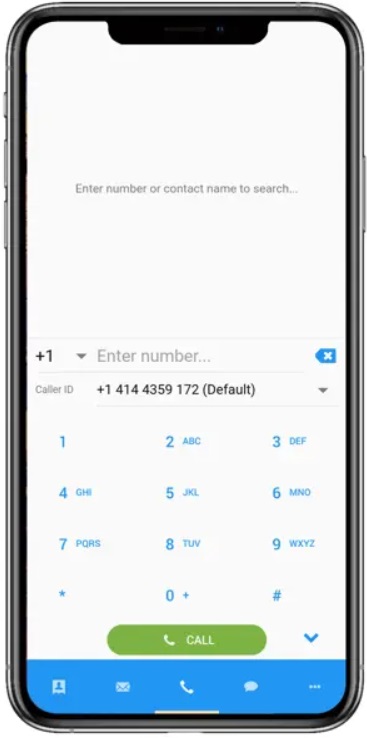 Advanced features for business use:
PBX functionality: VoIP solutions often include Private Branch Exchange (PBX) features. It allows businesses to set up a phone system with extensions, call routing, voicemail, and auto-attendants.
Call recording: Record and store calls for quality control, compliance, or training.
Conference calling: Host audio and video conferences with multiple participants.
Screen sharing: Collaborate effectively by sharing your screen during calls and meetings.
CRM Integration: Integrate with Customer Relationship Management (CRM) systems to access client information during calls.
Voicemail to Email: Receive voicemail messages in your email for easy access.
Call analytics: Gain insights into call metrics and performance.
Mobile apps: Access your business phone system on the go using mobile apps.
Unified communication: Combine voice, video, messaging, and more into a suitable platform for seamless collaboration.
Call queues: Efficiently handle customer calls by routing them to suitable agents.
Auto-Attendants: Create customized automated greetings and call routing.
Business connected all over the world: You will be able to answer your business phone call from where ever you have Internet.
Business-oriented VoIP apps are essential for enterprises requiring a robust and integrated communication solution. Whether connecting with clients, coordinating with remote teams, or streamlining customer support, these VoIP apps provide the tools to enhance productivity and professionalism.
Making VoIP calls on your iPhone
You have various options when making VoIP calls on your iPhone, depending on your needs. In this section, we'll differentiate between VoIP apps for personal use and those suitable for business purposes.
VoIP apps for personal use
FaceTime is the default choice for making high-quality audio and video calls for iPhone users. It comes pre-installed on your device, offering a seamless communication experience within the Apple ecosystem.
FaceTime is an Apple-specific app that allows you to make audio and video calls. It offers excellent call quality and is integrated with your existing contacts. However, it's important to note that FaceTime is limited to calls between users with registered Apple IDs and cannot be used to call regular phone numbers.
In addition to FaceTime, several other apps in this category allow you to make VoIP calls for personal use. Some of these include:
WhatsApp: A widely-used messaging app that offers voice and video calling features. You can make calls to other WhatsApp users for free, even if they are in different countries.
Facebook Messenger: This popular platform lets you make voice and video calls to your contacts. You can call anyone on your friend list, even if they are in a different part of the world.
Skype: While Skype is versatile and used for personal communication, it's worth noting that it allows you to make app-to-app and app-to-phone calls, making it suitable for proffesional use as well.
Making FaceTime audio calls
Apple's FaceTime is famous for making VoIP calls within the Apple ecosystem. Here's a step-by-step guide on how to make FaceTime audio calls:
Open FaceTime: Locate the FaceTime app on your iPhone. It typically comes pre-installed; you can find it on your home screen.
Sign In: If you still need to sign in with your Apple ID, do so. FaceTime requires an Apple ID to function.
Start a New Call: Tap the "+" icon in the top right corner to initiate a new call.
Enter a Contact: Type in the name, email, or phone number of the person you want to call. You can make a FaceTime call if the contact has a registered Apple ID. If not, you won't be able to use FaceTime to call their regular phone number.
Select Audio: After selecting a contact, tap "Audio" to make a FaceTime audio call.
Call: Tap the green call button to connect.
FaceTime is excellent for staying in touch with friends and family using Apple devices, and it offers high-quality audio and video calls.
Business VoIP apps
Business-oriented VoIP apps like VoIPstudio, RingCentral, and 8×8 offer more advanced features and are suitable for professional use. They allow audio calls and provide options for video calls, virtual meetings, screen sharing, and more.
Here's a more detailed guide on how to set up and use business VoIP apps on your iPhone:
Requirements
Service Provider: Choose a reputable VoIP service provider like VoIPstudio, RingCentral, or 8×8. These providers may offer their own iOS app for download.
App Installation: Depending on your provider, you can either download their official app from the App Store or use a third-party VoIP app like Zoiper or Bria, which needs to be configured with your provider's details.

Configuration: If you're using a third-party app, configure it with your VoIP provider's information, including SIP server details, username, and password. This step might be optional if you use your provider's official app.
Making calls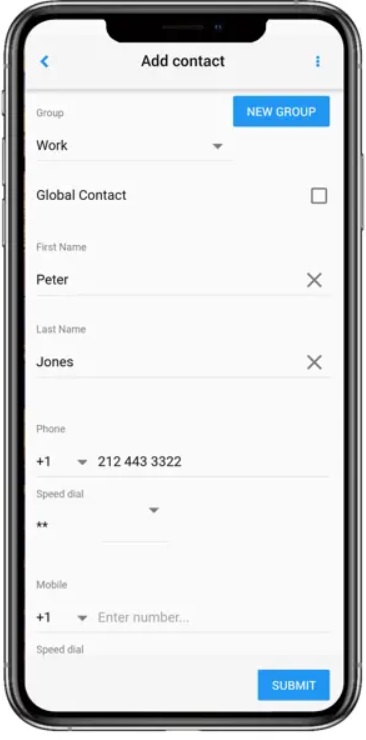 Placing Calls: To make calls to regular phone numbers, you'll typically need to purchase credits or subscribe to a service plan offered by your provider.

Advanced Features: Explore the advanced features offered by these apps, such as voicemail, call forwarding, call recording, and more, depending on your chosen service.
It's worth noting that some VoIP providers like VoIPstudio offer flexibility. You can use their official app or configure third-party apps. It allows users to choose their preferred app for making VoIP calls.
If you prefer using a third-party VoIP app with your own SIP provider, consider apps like Zoiper, Bria, or Linphone. These versatile apps work with various SIP providers, allowing you to select the most suitable service.
Factors to consider when selecting a VoIP app and service for iPhone
Choosing the right VoIP app and service is crucial for ensuring efficient communication for your business. Here are some key factors to consider when making your selection, with additional insights relevant to iPhone users:
Scalability
Growth potential

: Consider the scalability of the VoIP service. Will it accommodate your business's growth? Ensure the chosen service can handle increased users, extensions, and call volume seamlessly. It is crucial for iPhone users who anticipate the need for growth.

User-friendly

: Scalability should not come at the cost of complexity. Look for user-friendly and easy-to-manage services as your business expands, making it more straightforward for iPhone users to adapt.

Cost-effective

: Evaluate pricing plans to ensure they align with your scalability needs. Some providers offer flexible pricing options that scale with your business, offering cost-effective solutions for iPhone users.
Integration
Compatibility

: Check if the VoIP service integrates with other tools and software your business relies on, such as customer relationship management (CRM) software, email platforms, or project management tools. Integration streamlines workflows and improves productivity, benefiting iPhone users who depend on integrated apps.

API Support

: Look for services that offer Application Programming Interface (API) support, allowing you to develop custom integrations or connect with third-party applications, enabling iPhone users to enhance their workflow.

Unified Communications

: Consider suitable communication platforms that combine various communication channels, including voice, video, chat, and conferencing, providing a unified experience for iPhone users.
Security
Data encryption

: Prioritize services that offer end-to-end encryption to protect sensitive information during calls and data transmission, ensuring iPhone users can communicate securely.

Firewalls and intrusion detection

: Ensure the VoIP service provides security features like firewalls and intrusion detection systems to safeguard against cyber threats, enhancing security for iPhone users.

Compliance

: Check if the service complies with industry regulations and standards, mainly if your business operates in a regulated sector, such as healthcare or finance, ensuring iPhone users adhere to compliance requirements.

Tip

: Keep your iPhone's operating system and the VoIP app up-to-date to benefit from security patches and enhancements.
Best practices for iPhone users
Trial period

: Take advantage of trial periods or free versions to assess the VoIP service's performance, features, and ease of use before committing to a long-term contract, allowing iPhone users to make informed decisions.

User training

: Invest in user training to ensure your team, including iPhone users, can maximize the VoIP app's features and capabilities.

Regular updates

: Stay up-to-date with software updates and patches to address security vulnerabilities and benefit from new features, enhancing the experience for iPhone users.

Quality of Service (QoS)

: Implement Quality of Service measures to prioritize VoIP traffic on your network, ensuring high call quality for iPhone users.

Backup and redundancy

: Establish backup and redundancy solutions to maintain communication in case of service disruptions, keeping iPhone users connected.

Voice commands

: Utilize voice commands with Siri to make calls using your VoIP app, increasing hands-free convenience.

Consider third-party apps

: Some VoIP services offer their own iOS app, while others can be used with third-party VoIP apps. Evaluate which option suits your preferences and requirements.
By carefully considering these factors and following best practices, you can select a VoIP app and service that aligns with your business needs, promotes efficiency, and ensures secure and reliable communication for all users, including those using iPhones.