Effective communication is paramount in the fast-paced and interconnected world of business. To stay ahead, companies need robust communication solutions that enable seamless collaboration, efficient workflows, and enhanced customer interactions.
Numerous cutting-edge tools have emerged, revolutionizing how businesses communicate and interact internally and externally. From advanced VoIP phone systems to collaboration platforms and project management tools, these nine business communication solutions empower companies to thrive in the digital era.
By harnessing the power of technology, these solutions offer businesses the means to connect, collaborate, and communicate more effectively than ever before.
Let's explore these solutions' innovative features and functionalities, paving the way for successful and streamlined communication in the today's business landscape.
1. Cloud VoIP business phone systems
VoIP (Voice over Internet Protocol) phone systems are communication systems that allow users to make and receive phone calls over the Internet instead of traditional analog phone lines. VoIP phone systems enable real-time voice communication using internet connections by converting voice signals into digital data.
Cloud VoIP business phone systems enhance productivity by enabling flexible collaboration, streamlining call management, and offering enhanced accessibility. These systems provide the necessary tools for seamless communication, regardless of physical location, while improving call organization and ensuring accessibility from various devices.
By leveraging the benefits of cloud VoIP technology, businesses can optimize their communication processes, enhance collaboration, streamline workflows and improve efficiency.
These are some of the benefits that VoIP brings to business phone systems:
Cost Savings: With cloud VoIP, companies can save on equipment costs, as the system operates through software, requiring minimal hardware. Additionally, long-distance and international calls can be made at significantly lower rates, resulting in business cost savings.
Scalability: Cloud VoIP systems can quickly scale to accommodate business growth. Adding or removing phone lines is flexible and can be done without significant infrastructure changes.
Mobility Workforce: Cloud VoIP systems are particularly beneficial for companies with remote or mobile employees. The system allows employees to make and receive business calls from anywhere via the Internet, using their laptops, smartphones, or other devices.
Advanced Features: companies can enhance productivity and collaboration with a wide array of advanced features such as call recording, call routing, voicemail-to-email, and integration with other business applications.
VoIPstudio cloud based VoIP system
VoIPstudio is a leading provider of cloud-based VoIP phone systems, offering businesses the ability to make and receive calls over the internet.
VoIPstudio's cloud-based VoIP phone systems offer businesses a cost-effective, flexible, and feature-rich communication solution. With call recording, call routing, virtual phone numbers, and a wide array of advanced features, VoIPstudio empowers organizations to enhance their communication capabilities and deliver exceptional customer experiences.
2. Unified communications (UC) platforms
Unified Communications (UC) platforms have transformed how modern companies communicate and collaborate by integrating multiple communication channels into a single platform.
This consolidation of voice, video, messaging, and collaboration tools empowers employees to connect and work together more efficiently, regardless of location or device.
Three prominent examples of UC platforms are Microsoft Teams, Cisco Webex and VoIPstudio. With their robust features, these platforms facilitate efficient collaboration, enable real-time interactions, and streamline workflows.
Microsoft Teams
It is a comprehensive collaboration platform that combines chat, video meetings, file sharing, and app integration in one cohesive interface. Users can engage in instant messaging, create dedicated chat channels for teams or projects, and share files within the platform.
Teams also offers audio and video calling, enabling face-to-face interactions, even when team members are geographically dispersed.
Cisco Webex
It is another leading UC platform that offers a suite of communication and collaboration tools. It provides high-definition video conferencing, screen sharing, and messaging features. Webex allows teams to host virtual meetings with participants worldwide, facilitating face-to-face interactions and enhancing engagement.
VoIPstudio
Businesses can enhance their communication efficiency as VoIPstudio integrates various communication channels into a single platform, including voice, video, messaging, and collaboration tools. It allows employees to seamlessly access and switch between different modes of communication, enhancing efficiency and productivity.
With VoIPstudio, users can make and receive calls, conduct video conferences, send instant messages, and collaborate on projects from a unified interface, eliminating the need for multiple disjointed communication tools.
3. Video conferencing software
With the rise of remote work and the increasing prevalence of distributed teams, video conferencing has become an indispensable tool for modern businesses. It enables face-to-face communication and collaboration, fostering a sense of connection and enhancing productivity.
Several prominent video conferencing platforms, including Zoom, Google Meet, and Microsoft Teams, gained widespread adoption.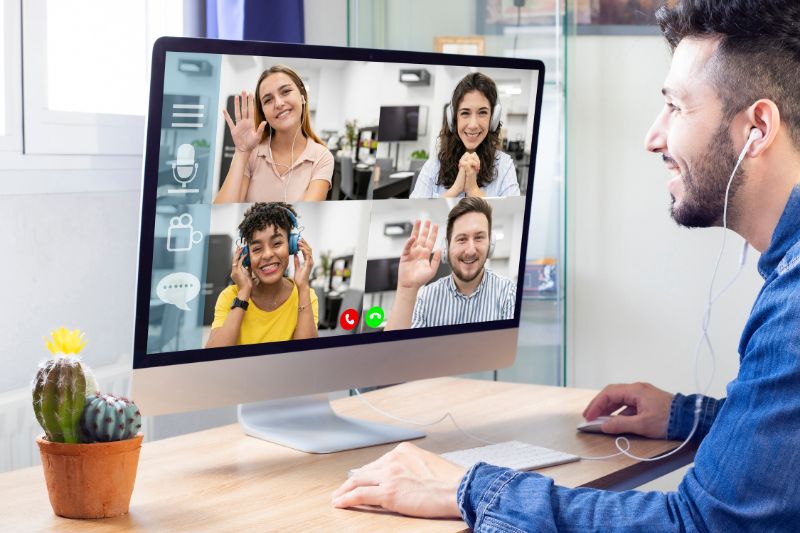 Zoom
Zoom has emerged as a leading video conferencing solution, offering businesses a reliable and user-friendly platform for virtual meetings, webinars, and online collaboration. With its intuitive interface, Zoom allows participants to join meetings, regardless of location or device, quickly.
The platform offers features like screen sharing, virtual backgrounds, chat functionality, and recording options, empowering teams to collaborate and share information seamlessly. Zoom's robust infrastructure ensures high-quality audio and video, even in large-scale meetings, making it an ideal choice for businesses of all sizes.
Google Meet
As a part of the Google Workspace suite, it provides businesses with a powerful video conferencing solution. Designed for simplicity and ease of use, Google Meet allows users to schedule and join meetings directly from Google Calendar or through the Meet app.
The platform offers features such as screen sharing, real-time captions, and live streaming capabilities. Integration with other Google Workspace apps enables seamless collaboration on documents, spreadsheets, and presentations during meetings. With its reliable performance and scalability, Google Meet supports small team meetings and large-scale conferences, making it a versatile choice for businesses leveraging the Google ecosystem.
Microsoft Teams
Microsoft Teams has long been recognized as a popular video conferencing platform. It offers a range of communication and collaboration features, including video and audio conferencing, instant messaging, file sharing, and screen sharing.
Microsoft Teams enables businesses to connect with colleagues, partners, and clients around the globe, facilitating virtual meetings and enhancing remote collaboration. Its integration with other Microsoft productivity tools provides a comprehensive solution for businesses using the Microsoft ecosystem.
VoIPstudio
In addition to internal video calls, VoIPstudio offers a robust video conference feature as part of its comprehensive communication solution. With this feature, businesses can conduct high-quality video meetings and collaborate effectively with team members, clients, and partners, regardless of their physical location.
4. Instant messaging and chat apps
Instant messaging platforms provide quick and informal communication channels that are particularly valuable for remote and mobile workers.
Apps like Slack, Microsoft Teams, and WhatsApp have become essential tools for effective workplace communication. They empower employees, particularly remote and mobile workers, to communicate quickly, informally, and collaboratively.
By fostering real-time interactions, enabling seamless file sharing, and promoting efficient teamwork, these platforms play a vital role in enhancing productivity and maintaining connectivity within the modern business landscape.
Slack
Slack has emerged as a leading team collaboration platform that combines instant messaging, file sharing, and integration with various apps and services. It enables employees to communicate through individual or group chats in real-time, fostering efficient and seamless communication within teams.
With its extensive integration capabilities, Slack streamlines workflows by connecting with other business tools, enabling efficient collaboration and enhancing productivity.
Microsoft Teams
A comprehensive, unified communication and collaboration platform that offers instant messaging and chat features alongside its broader suite of functionalities.
Microsoft Teams allows employees to have one-on-one or group conversations, creating dedicated chat channels for teams or projects. The platform supports sharing files, documents, and multimedia content within chat conversations, promoting collaboration and knowledge sharing.
With its integration with other Microsoft 365 apps, Teams provides a unified ecosystem for communication, document collaboration, and project management, facilitating seamless workflows and enhancing team productivity.
Whatsapp
Widely used for personal messaging, it has also gained traction as a communication tool in the business realm.
Its end-to-end encryption ensures secure messaging, making it suitable for sensitive business discussions. WhatsApp offers features like individual and group chats, voice and video calls, file sharing, and location sharing.
Its mobile app-based nature makes it particularly convenient for remote and mobile workers who need to communicate on the go.
VoIPstudio
By providing both external and internal chat capabilities, along with 24/7 live chat support, VoIPstudio empowers businesses to streamline their communication processes, enhance customer service, facilitate collaboration, and ensure uninterrupted communication channels.
Whether engaging with customers in real-time, fostering internal collaboration, or seeking immediate support, VoIPstudio's chat features contribute to efficient and effective communication within and with external stakeholders.
5. Email hosting and management services
Email continues to be a cornerstone of business communication, a reliable and widely adopted method of exchanging information.
In 2023, email hosting and management services have evolved to provide advanced features that enhance security, efficiency, and organization. Two prominent examples of such services are G Suite and Microsoft Exchange.
G Suite
It's a comprehensive suite of productivity and collaboration tools offered by Google, including email hosting and management services. G Suite's email service, known as Gmail, provides businesses with a professional email solution that offers generous storage space, powerful search capabilities, and advanced spam filtering to keep inboxes organized and free from unwanted messages.
It also incorporates AI-driven features like Smart Compose and Smart Reply, which suggest and automate email responses, saving time and increasing productivity.
With G Suite's email encryption and multi-factor authentication options, businesses can ensure the security and confidentiality of their email communications.
Microsoft Exchange
Part of the Microsoft 365 suite is another widely adopted email hosting and management service. It provides businesses with a robust email infrastructure that supports features like email encryption, data loss prevention, and advanced spam filtering.
Microsoft Exchange offers seamless integration with other Microsoft productivity tools, such as Outlook, enhancing email management and productivity.
With Exchange's email archiving capabilities, businesses can efficiently store and retrieve emails for compliance, legal, or record-keeping purposes.
6. Project management software
By offering intuitive interfaces, customizable workflows, and robust features, project management software solutions empower teams to work more effectively, enhance productivity, and achieve successful project outcomes.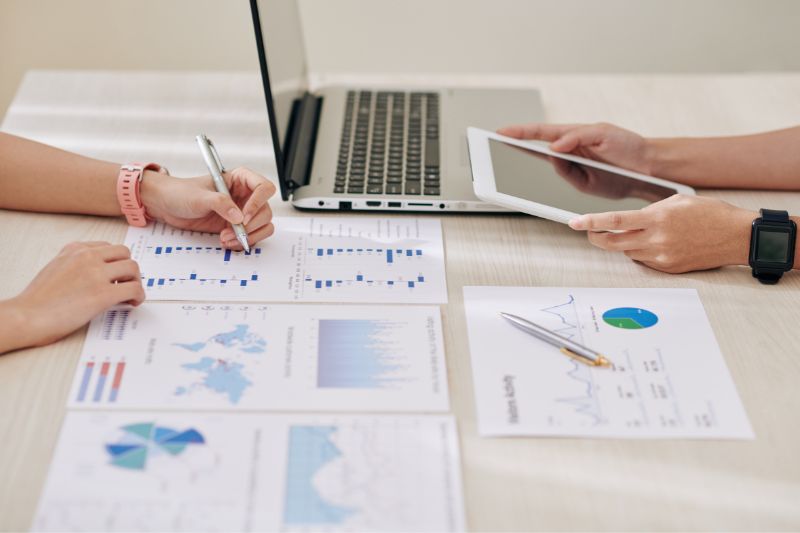 By leveraging project management software, businesses can streamline communication, foster collaboration, and improve overall project outcomes. From centralized communication and real-time collaboration to efficient task assignment and tracking, project management software is powerful for enhancing business communications and driving successful project execution.
Several project management tools have gained popularity:
Asana
Asana offers a comprehensive project management platform that empowers teams to plan, organize, and track their work.
The software allows users to create projects, break them down into tasks, and assign responsibilities to team members.
Asana helps teams visualize project timelines and manage workflows effectively with features like task dependencies, deadlines, and milestones. The platform provides real-time updates and notifications, facilitating seamless collaboration and keeping everyone informed of progress.
Trello
Known for its user-friendly Kanban-style interface, it offers a visual approach to project management. The software enables teams to create boards representing projects, and within each panel, users can create lists that represent different stages or categories of tasks.
Tasks, represented as cards, can be moved across lists to reflect their progress. Trello's simplicity and flexibility make it a popular choice for teams looking for an intuitive way to track and manage their projects.
Basecamp
It's a project management tool designed to streamline team communication and collaboration.
It provides a centralized hub for project-related discussions, file sharing, task management, and scheduling.
Basecamp offers features like message boards, to-do lists, document sharing, and a shared calendar, promoting transparency and fostering effective teamwork.
7. Customer relationship management (CRM) software
CRM (Customer Relationship Management) software has become crucial for businesses to manage customer interactions and relationships effectively.
CRM systems improve business communications by providing a centralized platform for managing customer data, streamlining communication channels, tracking sales processes, and offering valuable customer insights. By harnessing CRM systems, businesses can foster personalized and informed communication, improve team collaboration, and ultimately build stronger customer relationships.
Salesforce
Salesforce is a leading CRM platform that provides comprehensive customer management capabilities. It offers features such as contact management, allowing businesses to organize and maintain a centralized customer information database.
Salesforce's sales pipeline tracking functionality enables teams to monitor and manage their sales opportunities, from initial lead acquisition to deal closure.
Additionally, it offers robust customer analytics and reporting tools, enabling businesses to gain valuable insights into their sales performance, customer behavior, and trends, empowering data-driven decision-making.
HubSpot
HubSpot is another prominent CRM solution that caters to the needs of businesses of all sizes. It offers a range of features designed to streamline customer management and sales processes. HubSpot's contact management feature allows companies to store and organize customer information, including interactions, communication history, and preferences.
HubSpot also offers integrated marketing tools, allowing businesses to create and execute targeted marketing campaigns to nurture leads and drive conversions. With its customer analytics and reporting features, HubSpot provides insights into customer engagement, sales performance, and marketing effectiveness, empowering businesses to optimize their strategies.
Remember that you can increase productivity of your business communications by integrating your existing CRM with VoIP.
8. Social networking platforms
Social networking platforms have become powerful tools for companies, offering numerous ways to achieve agile communication with their environment.
These platforms offer businesses various channels to connect, communicate, and build relationships with their audience. Companies can choose the media that align with their target audience, industry, and communication objectives to engage with clients and drive business growth effectively.
WhatsApp Business
WhatsApp Business is a dedicated app designed for businesses to communicate with clients through messaging. It offers features like automated greetings, quick replies, and labels to efficiently manage customer inquiries, provide support, and build solid relationships.
LinkedIn
LinkedIn is a professional networking platform designed for career-oriented individuals and businesses. It focuses on professional profiles, job searching, industry news, and business networking, making it an essential platform for building professional connections and exploring career opportunities.
Facebook for Business
Facebook offers various tools and features designed for businesses to communicate with clients. Companies can create business pages, interact with customers through comments and messages, share updates and promotions, and even provide customer support through Facebook Messenger.
Instagram
Instagram is a visual-centric platform that allows businesses to showcase their products or services engagingly. Companies can connect with clients through visually appealing content, interact with them through comments and direct messages, and leverage features like Instagram Stories and Live to enhance communication and brand engagement.
9. Chatbots and AI-powered virtual assistants
Chatbots and AI-powered virtual assistants help businesses improve productivity by automating tasks, providing instant and personalized customer support, streamlining internal communication, and enabling data-driven decision-making. By integrating these technologies, companies can enhance operational efficiency, reduce costs, and deliver exceptional customer experiences.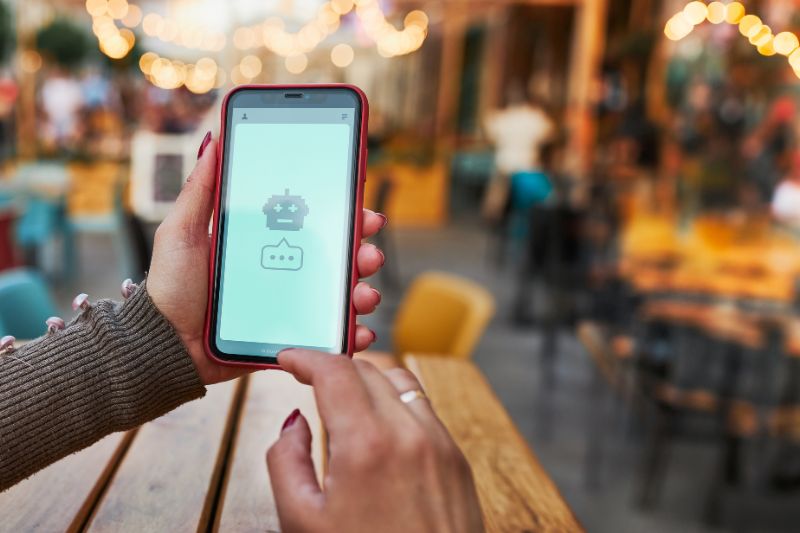 IBM Watson Assistant
IBM Watson Assistant is a powerful AI platform that enables businesses to build and deploy chatbots and virtual assistants. It offers advanced natural language processing capabilities, integration with various channels, and the ability to create personalized and context-aware conversational experiences.
Google Dialogflow
Google Dialogflow is a cloud-based chatbot development platform that leverages natural language understanding and machine learning to create intelligent virtual assistants. It provides tools for building conversational interfaces, multi-platform integration, and powerful analytics to improve the performance and productivity of virtual assistants.
Microsoft Azure Bot Service
Microsoft Azure Bot Service is a comprehensive platform for developing and deploying chatbots and virtual assistants. It offers a range of AI capabilities, including language understanding and speech recognition, along with seamless integration with Microsoft's ecosystem of tools and services.
Amazon Lex
Amazon Lex is a chatbot and virtual assistant service that Amazon Web Services (AWS) provides. It allows businesses to build conversational interfaces using voice and text, powered by automatic speech recognition and natural language understanding. Integration with other AWS services enables businesses to create powerful, scalable virtual assistants.
The future of business communications
As technology advances, businesses will have access to various innovative tools and platforms that enable seamless and productive communication, regardless of physical location or organizational boundaries.
The future of business communications is centered around flexibility, efficiency, collaboration, and security.
Embracing these trends will empower businesses to adapt, thrive, and unlock new opportunities in the evolving digital landscape.
Don't have any VoIPstudio account yet? Sign up for our 30-day free trial right now to get advanced IP telephony features, and boost you business communication productivity.