Imagine life without texting in the modern world. Most people favor texting over calls for getting quick replies, instant acknowledgment and so they don't disturb the recipient unnecessarily. Texting is not limited to personal relationships, however. 
Many consumers prefer communicating with businesses via text. They will buy from organizations that make it as easy as possible to do so. Your customer is not going to wait until you come back to the office and respond to their queries. If your business is not responsive, they will go elsewhere. 
The value of using texting for business
Did you know that most emails and voicemails go unopened? In other words, most of your customers never see your messages. Texts, however, are opened about 99% of the time. And people are very quick to reply too, the average response time is 90 seconds! In the same vein, about 89% of consumers say they prefer texting with a business and would rather get a text than a call from companies.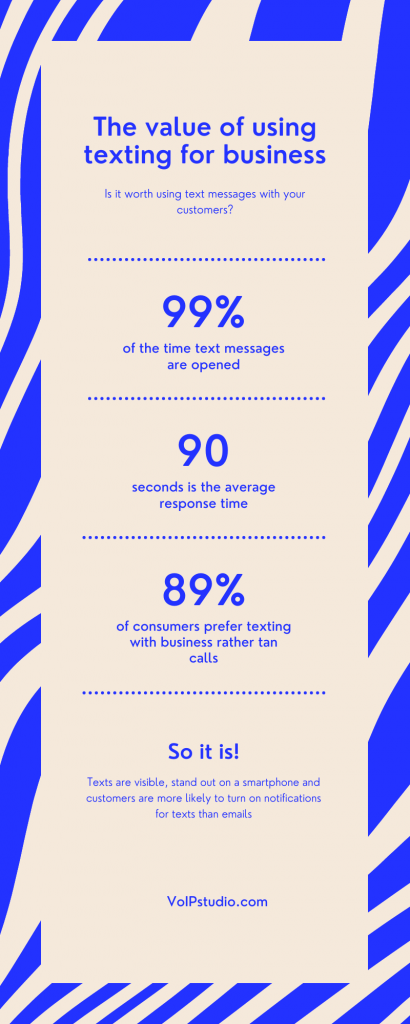 Why is texting the preferred method of communicating today? The answer is quite simple: texts are visible, they stand out on a smartphone which is what most people use to communicate. Your customers get far more emails in their inbox than texts. They are more likely to turn on notifications for texts and turn it off for emails. It helps that texts don't have to get past filters either. 
Types of text messaging
Until a few years ago, when we talked about instant messaging or text messaging, it was clear that we were referring only to SMS. But today, there are other widely used instant messaging platforms. Whatsapp and Telegram are the platforms with the most generic use, but many social networks have their own messaging, such as Facebook, Instagram, or LinkedIn. But which is the most suitable messaging system for your business?
SMS (Short Message System)
SMS messages are still a widespread and reliable mechanism since all phones can receive SMS messages without installing any additional app. Another great advantage of SMS is that, in many cases, it is possible to know whether the SMS has been delivered. For this reason, they are widely used for formal communications such as sending verification codes, verification of banking transactions, activation of services, and confirmation or appointment reminders.
MMS (Multimedia Message System)
Multimedia messages were an "improvement" over text messages to allow multimedia content, images, GIFs, sound, or videos. They have the same features as SMS but allow for more visual content. It makes them ideal for advertising or marketing campaigns, although their use is now widespread.
Whatsapp, Telegram or Signal
Although the popularity of each app depends on the country, Whatsapp has more than 2 billion active users worldwide. It was the most used messaging platform in 2022 against similar applications such as Telegram or Signal.
The wide use of these platforms makes many companies incorporate them as a method of communication with their customers. This way, they can resolve doubts quickly and directly and close their sales. In addition, the multimedia capabilities of these instant messages make them an ideal communication method for notifying promotions or carrying out advertising campaigns, thanks to more visual content than SMS.
On the other hand, the accessibility of these apps and the possibility of concealment have also led to the spread of fraud within these platforms. It's why the "old" SMS is still used for more formal notifications, while this messaging at a business level has been limited to advertising or as an alternative contact method.
Another great advantage of this type of instant messaging is the ease of creating automation. For example, WhatsApp has a platform for companies, WhatsApp Business, designed especially for business accounts, which can be used to develop automation, program automatic notifications, or connect bots. This way, you can automate and simplify your business processes. Learn how to connect your business numbers with Whatsapp Business in our post.
Messaging on social networks
All social networks include instant messaging services. Even in some cases, such as Facebook Messenger, you can use this message system independently of the social network.
This means of communication is ideal for communicating with your customers within the social network context. For example, if you run promotions on Instagram or Facebook, you can share them with your customers. Or, if you have a company profile on LinkedIn, you can respond to queries within it.
Instant messaging tools
If you have a VoIP telephony platform, it includes internal messaging and other functions such as videoconferencing or remote desktops. It is the case with VoIPstudio, Microsoft Teams, Skype for Business, or other similar applications.
These tools are ideal for internal communications as they are corporate tools specially designed for teamwork and not public messaging systems over which our organization has no control.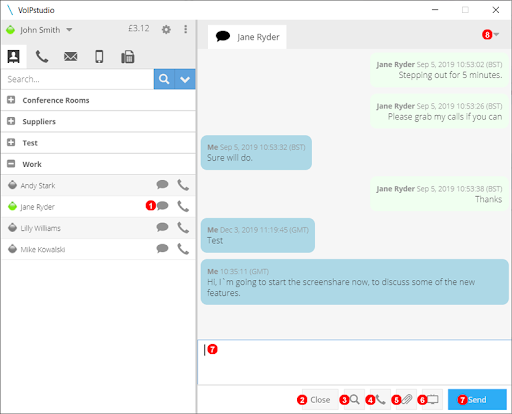 What Is VoIP Texting? 
Now you know texting is crucial for your business. But you've already invested in a VoIP phone system that handles all your voice communication seamlessly. Can you text to VoIP numbers from your system? Can your customers send texts to your VoIP number? The answer to both questions is YES. 
Just as VoIP lets you make calls over the internet to any landline, mobile, or VoIP phone, it can do the same for texts. VoIP texting uses a virtual number to send and receive text messages. You don't need a mobile phone or a traditional phone plan for text to VoIP. All you need is an internet connection and a VoIP app that supports SMS and MMS messaging. 
With VoIP texting, you can communicate with team members and customers from anywhere. You don't need a mobile phone just to send text messages or even a phone plan. Basically, you can use VoIP for both business calls and texts using the same number.
Enable text to VoIP for your business
There are two ways to enable VoIP texting for your business:
1. Use your current VoIP number by adding a text plan
Several – but not all – VoIP vendors offer texting capabilities for their customers. Some may have specific limitations such as no texting on toll-free numbers. Or they may require adding a premium text plan. Similar to calling plans, you can choose between unlimited messaging and pay as you go plans for texts. 
Before you look into a third-party vendor, check with your current voice service provider to see if VoIP texting is an option.
2. Add VoIP texting with a new number and service
There are many vendors who offer standalone VoIP texting plans which come with a number. It's a good choice for businesses that don't have a VoIP number yet and want one for VoIP texts. Most providers will also enable texting on your existing phone number if you want to use the same number you have already.
How Does VoIP SMS Work?
Behind the scenes, VoIP texting works much the same as making VoIP calls. You need to sign up for a VoIP text plan and download the app on any internet-connected device. You can then send and receive texts as you would with a normal service plan. No one has to know that you're using anything other than a cellphone for texting. The internet connection on the specific device will replace the need for cell phone service. 
From the recipient's point of view, they won't know your team is not using a cell phone. Your employees can share VoIP numbers so multiple people can send texts to customers.
Once activated SMS functionality, users can send and receive SMS from your web access, computer app, mobile app or Google Chrome extension.
Check our online user manual to send sms from the VoIPstudio app.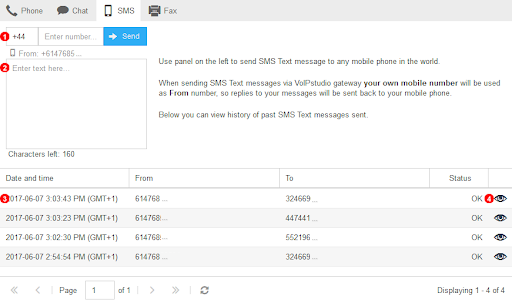 Limitations of VoIP with SMS sending/receiving
The availability of the SMS feature on your VOIP number will depend on your carrier and its capabilities. Some numbers or countries may be unable to activate the incoming or outgoing SMS feature. We recommend contacting your operator to confirm the availability of this feature.
VoIP texting vs. Traditional texting 
How does VoIP texting differ from using a traditional cell phone to send texts? Text to VoIP offers many advantages including:
Reduced costs
If you've already invested in a VoIP-based voice platform, you know that switching to VoIP calls saves you a lot of money. The same holds true for VoIP texting as well. While you will pay for VoIP texting plans, it will likely be cheaper than a service plan from a traditional network carrier. 
Considering the volume of texts your business will send on a daily basis, the savings will add up. If you need to send texts internationally, VoIP texting is even more cost-effective. 
Automation
Another huge and often underestimated benefit is the ability to automate texts. You can schedule messages, personalize them, and even customize the responses based on specific triggers. Automation allows you to send texts for promotions, special offers, customer reviews, meeting reminders, and so much more without having to start from scratch each time. Instead of needing several employees to send mass messages, you can deploy them elsewhere. 
Shared phone numbers
Most businesses have a dedicated phone number to receive customer support or technical support calls. You may have a small team answering questions for customers but all incoming calls go to a single queue. You can do the same thing with VoIP texting. 
Suppose you set up a dedicated line for your customer service or sales teams. Depending on the text volume, you will want more than a single person to monitor incoming texts and reply to customers. 
VoIP texting allows several team members to access a common dashboard where they can see all incoming messages. Users can also see when someone else is typing so you don't end up sending multiple messages to the same person.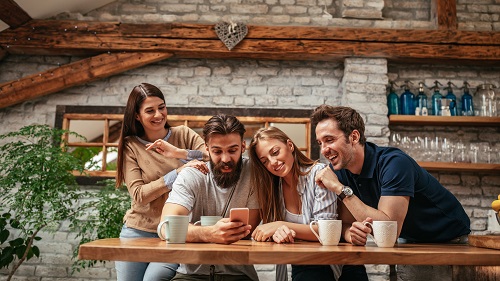 Texting at scale
Texting is normally limited when it comes to reaching out to hundreds of customers. It's a one on one interaction. While you can send a group message, you are often limited as to how big the groups can be. Another drawback of group messaging is that everyone in the group can see other recipients, not ideal in a business context.
VoIP texting allows you to send texts at scale. You can message dozens, hundreds, and even thousands of customers at once. You can even segment your audience and send custom messages based on factors you specify. 
Online message management
Perhaps the best feature of VoIP texting is the ability to manage your texts online. Users can view and manage all their texts from a convenient dashboard, just as they do for calls. Send texts from a desk phone, view responses on a laptop, and schedule texts from your mobile device. It's so much more convenient than having to reach for a cell phone every time you need to message someone.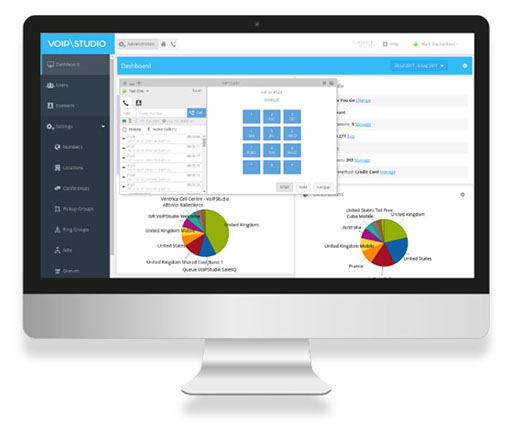 VoIP texting – Features to help businesses
Canned responses
Canned responses – labeled differently based on the provider – allow users to save time when replying to texts. You can create a library of responses from which users can select one when replying to customer texts. You can even create custom responses that autofill the name/number or that trigger certain actions based on the keywords.
Voicemail to text
Quite a few VoIP systems will forward voicemails to your email inbox. You can read a transcription of the original voicemail without having to hear the complete message. This feature allows users to respond to voicemails quicker, especially if they're in a noisy environment. 
After you enable VoIP texting, you can forward incoming voicemails to your texting inbox. For employees who travel often, texting can be a more reliable and quick way to respond to voicemail and make sure no message falls through the cracks.
Custom templates
Suppose you frequently send messages soliciting reviews after a customer interaction. The text message contains a link to your website and a short note to the customer. It's a standard format every time. Why should your employees type the same message every time? You can use custom templates to quickly send texts. Not only does this same time (when you're sending thousands of texts) but it will also ensure accuracy, so users don't accidentally send the wrong link to clients.
Scheduling
You will appreciate the ability to schedule texts days, weeks, or even months in advance with VoIP texting. It means you can plan ad campaigns and other projects ahead of time making sure you don't miss deadlines. You can automate this process and set a specific date and time to send the texts, aligning them with holidays or other special occasions. 
How can your business use VoIP texting?
There are so many ways you can use VoIP texting for business purposes. Sending texts via VoIP is so quick and easy you'll be looking for ways to use it everywhere. Given that most consumers prefer texting over any other form of communication, VoIP texting offers the best open rates, response rates, and improves customer satisfaction. 
Texting isn't just for external use such as communicating with your customers. You can use it internally between teams and help employees contact their colleagues across time zones. It's especially useful if you have offices scattered across the globe. 
Sales
VoIP texting can be useful in two ways:
1. Help your sales team save time
Use texts to send calendar links, allowing recipients to choose a time that works best for them. Once a meeting is confirmed, schedule reminders to be sent 15 minutes or an hour before. You can also send follow-up texts with pertinent information such as notes, contract details, and other links. Since you can automate most of these texts, your salespeople are not wasting any time. 
2. Contact and convert leads
Reach out to prospective leads via texts to improve open and response rates. Suppose you have a page where customers can request a quote. Instead of just emailing it (where it languishes in someone's inbox), text them also. You can also follow up an email with texts, especially when you're leading up to a meeting for quicker back and forth messages. 
Customer service
Businesses can improve their customer support experience by including VoIP texting in their toolset. Using a multi-channel approach allows your customers to use whichever option suits their needs at the time. 
Encourage customers to text your dedicated support line by including a link on your website and other marketing materials

Make sure you respond to customer queries via text as soon as possible. Consumers expect SMS to be quicker than email or a call, so organizations need to live up to those expectations

If your customers bring their products in for regular service, send text reminders before their appointment. 

With the option to schedule texts, you can also set up these reminders when the customer first makes a purchase. Then when next year rolls around, they get a reminder to make an appointment for service/repair!

If you have helpful videos and other content on your support pages but no one looks at them, text a couple of links to customers. Short, focussed videos on particular features are much appreciated by customers instead of hour-long 'tutorials.'

Customer reviews are more powerful when they include photos or videos. Encourage customers to upload them by texting a direct link to the page. Since the photos and videos are already on their phone, they're more likely to follow through
As you can see, you can get creative about utilizing VoIP texting when improving the customer service experience. Depending on your audience demographics and industry, you can use texting to become a customer-first organization.
Recruiting
Amidst a difficult transition to remote working, many companies are finding it difficult to recruit and retain employees. Workers are re-thinking their career goals and demanding better work conditions. If you want to find and keep the best talent, you need to move fast and texting can help HR reps throughout the recruiting process. 
The advantage of VoIP texting is that your recruiting team can send texts to candidates without having to use their personal numbers. If you get questions or messages from prospective candidates, recruiters can respond immediately. No need to wait until the office opens!
Just like with sales meetings, you can send reminder texts before interviews to candidates. If your business – like almost everyone else – is conducting online interviews, provide a link to start the interview or change the time if necessary.
After a promising interview, keep in touch with potential hires through text. Invite questions from them as well as feedback on the interview process. This allows you to quickly fine-tune the interview process. Why wait days or weeks when you can get feedback in minutes?
Even if a candidate does not get the job, stay in touch with top talent and send texts about potential opportunities. Invite them to seminars, conferences, and other networking opportunities. You never know what position you might need to fill in the future.
Sure, you can do all this with a call or email but texting is quick and more likely to get you a reply from candidates. No more playing phone tag, leaving voicemails in the hope of getting an answer, or sending dozens of emails with no answer.
Employee commitment
After you find good talent, your next challenge is to retain them. Employee commitment is a top priority for organizations, especially with workers not coming into the office for months on end. While remote working offers some benefits, a very real consequence is that staff may feel disconnected from their co-workers. Team building becomes crucial when members cannot meet in a physical space. 
Instead of sending long email newsletters, celebrate employee achievements with short texts. You can segment your audience by department or teams to send relevant information to the right recipient. Use VoIP MMS to send pictures and or short video clips as well.
Teams can also use texting to organize impromptu coffee hours on a Friday or meet online for a virtual happy hour. You can have team lunches for holidays or send gift baskets to workers and enjoy them together virtually. 
Another way to incorporate texting is by using them to schedule meetings. It's often much quicker to organize an ad-hoc meeting by text than via email. For longer meetings, break up the sessions and use texts for fun polls or to solicit opinions. It can be a fun way to relieve stress and boredom, especially when you have different departments presenting. While most companies strive to avoid long meetings, sometimes they are unavoidable. So use VoIP texting to make meetings fun or at least less boring!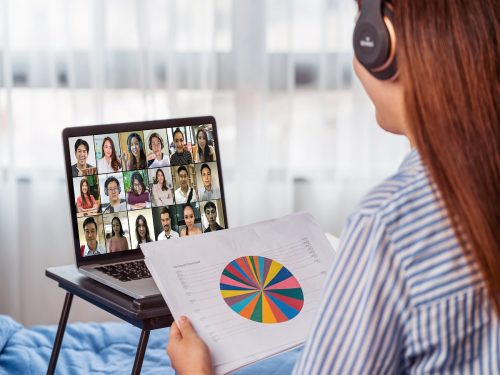 Conference scheduling and follow up
Many businesses organize or participate in industry conferences, seminars, and other informative sessions. Once again, VoIP texting is a powerful tool you can leverage to get quick responses and immediate replies from participants. 
Use texts to schedule an event, specifically when you want to pick a date and time that works for all participating teams/businesses

Once you have everything organized, send updates via text so everyone is on the same page

If you need to make changes, texting will ensure everyone has the updated details

You can also invite feedback and ask participants to share their experiences through text. Get feedback on what you can do better while the event is still fresh in everyone's mind, not weeks after you wrap everything up
VoIP texting allows you to message a few people or hundreds at a time. So no matter the conference size or the number of participants, you can easily scale up or down as needed.
Send mass updates
Sometimes you need to send mass updates to different groups of people. These messages don't need to be personalized, they simply provide information to everyone within the group. 
To take one example, suppose your business is experiencing shipping delays affecting the supply chain for your products. You can send a mass text to all your suppliers, partners, and current customers informing them of the delay. 
You can use mass texting in various other situations as well:
Inform customers of the last day to order from you, so they get them in time for the holidays

If your store or office hours are changing (temporarily or permanently), make sure everyone knows it with a text

Launching a new product? Let customers know with a promotional text

Inform partners, suppliers, and customers of any changes to your product lineup, service offerings, or updated terms & conditions
Should you enable VoIP texting for your business?
You can use VoIP texting throughout the organization and improve productivity across the board. Cost and time savings aside, your customers expect it from you. Slow responses to customers translate to lost sales and damaged relationships. Why take the risk when you have a tool on hand to prevent delays in communication?
When you consider all the benefits of VoIP texting, it's practically a no-brainer. Whether you have an existing VoIP system for voice calls or not, adding texting is a quick and simple process. Some providers will offer a 2-week trial or even longer so you can test the service. 
Just like with VoIP calling, you can start small and scale up as needed. You don't have to commit to a specific contract or number of messages. Start with a pay-as-you-go plan and switch to unlimited if the situation demands it. Include texting in your arsenal of multi-channel customer support and see the difference in your business processes.